5 Top Benefits of Working in the NHS
22 Nov, 2023
10 Minutes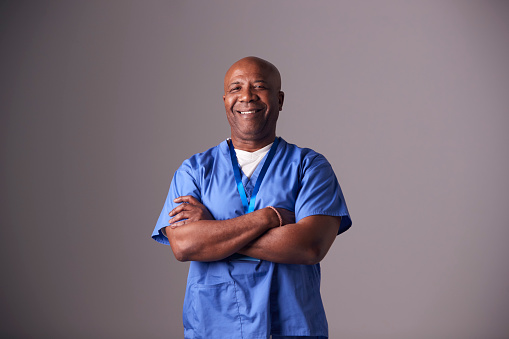 There are many reasons why international medical graduates (IMG) choose to work for the UK's National Health Service (NHS). Healthcare professionals can work worldwide to help patients and enjoy that all-important sense of reward and satisfaction at the end of a shift. Yet, the NHS continues to attract passionate, hardworking, and talented international medical graduates (IMG) from around the world.
But what is it about the NHS that makes it so attractive to healthcare professionals worldwide? In this guide, we'll delve into five key benefits of working in the NHS, allowing you to understand why it enjoys such popularity and respect among healthcare practitioners globally.
1. Offers Universal Healthcare
Few countries worldwide provide their citizens access to universal healthcare. However, the UK is blessed with the NHS, which is freely available to those with 'ordinary residence' in the UK. The NHS is symbolic of a healthcare system rooted in principles of universality, free access, central funding, and equitable distribution of healthcare resources.
Established in 1948, the NHS has developed into one of the largest and most respected public health systems on the world stage. Its mission remains consistent —to provide healthcare to all, regardless of their financial status. To truly grasp the scale of the NHS, we need to consider the incredible fact that the NHS attends to an average of one million people every 36 hours.
In addition, what sets the NHS apart is not just its commitment to universal healthcare but also its inclusivity. It extends its generosity to those who need it most:
Pregnant women
Women with a valid maternity exemption certificate after childbirth
Unemployed people
Those under 16 years old
Over 65-year-olds
People with a medical exemption certificate
People with a war pension exception certificate
An NHS inpatient
For healthcare professionals working within the NHS, the experience is a unique and enriching one. With a commitment to providing healthcare to all, you have the privilege of interacting with and treating a diverse spectrum of patients, each hailing from distinct cultural, social, and economic backgrounds. This diversity not only enriches your clinical experience but also adds variety to your day-to-day responsibilities.
It is also important to know that international medical graduates (IMG) who come to work for the NHS and have a Health and Care visa are automatically exempt from the Immigration Health Surcharge. This includes any dependents. This exemption will save an IMG £1,035 and £776 for any dependents.
2. Encourages a Diverse and Inclusive Workplace
The UK is a proud and celebrated multicultural society, and the NHS truly reflects this. It employs approximately 1.4 million people, making it the fifth largest employer on the planet. A recent UK Parliament report shows that approximately 220,000 people (16.5%) of this 1.4 million staff are not UK nationals. One in six people in the NHS doesn't hail from the UK.
As highlighted in these figures, the NHS relies on the support of the talent and skills of international medical graduates (IMG) to carry out its vital work. This workforce diversity allows you to meet passionate, knowledgeable medical professionals from different nationalities and cultures throughout your career.
The NHS boosts over 200 different nationalities among its staff. For instance, 95,000 staff members are Asian nationals, and 70,000 employees are EU nationals. So, when you join the NHS, you can trust you will work alongside talented professionals from across the world, including countries such as Greece, India, Pakistan, Portugal, Nigeria, Ghana, Nepal, and many more.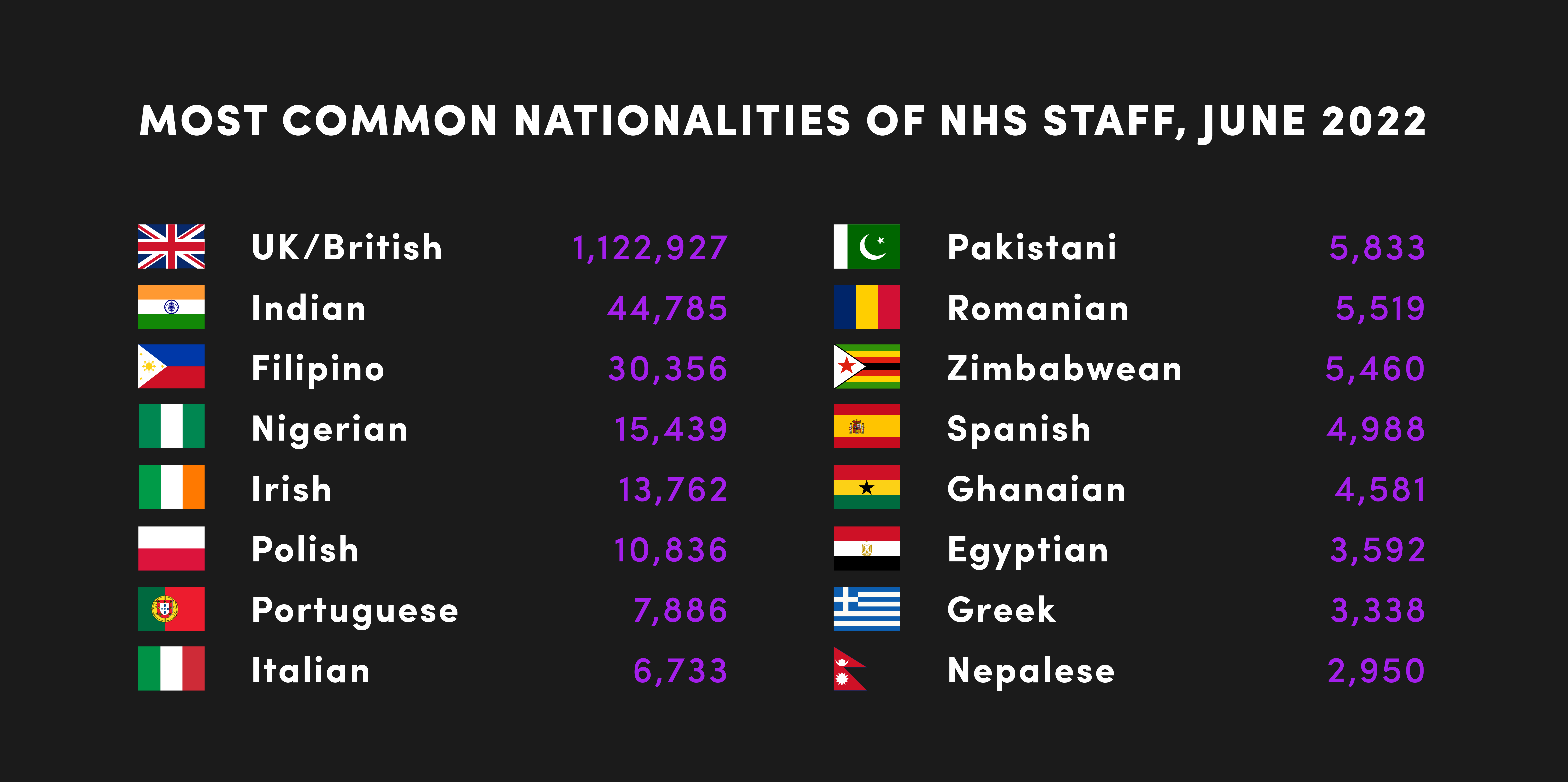 Furthermore, The Equality and Diversity Council is dedicated to ensuring the NHS's commitment to a diverse and inclusive workplace continues. The council provides visible leadership on diversity and equality issues across the UK health system. Its mission is to support the improvement of experiences and outcomes of patients and communities and to help the NHS become a more inclusive employer by making full use of the skills and talents of its diverse workforce.
3. Provides Exceptional Patient Care and Standards
The NHS has gained a global reputation for delivering outstanding patient care and maintaining high medical standards. Despite being just seventy-five years old, the NHS offers comprehensive healthcare services and consistently achieves equitable diagnosis and treatment for all patients.
The NHS has developed shared values that should underpin your everyday work, regardless of your level. These values are:
Working together for patients
Compassion
Respect and dignity
Improving lives
Commitment to quality of care
Everyone counts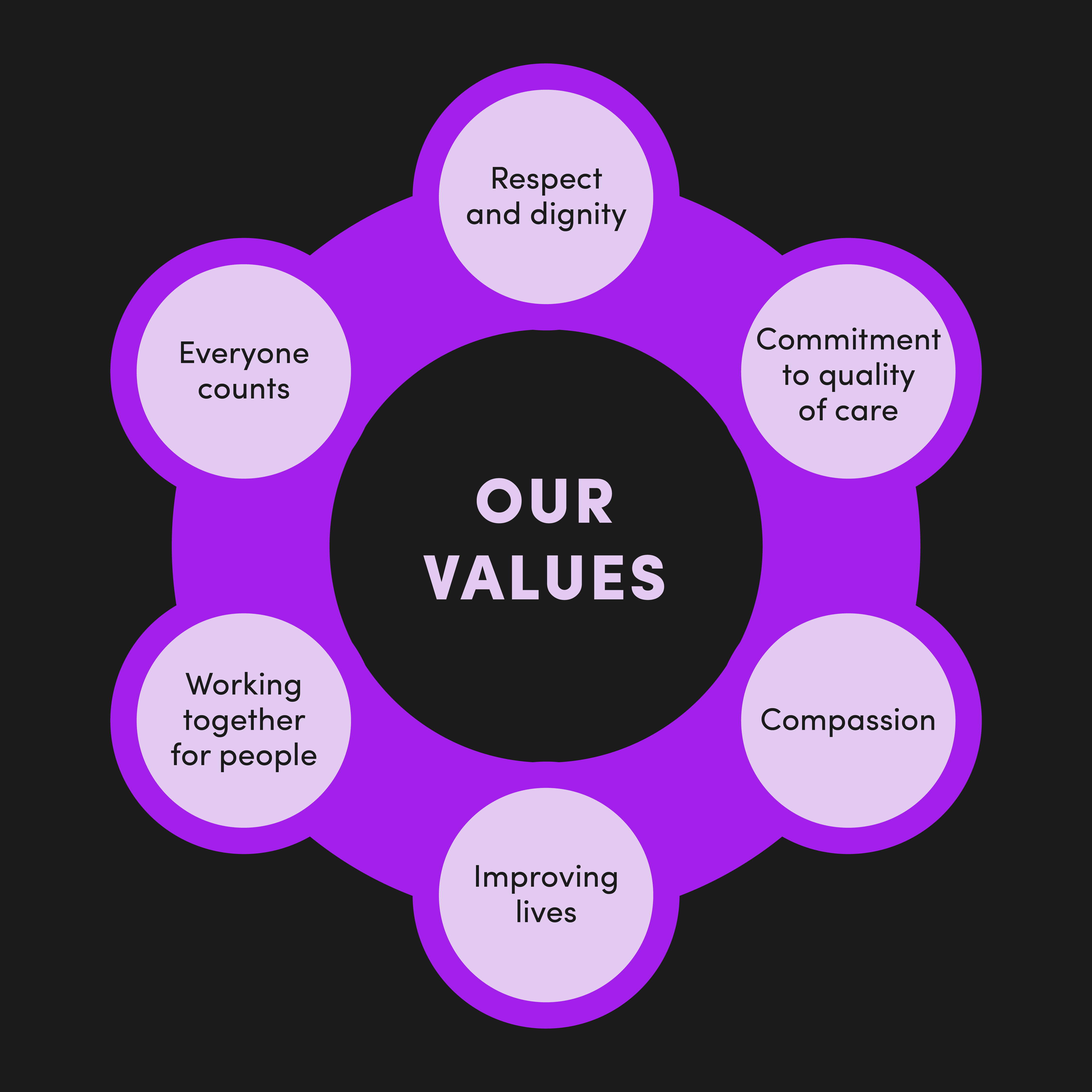 The NHS's commitment to these values and our unwavering patient-first approach guarantee that anyone entering an NHS hospital, GP practice, or any other healthcare setting is greeted with the utmost dignity and respect. It is wholeheartedly dedicated to setting the benchmark for quality care. To achieve this, the NHS's primary focus is on delivering a safe, effective, and compassionate experience for their patients. Moreover, they ensure that every member of their communities receives equal, non-discriminatory, and inclusive care.
Furthermore, to foster a secure, healthy, and nurturing environment for patients, employees, and visitors, every NHS staff member is required to adhere to stringent standards, policies, legal regulations, and insurance protocols.
For these reasons, having an NHS role on your CV will demonstrate your professionalism, credibility, and skillset. It will position you as a more competitive candidate when seeking opportunities in medical settings worldwide throughout your career.
4. Access to Fantastic Training and Development Opportunities
When you work with the NHS, there are no limits to your career growth, thanks to the abundance of career paths and courses available throughout the UK. The NHS actively promotes training and development to ensure the highest level of patient care.
As a result, international medical graduates (IMG) can have confidence in the numerous opportunities to broaden their knowledge, acquire new skills, and advance in their careers.
Some examples of training programs and courses provided by the NHS to support your professional journey include:
Seminars
Accredited short courses
Recognised part-time academic courses
Distance and e-learning programmes
The types of platforms and courses will support your continuing professional development and may lead to a professional qualification. Other training tools, such as mentoring, placements, and work shadowing, will also aid in building the necessary skills and experience to achieve professional recognition.
Whether you work for the NHS full-time or part-time, you will have countless opportunities to expand your skills and experience. Also, the Knowledge and Skills Framework can help you create a clear career plan to reach your professional goals, boost your earning potential, and increase your knowledge.
The KSF has six core dimensions that all NHS staff must apply to deliver quality services to their patients and communities. These core dimensions are as follows:
Communication
Personal and People Development
Health, Safety, and Security
Service Improvement
Quality
Equality and Diversity
Whatever learning and development path you use, the NHS is committed to empowering you to achieve your short, medium, and long-term career goals.
International medical graduates (IMG) also have the opportunity to obtain to enter the General Medical Council's specialist register. This register only includes members who have completed advanced training in a specific medical field. These members are senior doctors who possess expert knowledge and high levels of clinical responsibility. To enter the specialist register, you will need to obtain either a CCT or a CESR.
A Certificate of Completion of Training (CCT) is the more traditional route for getting on the General Medical Council register. To obtain a CCT, you will need to have completed all your specialist training on a General Medical Council-approved course. The training lasts a minimum of three years.
A CESR is a route to specialist registration for doctors who've not completed a General Medical Council-approved program but are able to demonstrate that their training, experience, and qualifications are equivalent to the requirements of the Certificate of Completion of Training CCT award in the UK.
If you would like more details on this, discuss our two insightful guides - What are CCT and CESR and Changes to CESR.
5. You'll Experience a Good Work-Life Balance
Despite the NHS's demanding schedule, you'll be pleased to know that maintaining a healthy work-life balance is not only achievable but a reason international medical graduates (IMG) choose to work for the NHS.
The NHS recognises the importance of flexibility and offers its employees a range of entitlements to accommodate personal responsibilities and career aspirations.
Here's a list of key work-life balance benefits that come with a career in the NHS.
Statutory Maternity Leave
If you are in employment with the NHS and pregnant, you are entitled to 52 weeks of maternity leave no matter how long you have worked for your employer. This 52 weeks is made up of 26 weeks of ordinary maternity leave and 26 weeks of additional maternity leave.
Your terms of employment, such as your pension contributions, are protected while you are on statutory maternity leave.
Request Flexible Working
Parents of children aged 16 and below or of disabled children aged 18 and below are allowed to request a flexible working pattern.
Paternity Leave
If you are a father-to-be or the partner of someone pregnant (including same-sex partners), you potentially have the right to paternity leave.
You may be eligible for:
Paternity pay
1 or 2 weeks of paternity leave
Share parental leave and pay
Shift Work, Job Shares, and Part-Time Work Available
Also, the NHS doesn't require its employees, regardless of their role, to work 24-hour shifts. Instead, healthcare professionals and support staff could enter shift work, a part-time position, or a job share. It is an effective way to juggle a job around studying toward another degree, raising a family, or completing personal goals.
Annual Leave
Furthermore, you will be entitled to be paid annual leave every year. The amount of annual leave you will receive increases with your level of service within the NHS. The table below shows the amount of leave you will be entitled to.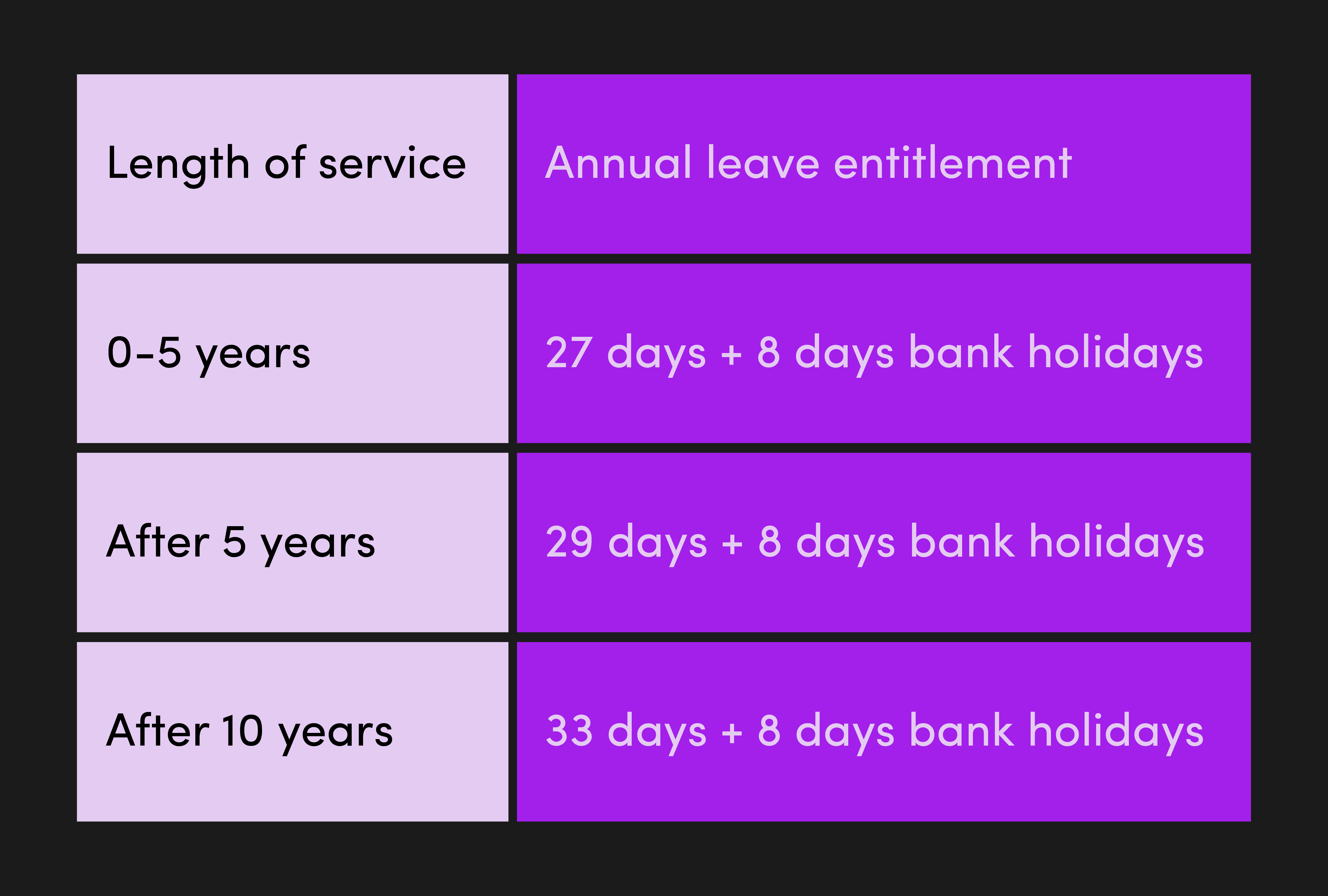 Let's Wrap Up the Benefits of Working in the NHS
The attraction of the UK's NHS for international medical graduates (IMG) is undeniable. The NHS is not merely a healthcare institution but a beacon of universal care, diversity, exceptional patient care, lifelong learning, and an enriching work-life balance.
With over 200 different nationalities among its staff, the NHS provides an environment rich in cultural exchange and the opportunity to learn from a diverse range of medical professionals. Its focus on shared values, patient-first approaches, and strict standards ensures a standard of care that is equitable, respectful, and of the highest quality.
In the NHS, it's not just about working; it's about thriving. It's about delivering exceptional care, embracing diversity, and experiencing personal and professional growth. Your journey within the NHS isn't just a career; it's a transformative experience that enriches lives and makes a lasting impact on healthcare worldwide.
Want to Begin Your Journey Towards Working in the NHS?
If you would love to join the team of talented, skilled, and compassionate medical professionals working in the NHS, don't hesitate to reach out to BDI Resourcing. Our team are dedicated to helping specialist doctors from across the world find the perfect placement in an NHS setting.
Contact us today for more information about how we can support you.