How to Get GMC Registration for International Medical Graduates
05 Sep, 2023
11 Minutes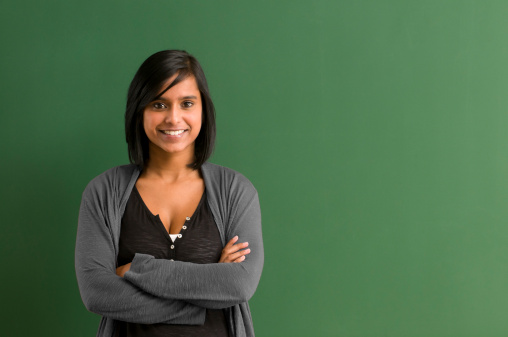 After all your hard work at your higher education institution to achieve your qualifications as an international medical graduate, your next step to achieving your dream of working as a doctor in the UK is applying for GMC registration. Once you have applied and successfully been accepted by the General Medical Council, you are fully licensed to practice medicine in the UK.
To achieve GMC registration, you must take several steps to prove you have the required medical skills, experience, and knowledge to safely practice medicine to the required NHS standard.
This guide will provide a detailed insight into what you need to register successfully. We will cover costs, qualifications, experience, and the required documents for GMC registration.
Why Do IMGs Need UK GMC Registration?
As stated above, international medical graduates need GMC registration to be able to work in the UK. GMC registration is a multistep process in which applicants are expected to provide evidence of their language capabilities, skills, qualifications, licensing history, and registration. To highlight its importance, here are the key reasons for obtaining a UK GMC registration:
Safety of patients - The primary responsibility of the GMC registration is to ensure patient safety. By controlling who enters the register, the GMC confirms that doctors meet the standards required to maintain the welfare of patients.
Legal Requirement - To work legally as a doctor in the UK, you need a GMC registration.
While UK GMC registration does require time and patience, international doctors will find the process majorly beneficial in the long run. As we have read, successfully registering with the General Medical Council means a license to practice in the UK.
So, let's look deeper into what is required to complete the UK GMC registration.
GMC Registration: Cost and Eligibility
As of 2023, the registration fee for GMC registration is £433, which is the initial cost that allows you to join the register. To stay on the register, you will continue to pay this fee annually.
For those eligible for an income or fixed-term discount, the payment is less at only £166. Here are the guidelines for discount:
Fixed-term discount - Applies to newly qualified doctors or those moving from provisional to full registration. This fee covers the first year of GMC registration, and the discount will continue to be applied for four years.
Income discount - Available to doctors whose annual income is lower than the income threshold.
You can make payment in several ways, such as a one-off payment through a debit or credit card, bank transfer, cheque, bank draft, and postal orders. You can also spread the cost via direct debit, choosing between quarterly or ten monthly instalments.
To be eligible for GMC registration as an international medical graduate, you must have a medical degree outside the UK and EU. The exact criteria you need to be accepted depends on your nationality and whether you have a post-graduate qualification.
Before reading on about how to apply, you might want to watch this explainer video, which details all of the criteria for GMC registration:
The GMC makes applying for registration easier by allowing you to do it through its online portal. However, only start this process once you are sure you have everything prepared, as you only have three months to complete the GMC application once you have begun. Here is what you will need to obtain GMC registration successfully: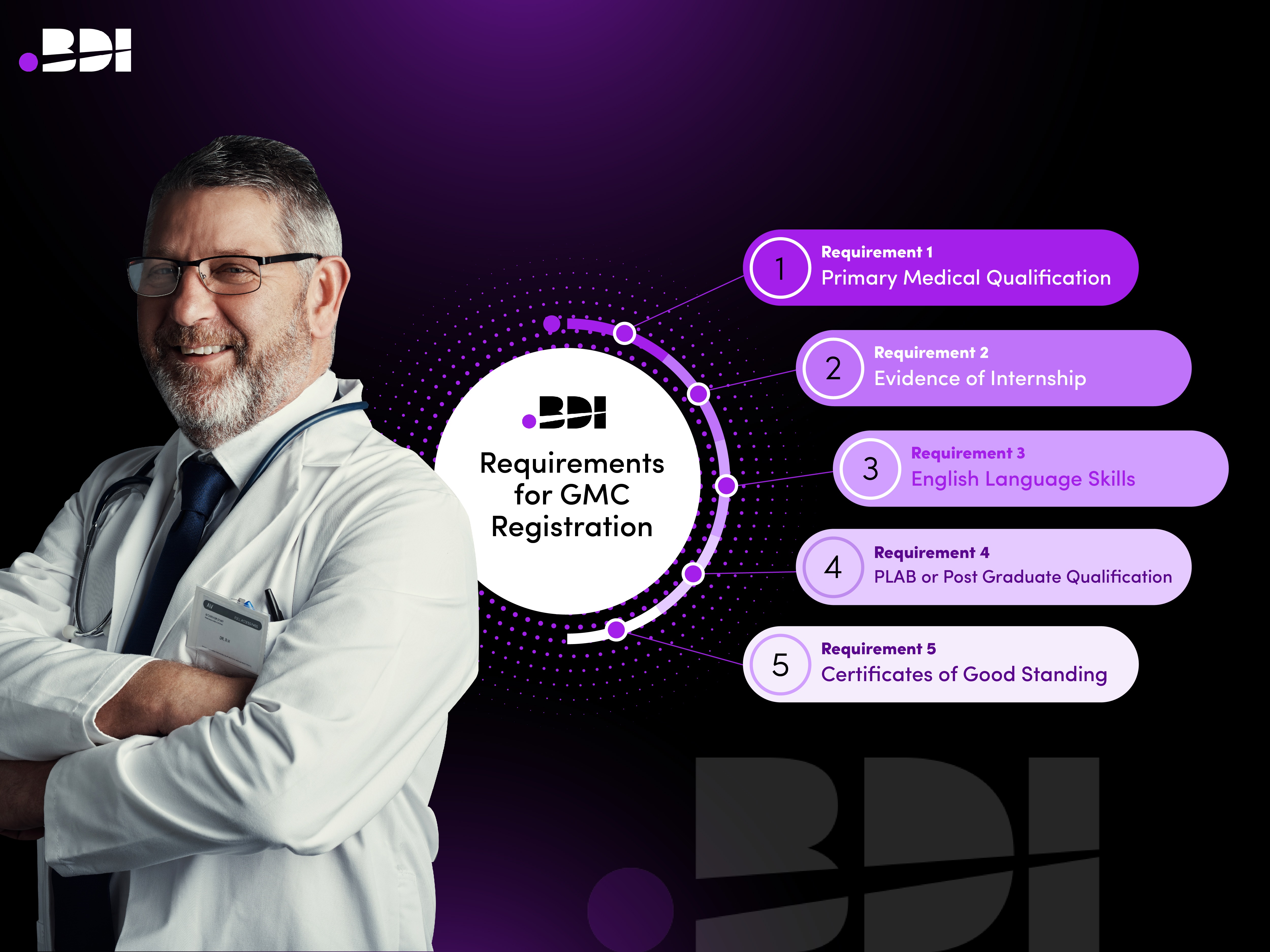 1: Your Primary Medical Qualification
Every IMG doctor needs a primary medical qualification to join the GMC register. It is vital to remember that the General Medical Council only accepts some PMQs. Therefore, you'll need to check on the General Medical Council's website if your qualification is applicable. If your qualification is accepted, you must send the GMC a copy as evidence.
It is important to note that you cannot appeal against the General Medical Council's decision that an overseas PMQ is unacceptable. It is at the GMC's discretion to decide which qualifications are acceptable for UK GMC registration.
Before GMC registration is granted, non-UK medical qualifications must be independently verified. Only after this verification can the General Medical Council provide you with a licence to practice.
This verification can be completed by the Educational Commission for Foreign Medical Graduates (ECFMG) – you can do this through the Electronic Portfolio of International Credentials (EPIC). The ECFMG directly contacts your awarding institution to check your credentials.
2: Evidence of Completed Internship
Next, you must prove that you have done an acceptable internship. You must have done at least twelve months of continuous medical practice in a hospital. This experience must have taken place immediately before or after your graduation.
You will need to provide GMC with a letter of completion from the hospital on headed paper, including the dates you completed the internship and your practice's specialities.
The internship must have included:
At least three months in surgery and three months in medicine (for an internship that lasts between 12 and 18 months).
OR
At least six months in medicine and six months in surgery (for an internship that lasts for 18 months or longer).
What if I haven't completed an Internship?
Not everyone completes twelve months of an internship straight after graduation. In this case, you have an alternative option – continuously practising medicine for at least two years after graduating.
The General Medical Council has strict rules for your experience; these include:
Your experience was undertaken in a public hospital that meets regulation standards within its jurisdiction and has established safety, governance and supervision in place.
It includes at least three months of practising medicine. This must be done continuously and without interruption.
It includes at least three months of practising surgery. Again, this must be done continuously and without interruption.
Your experience was completed under supervision.
As with an internship, you'll need to provide a letter from the hospital giving details of the specialities and dates of your practice.
3: Knowledge of the English Language
Working as a doctor in the UK requires clear and accurate communication among fellow healthcare professionals, patients, and their families. This is particuarly vital in emergency situations where precise and quick communications can be a matter of life and death.
Therefore, to work in the UK healthcare sector, you'll need to have a good knowledge of the English language and the qualifications to prove that.
There are two main tests international medical graduates can take to achieve these qualifications:
IELTS
The International English Language Testing System is the world's most popular test of English for migration, with more than 30 million tests taken since it was first created in 1989. The test has a fee of £175-195 and covers four sections:
Listening
Reading
Writing
Speaking
IELTS has a scale from 1 to 9; the higher your score, the better it reflects on understanding and ability to communicate in English. The NHS requires an IELTS score of 7 in each domain and a 7.5 average across all domains. Here is the full IELTS score scale: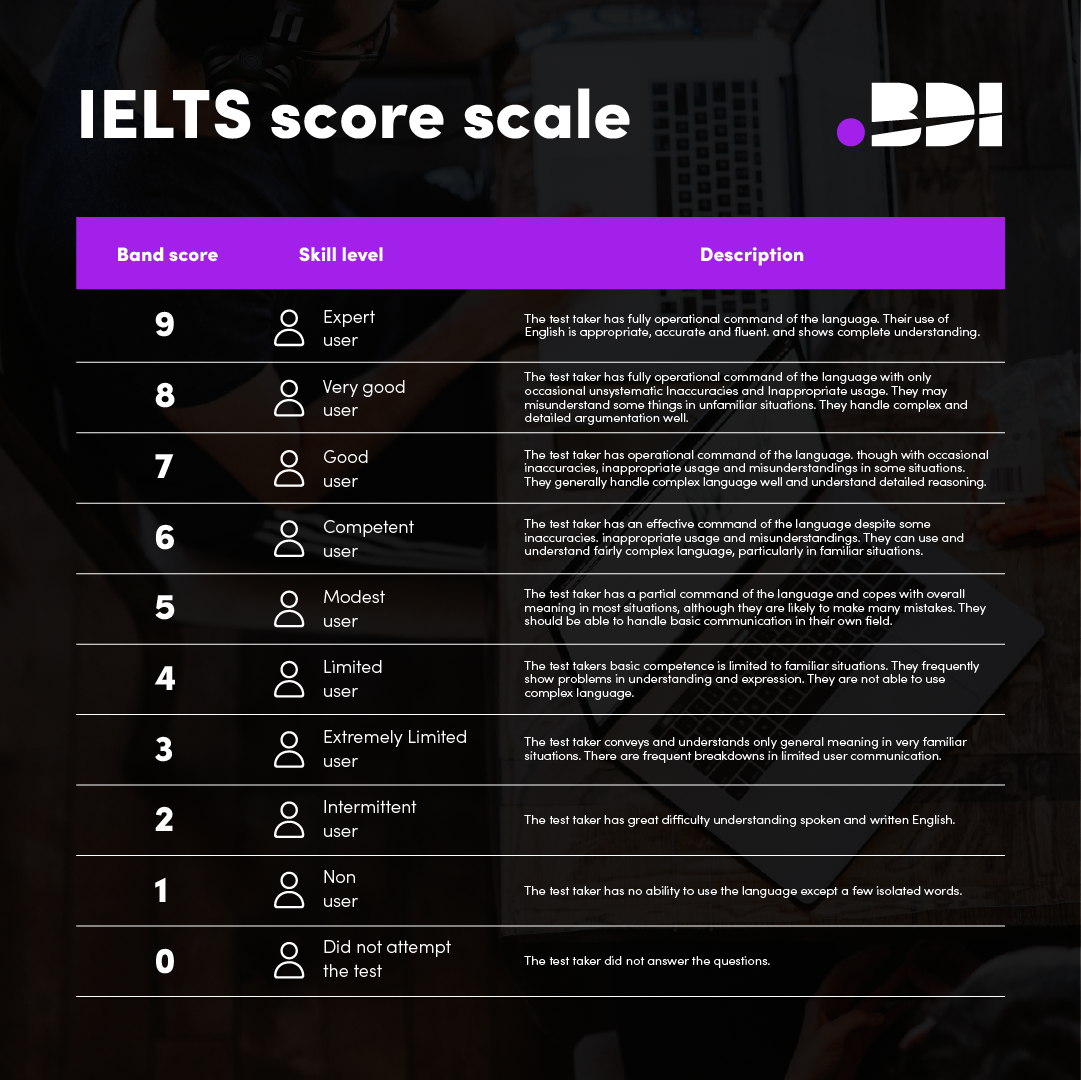 The test is valid for two years after passing.
OET
The Occupational English Test requires a B in each of the four sections to pass, costing £329. Like IELTS, you are assessed on listening, reading, writing, and speaking, but they are specifically structured for healthcare professionals. Here are some of the benefits of OET to international medical graduates:
It uses real healthcare scenarios to build your confidence for the test.
Widely recognised as evidence of English proficiency for registration and work in the UK healthcare sector.
It helps you develop language skills to help you build a successful career.
The scores are provided in numeric form (0-500) and letter grade form (A-E). For UK GMC registration, a minimum of grade B or 350 is needed across all test areas. The full results table is below: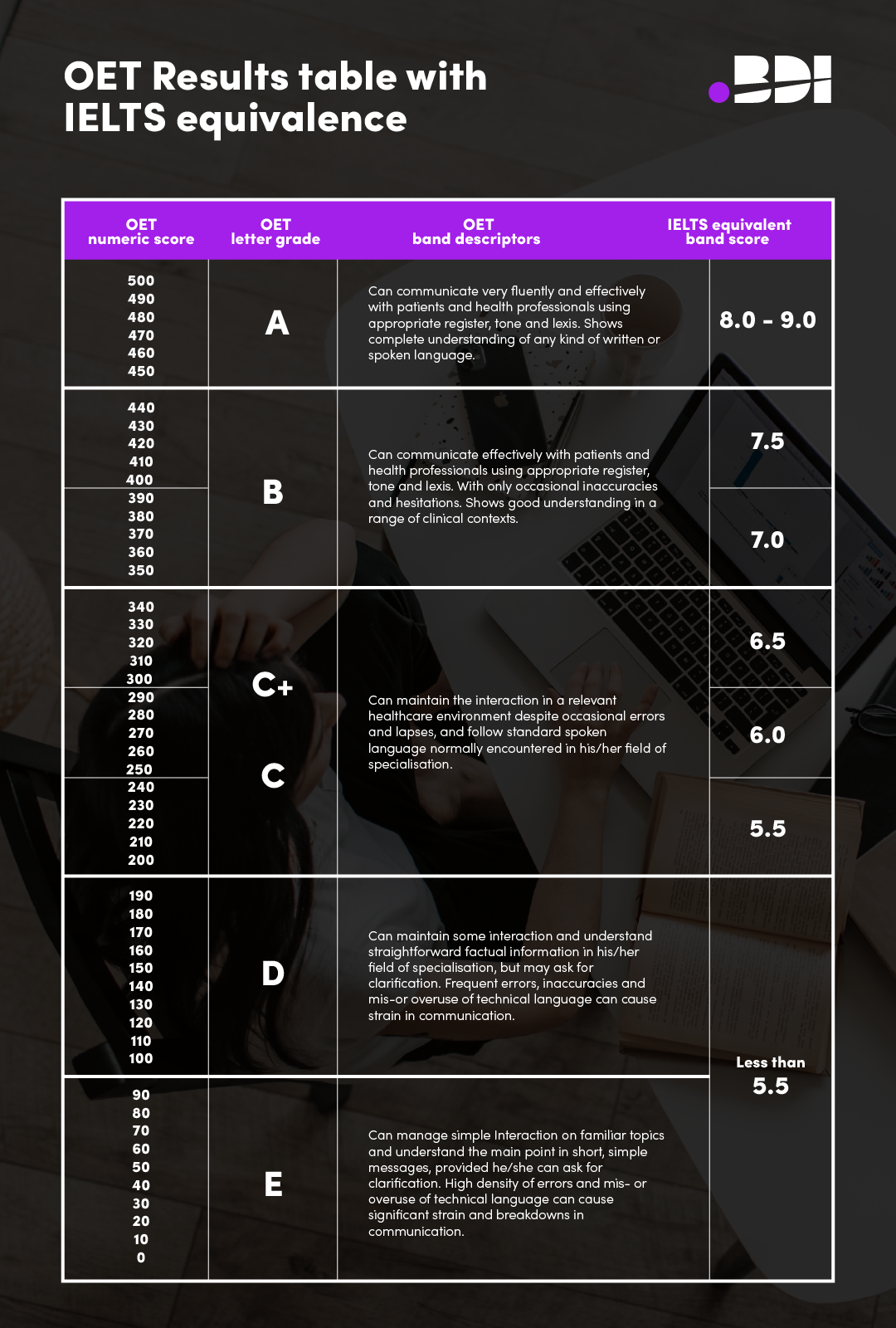 Like IELTS, the test is valid for two years after passing.
While the IELTS might tempt you because of the cheaper fee, we highly recommend taking the OET. The four tests focus on testing medical language, making it more applicable to international medical graduates than the IELTS and more useful for preparing individuals entering the UK healthcare system.
4: Post-graduate Qualification/PLAB
For your GMC application to get accepted, you must prove your skills and knowledge in medicine. There are several options for doing that, with the two most popular being a post-graduate qualification and passing the PLAB.
The PLAB comes in two parts: parts one and two.
Part one
Part one consists of a 2-hour exam that tests your ability to apply your knowledge of patient care. It isn't a test of how well you remember and regurgitate facts; the questions will relate to current best practices and equipment available in hospitals in the UK.
The exam covers important, common, and acute conditions experienced by trainees entering their second year of the Foundation Programme (F2) and managing long-term conditions seen in primary care.
It is a written examination with 180 multiple-choice questions, where you pick the correct answer out of five options. You have three hours to answer these questions.
Part two
Part two is an objective structured clinical exam (OSCE). It consists of 16 scenarios that aim to reflect real-life situations, including an acute ward or mock consultation.
The exam will cover all areas a trained doctor in the UK might experience on their first day of Foundation Year Two (F2). Again, like part 1, it is a test of your ability to apply your knowledge to the care of patients rather than how well you remember and rectify things.
You will be marked against three domains for each scenario:
1. Technical, data gathering, and assessment skills. This covers:
Physical examinations
Investigations leading to diagnosis
Practical procedures
History taking
2. Clinical Management Skills. This covers:
Formulating a management plan
Explaining something to the patient
Formulating a diagnosis
3. Interpersonal Skills. This covers:
Whether you establish a rapport with the patient
How are you using open and closed questioning
Demonstrating your professionalism and understanding of ethical principles.
The PLAB is designed to test your knowledge and understanding, so you must dedicate enough time to studying and preparing. You'll need to pass both parts to access GMC registration (if you don't have a post-grad qualification). If you want more information about the PLAB assessment, discover our insightful guide, Overview of PLAB for IMGs.
Do I need to take PLAB if I have a Post-Graduate Qualification?
You won't need to take the PLAB test if you have a recognised post-graduate qualification. Your post-graduate qualification should have been awarded no more than three years before the date that the General Medical Council approve your application.
If your PGQ was awarded over three years ago, you must provide further evidence of your recent medical experience, usually in the form of employment references or a certificate of good standing, which we will talk about next. For the complete list of accepted PMQs for UK GMC registration, visit the GMC website.
5: Certificate of Good Standing
A Certificate of Good Standing is a document you must obtain from each medical regulatory authority you have worked at over the past five years, which you will need to show to the GMC. A certificate of good standing must cover the following:
All your work in a state/country.
Confirmation that you haven't been disqualified, prohibited, or suspended from practising medicine.
Confirm that you are allowed to practice in a country.
The regulatory authorities aren't aware of any issues that call into question your good standing.
There are occasions when there are no medical regulatory authorities in certain countries. In this scenario, you need to ask your employer to complete the employer reference form, which can be found on the GMC website.
These certificates show that you have upheld good medical practice wherever you have held a licence and indicate your level of professionalism and ethics. Remember that your certificates will only be valid for three months after receiving them, so start your GMC application as soon as possible.
UK GMC Registration Extras
You must provide other information during the GMC application, including where you have worked over the last five years. If there are any gaps in your CV over 28 days, you will likely be asked to briefly explain them.
You will also be assessed on your health and fitness to ensure you are well enough to practice medicine in the UK. You can detail your medical history in your GMC application. It is worth noting that highlighting something about your health doesn't necessarily mean you will be deemed unfit to practice; it is so the GMC can confirm you are able to practice, and in a small number of cases, many need to investigate further.
What Happens After Sending the Application?
Once you have sent your GMC application, it will be assessed within five working days. After those five working days, you will receive an email or letter informing you of your successful application.
After a successful application, you need to complete an ID check. You can do this digitally and in person. The GMC has partnered with Digidentity to create an easy-to-use app for digital checks. You simply need to log into your GMC Online account, go to the 'My ID Checks' section, click 'Digital ID Checks' and follow the step-by-step guide.
For in-person checks, these will take place in the UK (which you'll receive the details of, including time and location). You'll need your passport and address proof on your person at this ID check. The appointment only takes around twenty minutes and is usually in the GMC office in London. Remember that these bookings get taken up quickly, so book your slot as soon as possible.
For more details about the identification documents for GMC registration, read our helpful guide, How to Apply for GMC Registration.
Proving Expert Support for International Medical Graduates
At BDI, we are proud of our work to bring talented and dedicated doctors from different parts of the world to the UK. The NHS thrives on diversity of talent, and we have made it our mission to make international medical graduates' journey into the UK healthcare sector seamless and stress-free.
Contact BDI today and let us transform your future and find your dream medical career in the UK.