What Are CCT and CESR for IMGs
31 Jan, 2023
8 Minutes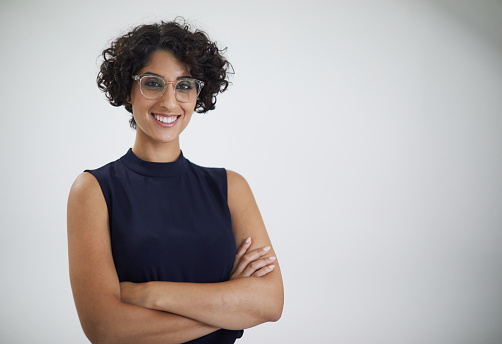 To practice medicine in the UK, international medical graduates must be GMC (General Medical Council) registered. That means going through the process of GMC registration, which involves checking that you have all the necessary training and qualifications to practise medicine in the UK. For many IMGs, though, that's not the ultimate goal – instead, their goal is to get on the specialist register.
That's where a CCT (Certificate of Completion of Training) and the CESR (Certificate of Eligibility for Specialist Registration) come into play. Both the CCT and the CESR are routes for trainee doctors to get onto the specialist register. They both hold the same recognition, but the journey to getting them is slightly different.

What is the Specialist Register?
The specialist register was created by the GMC back in January 1997. It's a register – much like the GMC register – only its members include only specialist doctors who have completed advanced training in a specific medical field, such as pathology or oncology. They are senior doctors with expert knowledge and a high level of clinical responsibility.
By being on the specialist register, these doctors can work in any consultant post, whether honorary, fixed term, or substantive. Without being on the register, they wouldn't be able to work in a permanent, stable consultant post.
The specialist register is public and includes the doctor's name, speciality, and the date they joined.
If you're an ambitious international medical graduate wondering how to secure a place on this register, the answer is through either a CCT or the CESR. Of course, there are requirements for securing either of these certifications, which we will make more transparent in this article.
This comprehensive explainer video covers off everything you need to know about the Specialist Register along with all of your routes to accessing it:
Certificate of Completion of Training (CCT)
The first (and most traditional) route for getting on the specialist register is through a CCT. To get a CCT, you will need to have completed all of your specialist training in a GMC-approved training course. The training lasts a minimum of three years full-time.
As an IMG, there is a significant chance you will have completed part of your training overseas, making this route not a reasonable option for you (it's not that it isn't an option but more you would have to re-do a lot of your training and step backwards in your career to take this route). It all depends on when and where you started your training.
To apply for a CCT, you will need the following:
A CCT Application Form
Logbook
Cumulative Data Sheet (signed by your training programme director)
Educational Supervisor Reports
You must email your submission to the Royal College and then to the GMC. You can complete the whole process electronically, making it much more manageable.
Certificate of Eligibility for Specialist Registration (CESR)
Doing the CESR is the alternative option for getting on the specialist register in the UK. This is often the route for international doctors, as you don't need to have completed a GMC-approved training post in NHS. Instead, you will have completed all your specialist training in an overseas training post.
To get on the specialist register with CESR, you will need to prove that your specialist training is the equivalent of a CCT. That means collecting all of your evidence, including your training, qualifications and skills into one portfolio. This portfolio of evidence will be submitted to the GMC to be approved.
Many IMGs take this route, as it provides you with an equivalent to a CCT without having to have done all the training in approved posts. Plus, it gives you more ownership over your training. However, a big downside is that it is a lot of work, and you are solely responsible for gathering all your evidence, which can be time-consuming. There is a wide difference between the training in the UK and Internationally and each bit needs to have evidence of completion to the same standard – this can involve a lot of documentation and contacting many people and institutions. For some IMGs the level of documentation is not feasible to obtain and so they need to go through another route.
It's important to remember that as of 30th November CESR will be known as 'Portfolio Pathway' and the GMC will begin to accept wider evidence to demonstrate ability to practise as a specialist in the UK rather than strict evidence that training and experience is the same as CCT. The statement from the GMC released in August 2023 tells us: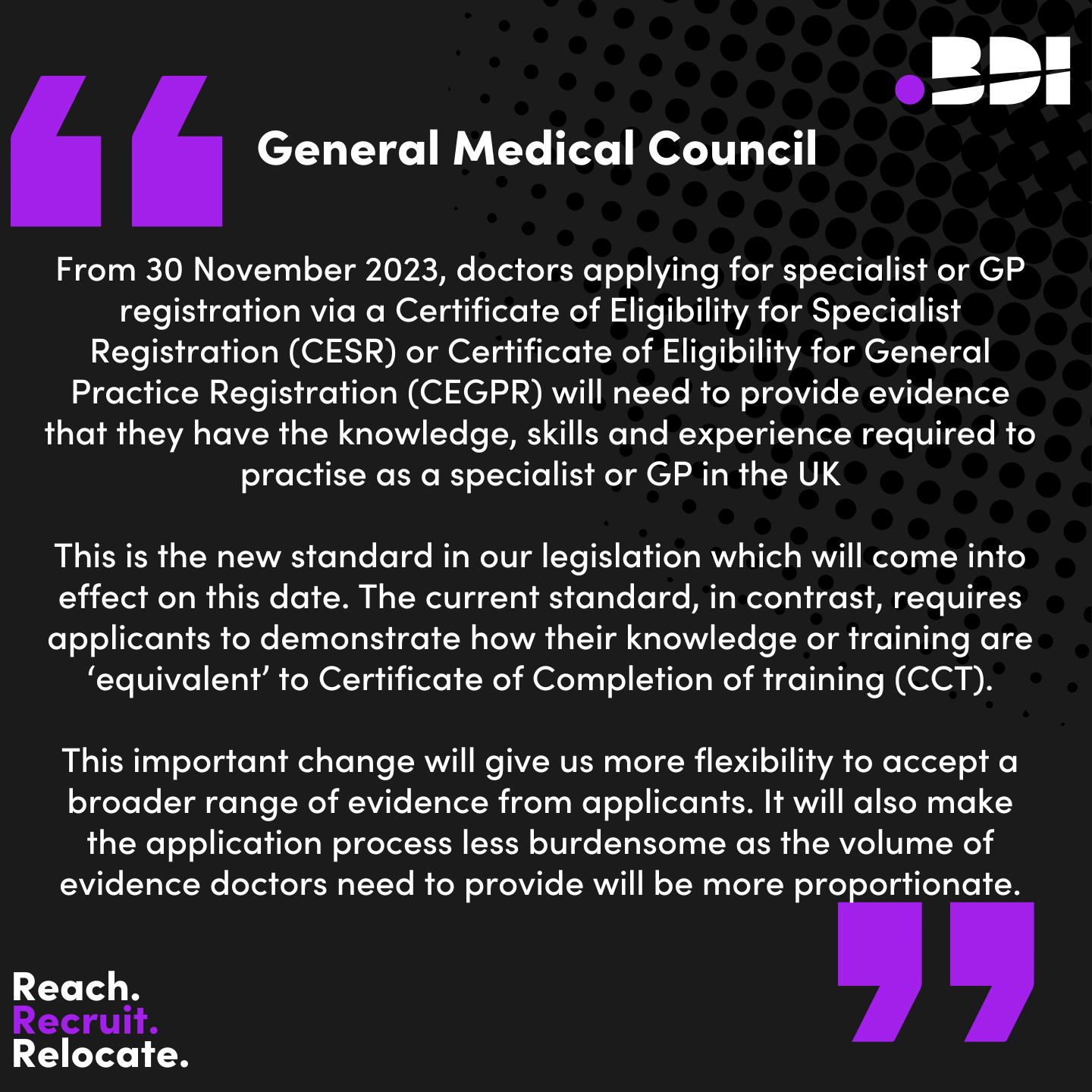 Certificate of Eligibility for Specialist Training: Combined Program (CESR CP)
To get on the UK's specialist register, there is another option besides a CCT and CESR: CESR CP. CESR CP is a combined program that sits somewhere in between CCT and CESR. It's for IMGs that have done some of their specialist training in another country but have then started a GMC-approved training programme at a later date.
To get your CESR CP, you will use a mixture of your training from your home country alongside the credentials you get from the GMC-approved training post. You will need to provide evidence from both during the application process.
The Cost of CCT, CESR, and CESR CP
These are the costs of each certificate as of April 2023:
CCT: £466
CESR: £1,781
CESR CP: £1,781
The prices tend to go up yearly, so keep that in mind before starting your application.
Which One is Right for You?
The CCT, CESR, and CESR CP each have different criteria for completion. So, which route is right for you? It all depends on how much specialist training you have completed and where you have completed it.
A CCT makes sense for many doctors as it is an already GMC-approved training post, meaning you are definitely on the right track to being on the specialist register in the UK. However, it isn't viable for every doctor – particularly ones that have come from overseas and have already completed a portion of their training. Also, it is not as flexible – when doing your GMC-approved course, you won't have much control over where you do your training.
If you already have specialist training behind you, the CESR makes the most sense. By creating a portfolio of evidence, you can prove to the GMC that you have the same knowledge, skills, and training necessary to gain a CCT. In this case, you'll be awarded CESR, which acts as an equivalent. However, getting the documentation together is extremely difficult as healthcare training systems are so varied across the world and so this option should not be considered a simple or easy path to take.
CESR CP is ideal if you have already completed your training overseas but want to finish it in the UK. By starting a GMC-approved course at a later date, you can use a mixture of your international training and your NHS training to get on the specialist register. This is the more accessible route for international doctors, as you can find GMC approved roles to 'fill the gaps' in your training which will help when gathering evidence for the GMC registration.
Why Should IMGs Get Their CCT or CESR?
Many IMGs choose the route of GMC registration to become a doctor in the NHS. CCT or CESR is for those doctors that want to climb a little higher – to specialise in a specific field and become a consultant. Of course, it requires a lot more time and training, but the end result is the chance to work in a permanent role in your speciality of choice. By joining the specialist register, you get to be in a highly-respected role, earning a lucrative salary with the knowledge that your career is stable.
If you are considering your options and would like to know more about the support on offer for CCT, CESR or CESR CP then email us with an up to date CV and we'll be happy to advise you.