How to Apply for GMC Registration
30 Jan, 2023
8 Minutes
The General Medical Council is a regulatory body that allows UK and international doctors to...
The General Medical Council is a regulatory body that allows UK and international doctors to practise medicine in the UK. They do this by having a GMC register – once you get on this register and have a licence to practise, you can treat patients and prescribe medications in the NHS. It's an effective route for IMGs wanting to work for the NHS.
If you're interested in working for the NHS as a doctor and living outside the UK, Switzerland, or EEA, then you will need to understand the GMC application process. It's not a simple process by any means. That makes sense, considering the register is solely for those with the relevant skills and experience to practise in the UK. The NHS needs doctors that can safely practise medicine to ensure all patients receive exceptional care!
Don't fret too much, though – here at BDI Resourcing, it's our mission to make the process of UK relocation as simple as possible, including getting you on track to complete the GMC registration.
Who is Eligible for the GMC Registration?
Firstly, you must ensure you are eligible. To be accepted onto the GMC register as an International medical graduate, you must be:
Living Outside of the UK, EEA, and Switzerland
A Medical Graduate
Once you know you're eligible, you can start the application process. Don't get too ahead of yourself, though, as there are various pieces of evidence you'll need for the registration process, many of which you should get a hold of before starting the application.
What You Will Need
The following list comprises all the necessary certificates and documents to complete the GMC application process.
Evidence of Primary Medical Qualification
A document proving your primary medical qualification must be sent to the GMC. Also, the GMC does not recognise every primary medical qualification, so be sure to check out whether yours will be before going ahead with the application. You can do so here. You will need to have your qualification verified, which is done through the Electronic Portfolio of International Credentials (EPIC).
Proof of English Language Proficiency
All UK doctors must be able to communicate in English, which is why you'll need proof of English language proficiency. Typically, IMGs choose to sit either the IELTS or OET exams.
You'll need your passport at multiple stages of the GMC registration process, as well as the overall relocation process.
Certificate from Internship
To register with the GMC, you'll need to have completed a year's internship just after (or before) graduation, and you'll need proof of this in the form of certification.
Certificate of Good Standing
A certificate of good standing shows the GMC where you have worked and that you are a trustworthy employee. You must ask any medical regulatory body you have registered with over the last five years for this certificate.
Evidence of Your Knowledge/Skill
There are several ways to prove you have the necessary skills for GMC registration. The most common ways are through a post-graduate qualification or passing the PLAB test. If you don't have an accepted post-graduate qualification, you will need to take both parts of the PLAB test to gain access to the GMC registration.
The Application Process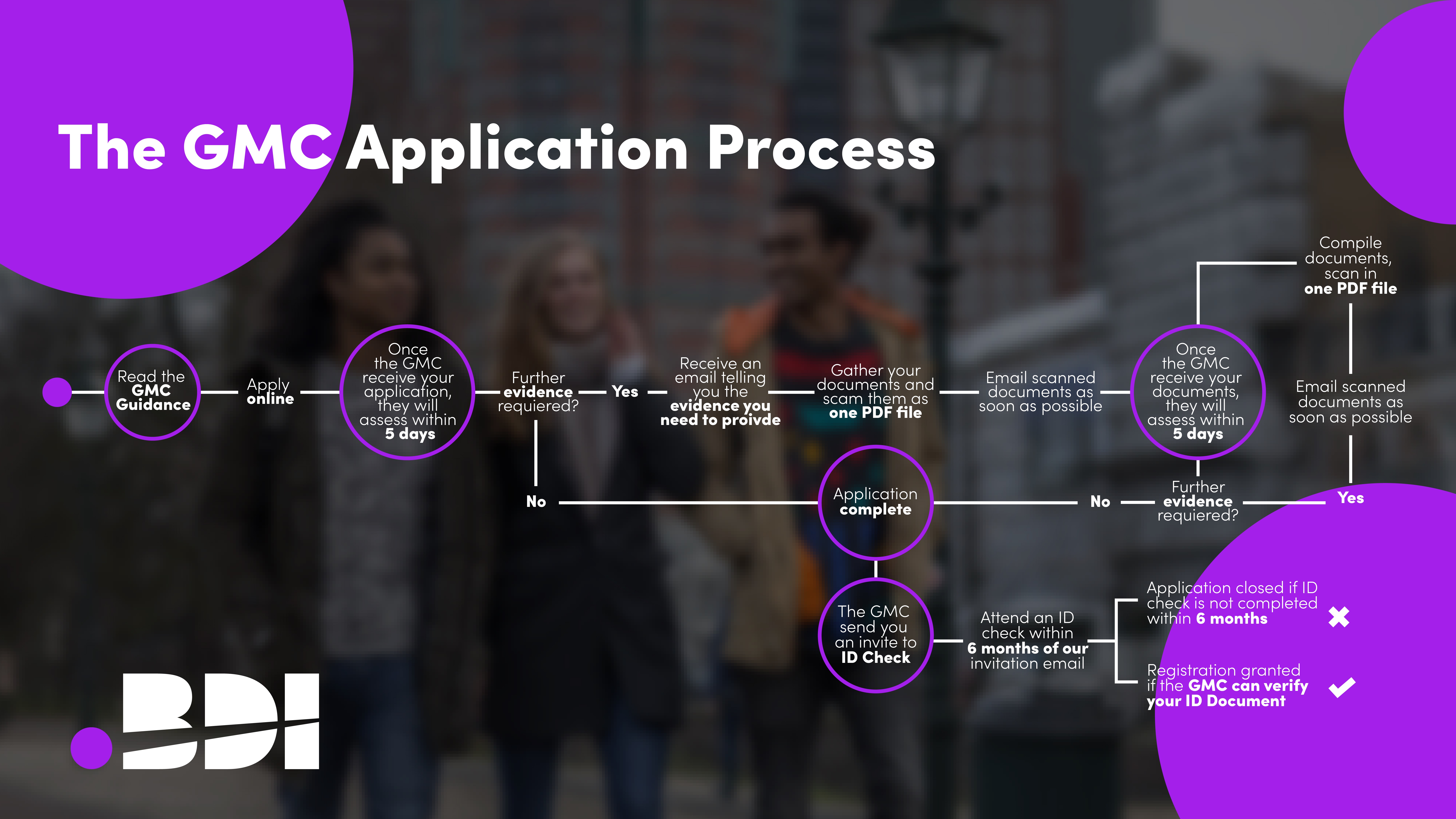 After ensuring you have everything you need for GMC registration, it's time to start the application! Once you start the application, you are given three months to complete it. That means you should only start it once you have all your documents and qualifications.
Step 1: Create a GMC Account
Before starting the application, you must sign up for the GMC online, a portal for all international doctors wanting to get on the GMC register.
Step 2: The GMC Registration Form
Next, go to 'my registration' and then 'my applications' to start your GMC application. It will tell you all the information you'll need to give, including your name, experience, licence, internship details, and more. Be careful when filling in this part, as you don't want to make any mistakes that will lead to delays!
Step 3: Pay the Registration Fee
As of April 2023, it will cost £433 for the full GMC registration fee. However, if you are a newly qualified doctor, you can pay the discounted price of £166.
Step 4: Supply the Necessary Documents/Evidence
At this point, you must submit all the documents mentioned above: your PMQ, certificate of good standing, proof of English language knowledge, proof of internship, and post-graduate qualification/PLAB results. You will usually do this via email.
Once you have sent all of these documents to the GMC, expect to wait five working days before receiving confirmation of your application.
Step 5: ID Check in the UK
Once the GMC approves your application, you will receive an email invitation to book an ID check in the UK. You need to book the appointment yourself on the GMC website. Keep in mind that slots fill quickly, so book as soon as possible.
You'll receive all the information you need for the ID check, including what to bring and when to arrive. This is the last step – once you've completed the ID check, you'll officially be GMC registered and therefore licensed to practise medicine in the UK!
As a side note – being on the GMC register doesn't last forever; to stay on it, you'll need to pay the retention fee each year. The retention fee is currently £433, but that may increase over time.
What Happens Once You're on the GMC Register?
After completing the ID check and getting GMC registered, you can start the process of moving to the UK as a doctor! You will want to start looking at NHS vacancies available in your speciality. Once you have found a job, you will need to get a skilled worker visa, which allows you to work in the UK for up to five years (after that you can apply for another visa).
In the following articles, we will go over the steps of the application process in more detail. It helps to be prepared and know what's to come, as that way, you're less likely to make mistakes. Remember that you only have three months to complete the GMC application once you've started, so having everything (such as your certificate of good standing) prepared beforehand is key to a smooth and steady GMC registration process
If you have any questions or would like our assistance in securing your first job in the NHS then please email us and we'll be happy to help.