Parenthood and Working as an NHS Doctor
08 Mar, 2023
10 Minutes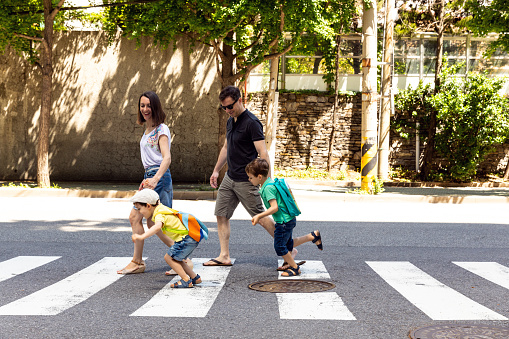 As an international medical graduate or doctor, you might worry if you can balance a rewarding career in the NHS while raising a family. It might be a relief to learn that many healthcare practitioners in the NHS are pregnant, breastfeeding at work, and developing their careers while caring for children.
The UK not only supports working parents inside and outside the NHS, but various laws are in place to ensure employers protect new parents and expectant mothers. Options are also available inside and outside the NHS to help juggle a career with a family. Keep reading to learn how to balance parenthood and working in the NHS.
Flexible Working Options
International medical graduates don't need to give up their dream of starting a family after relocating to the UK. If you have consistently worked for the same NHS employer for a minimum of 26 weeks, you can apply for flexible working hours to raise children.
Flexible working hours include:
Part-time hours
Flexi-time
Compressed hours
Learn About the Different Childcare Options in the UK
As an international medical graduate, you might worry you will not have the same support system to rely on as other working mothers from the UK. While you might not have many or any family or friends to rely on for babysitting duties, you will be happy to learn you can choose from various childcare options.
A Private or Local Authority Day Nursery
Balance work with family life by placing your son or daughter into a private or local authority day nursery, which often accepts children between the ages of six weeks to five years old. Most day nurseries welcome kids from 8am to 6pm to support working parents.
A Childminder
Alternatively, a qualified childminder could care for your child(ren) during working hours. However, you must ensure they are registered with a country's regulatory body, such as Ofsted (England), Care and Social Services Inspectorate (Wales), Care Inspectorate (Scotland), or Health and Social Services Trust (Northern Ireland).
A Nanny
A nanny might be ideal if a day nursery or childminder isn't the right fit for your medical career. A full-time, experienced nanny is often more expensive than the above childcare options, but they will provide greater childcare flexibility to support your working life and career goals. Also, you can choose from a live-in nanny, a daily nanny, or a part-time nanny.
A Nursery School
If you are relocating to the UK with children aged three to five years old to pursue a medical career in the NHS, they can attend a nursery school that is open for kids during term times. As qualified teachers will care for your son or daughter each day, it is a great way to support their education and prepare them for primary school.
Also, parents who are working or studying are entitled to between 15 to 30 hours of free childcare at a nursery school. What's more, many nursery schools provide breakfast clubs and after-school clubs for a fee, which could offer more flexibility when studying for a postgraduate qualification or entering an NHS career.
An After-School Club
If your children are aged five and over, they could attend an after-school club once their school day is over. It will allow them to play, learn, and have some fun while you complete an NHS shift.
Understand Your Legal Rights
All NHS employees have legal rights regarding maternity, paternity, and parental leave, which you would be wise to learn about if planning to start or raise a family in the UK.
Statutory Maternity Leave
It doesn't matter how long you have worked for the NHS; you are entitled to 52 weeks of maternity leave when pregnant. In addition to leaving employment for a year, you will have various rights. For example, an employer must provide flexible working arrangements upon your return. Also, you can relax in the knowledge that your employment terms are protected during Statutory Maternity Leave, such as your monthly pension contributions.
Paternity Leave
Paternity leave is available for the partner of an expectant mother, for instance the father-to-be, the partner of the person pregnant, or a same-sex partner. You can receive up to 26 weeks of additional paternity leave to support your other half and care for a newborn.
Shared Paternity Leave
Shared paternity leave is another option to provide you and your family with more flexibility after welcoming a child into the world. It is designed to help you share parental leave and pay with your spouse, and ensures a new born enjoys quality time with both parents.
For instance, a couple can share the first two weeks of pay and leave after childbirth. At present, 37 weeks of pay and 50 weeks of leave can be shared between partners. Also, you can choose when to take shared parental leave, as you can take it in three blocks, working between them, if you prefer. You and your other half can take shared leave at the same time to enjoy quality time with your new family. It is a great way to balance parenthood while growing in your career.
A Right to Paid Leave for Antenatal Care
Every pregnant woman has a right to paid leave to attend antenatal care. The law is designed to protect your health and safety during pregnancy while making it easier to attend essential appointments without guilt.
A Right to Request a Flexible Working Pattern
If you're worried about how you will care for your kids or teens alongside a rewarding NHS career, it will be music to your ears to know you have employment rights. Parents raising children aged 16 and under can request a flexible working pattern to help balance parenthood with their NHS career. However, you must follow a specific procedure to make a successful request.
How to Achieve a Good Work-Life Balance
You might worry if you can juggle the demands of a flourishing NHS career while raising children in the UK. Yet, it is possible by identifying the best support system, such as the childcare options above, and introducing tactics to improve your work-life balance.
If you're ready to start your next move within the NHS or your first move here as an IMG then get in touch and we will be happy to support you with guidance and all the latest job vacancies.