MRCP Part 2 Overview
15 Feb, 2023
8 Minutes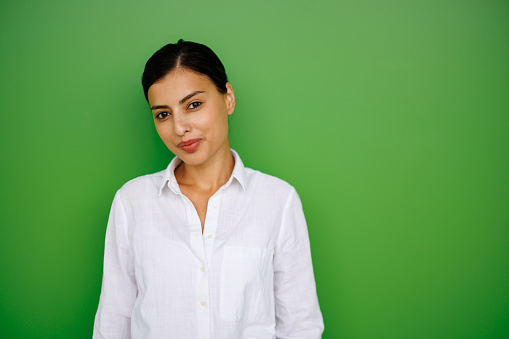 For international medical graduates, MRCP is an excellent route toward GMC registration and further speciality training. It's a diploma that shows your expertise and knowledge in medicine and opens many doors for working in the UK. To reach that point, you must complete the three MRCP exams – part one, part two, and PACES. This article will focus on part two.
As the name would suggest, MRCP part two is the second exam in the three. It tests your clinical understanding and judgements. It expands the knowledge you have from completing part one and is actually more challenging because of that. You'll be tested on areas like long-term management plans, investigation planning, and assessment prognosis.
It's worth mentioning that you can choose PACES as your second exam for MRCP. However, MRCP(UK) does not recommend that route – and neither do we! It's better to go from MRCP part one straight to part two and then complete PACES after that.
MRCP Part 2: Purpose, Cost, and Eligibility
Why take the MRCP? It is offered by the Royal College of Physicians and allows you to go on to train for a subspeciality in the UK, such as rheumatology, dermatology, or haematology. With the full diploma, you can go straight into an ST3+ level role and train in your medical speciality of choice. Of course, with exams that put you so far ahead, you can expect them to be difficult – and they are. That's why it is crucial to get to grips with the exams before you sit them.
MRCP part two costs £460 for those sitting in the UK and £616 for those sitting internationally.
Here is what you need to be eligible to sit it:
PMQ recognised by the GMC
12-months clinical experience
A pass in part one in the last seven years
How to Apply for MRCP Part 2
You can send your application on the MRCP(UK) website. There, you can find the different exam dates – they are held throughout the year at various exam centres worldwide. All you need to do is log in to your account, check that your personal details are up to date, choose the centre, and then pay. Then, you can attend the exam. Of course – you must do a lot of prep before that time!
MRCP Test Centres
The RCP are a truly international organisation with test centres all around the globe. Take a look at this handy map or read on for the full list of city locations.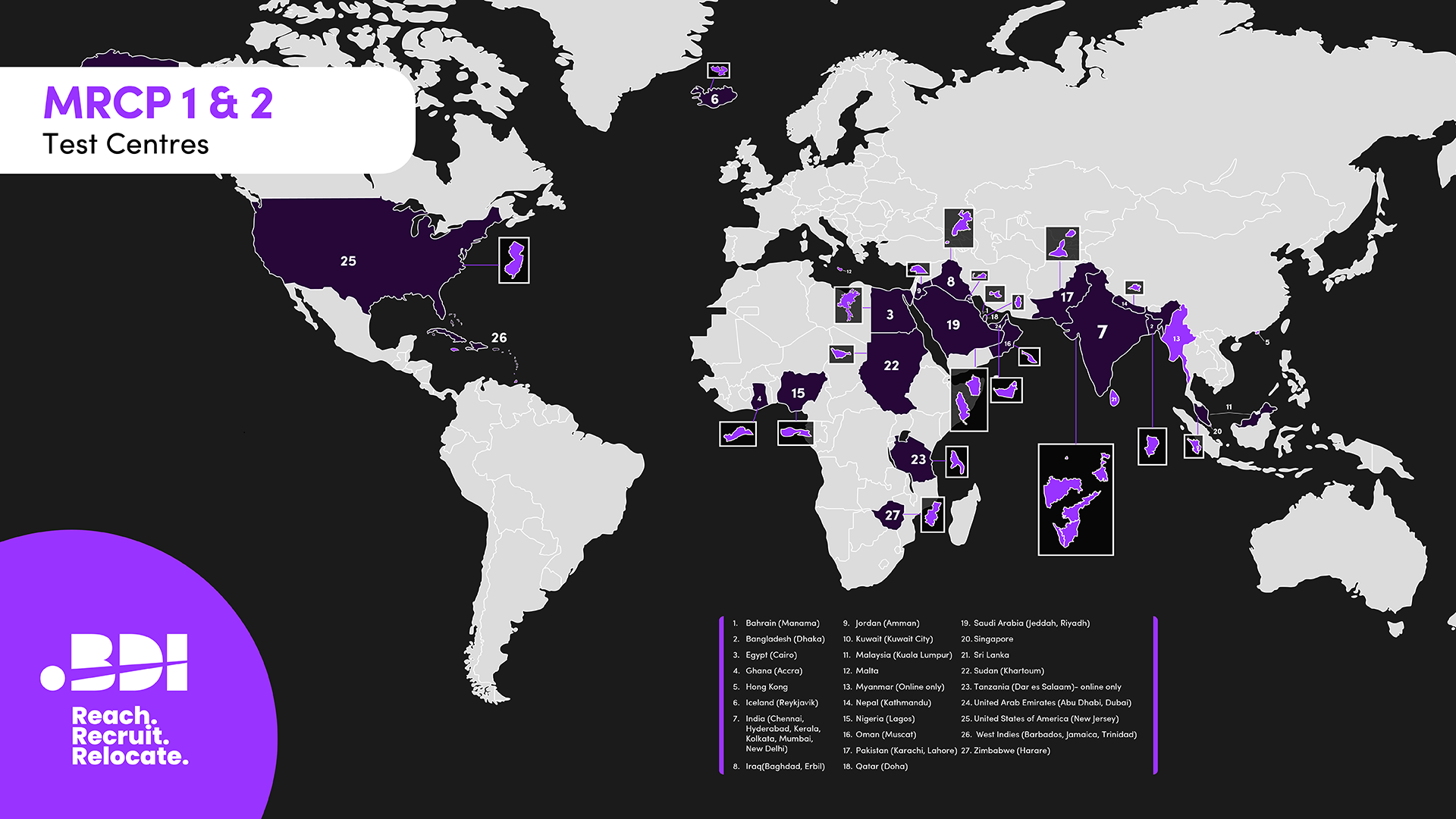 Bahrain (Manama)
Bangladesh (Dhaka)
Egypt (Cairo)
Ghana (Accra)
Hong Kong
Iceland (Reykjavik)
India (Chennai)
India (Hyderabad)
India (Kerala)
India (Kolkata)
India (Mumbai)
India (New Delhi)
Iraq (Baghdad)
Iraq (Erbil)
Jordan (Amman)
Kenya (Nairobi)
Kuwait (Kuwait City)
Malaysia (Kuala Lumpur)
Malta
Myanmar (Online only)
Nepal (Kathmandu)
Nigeria (Lagos)
Oman (Muscat)
Pakistan (Karachi)
Pakistan (Lahore)
Qatar (Doha)
Saudi Arabia (Jeddah)
Saudi Arabia (Riyadh)
Singapore
Sri Lanka
Sudan (Khartoum)
Tanzania (Dar es Salaam) - online only
United Arab Emirates (Abu Dhabi)
United Arab Emirates (Dubai)
United States of America (New Jersey)
West Indies (Barbados)
West Indies (Jamaica)
West Indies (Trinidad)
Zimbabwe (Harare)
It's important to note that the process for Hong Kong is slightly different – you can contact MRCP(UK) or look at their website for more information.
MRCP Part 2: What to Expect
MRCP part two involves two exam papers that last three hours each. Each has 100 questions that are in the best-of-five format. You'll be given clinical scenarios with five possible answers. The questions/answers will typically revolve around diagnosis, management, prognosis, and investigation. You'll need to pick the preferred option, differentiating it from the four distracters. Often, the distracters look very similar to the correct answer, making it a challenge.
Here are the topics that the questions will cover:
Cardiology
Clinical Pharmacology and Therapeutics
Dermatology
Endocrinology, diabetes and metabolic medicine
Gastroenterology and Hepatology
Geriatric medicine
Haematology
Infection diseases
Medical ophthalmology
Neurology
Oncology Palliative medicine and end-of-life care
Renal medicine
Respiratory medicine
Rheumatology
In this exam, many of the questions will be presented with images. Here are the photographs you can expect to see:
Clinical photographs
Pathology slides
Inheritance trees
ECGs
X-rays
CT and MR scans
Echocardiograms
Lung function tests
Getting comfortable with answering questions surrounding both the above topics and the images will help you pass the first time. It's all about focusing your revision on the syllabus.
Preparing for MRCP Part 2
As mentioned, MRCP part two is more challenging than part one. However, the pass rate is a little higher at 60-70%, which is because those taking part two have already passed part one.
Knowing how much of a challenge it is, it's essential to prepare properly, so here is what we suggest:
Take MRCP Mock Exams
MRCP(UK) have many great resources for revising candidates – including a mock exam. So take that to see how well you do while getting used to the exam's format.
Sample Questions
It's a good idea to answer a lot of sample questions, too. The more you answer, the more confident you'll become at answering the best-of-five questions, making you perform better on exam day.
Use Various Revision Resources
When it comes to revision resources, start with the Royal College of Physicians and then spread your net wide, ensuring you read a mixture of textbooks. Doing so will ensure you cover the necessary topics. Some books we recommend include:
Pass MRCP Part 2: A Problem-Based Approach; Hamilton, P. 2015
Rapid Review of Clinical Medicine for MRCP Part 2, Second Edition: Pt 2 (Medical Rapid Review Series); Sharma, S. & Kaushal, R. 2006
On the Day
After prepping and revising for months, you don't want to let yourself down on the day.
Show Up in Plenty of Time
The last thing you want is to be late. Check your location in advance (it will be on your admission document) and plan your route. Aim to get to the test centre at least thirty minutes before the start of the exam.
Have All Necessary Items
You'll need your ID and admission document to sit the exam. Also, you might want to bring lunch with you for the break in-between papers. Keep in mind that you won't need stationary as MRCP(UK) will provide it for you.
Answer All Questions
MRCP part two has no negative marking, so it's wise to answer all questions, even if some of those answers are guesses.
What Happens After You Pass?
After passing MRCP part two, the first thing you want to do is congratulate yourself! After all, it's a challenging exam and shows that you have excellent medical knowledge.
Assuming you've taken the recommended route of doing part two before PACES, this is the time to apply for the PACES exam. Once you complete that, you'll get your diploma and be able to apply for GMC registration! If you want to learn about the PACES exam, that's precisely what we'll discuss in the following article.
If you've completed Part 2 and booking in your PACES then you've nearly completed the journey so now is the time to start thinking about preparing your CV for NHS Jobs. If you'd like our help with a handy template then email us and we'll get one straight back to you.