MRCP PACES Overview
13 Feb, 2023
12 Minutes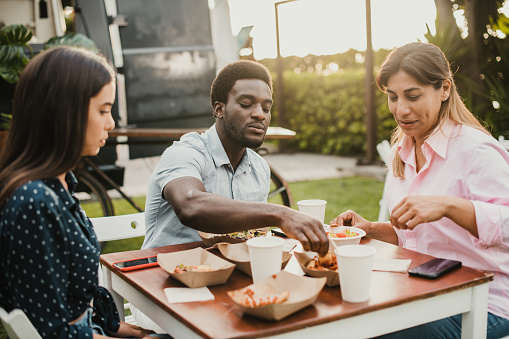 The MRCP is a diploma awarded by the Royal College of Physicians, and full completion of this diploma grants international doctors a route toward GMC registration and allows you to enter specialist training while working at the ST3+ level. It's a highly respected qualification that proves your expertise and clinical knowledge. To get the diploma, you must complete three exams – PACES is the final one.
PACES is a challenging practical examination in which you show your clinical skills at five stations. Each station focuses on something different – such as history taking or respiratory – and has two examiners to mark you.
Who is Eligible to Sit PACES?
To sit PACES, you must:
Have a GMC-recognised Primary Medical Qualification
Have Completed Twelve-months Experience After Graduation
Have Completed Part One in the Last Seven Years
You don't need to complete MRCP part two to be eligible for PACES. However, it is strongly recommended by MRCP(UK) that you complete part two first. It is the preferred order, and you'll need to sit both to gain your diploma anyway.
PACES: Fees and How to Apply
The PACES exam costs £657 in the UK and £1202 internationally. To apply, you need to sign in to your MRCP(UK) account and update any details that have changed. In the application, you'll also need to show your work history and training from the last twelve months. Once you've filled out the application, you will choose the time and place of the exam before paying the fee.
The PACES exam happens three times a year in three diets, which are:
They are run at clinical centres in the UK and overseas. International centres are a little more limited, but MRCP(UK) are working on expanding.
Before applying, consider that MRCP recommends that you apply at least 36 months after graduation. That's because the pass rate for those who apply 24-36 months after graduation is 50%, whereas for those who take it 36-48 months after graduation, the pass rate increases to 77%.
PACES Exam Structure
The PACES exam takes place over half a day in a clinical setting. There is the station carousel that you must go around to complete the exam. The carousel has five different stations containing eight encounters, with two examiners at each. The grading is 0, 1, and 2. 0 is unsatisfactory, 1 is borderline and 2 is satisfactory.
Each station lasts a total of twenty minutes, with a five-minute break between each one. Here is what each station consists of from the third diet in 2023:
Station 1: Respiratory (10 minutes) Communication (10 minutes)
Station 2: Consultation (20 Minutes)
Station 3: Cardiovascular (10 minutes), Neurological (10 minutes)
Station 4: Communication skills and Abdominal (20 minutes)
Station 5: Brief clinical consultation (10 minutes),
The new carousel for 2023 has different sequencing too – some stations will include physical examinations and communication encounters. It has been carefully thought through so that the examiners at each station can contribute more on the skill of the candidate – which should make the exam more reliable.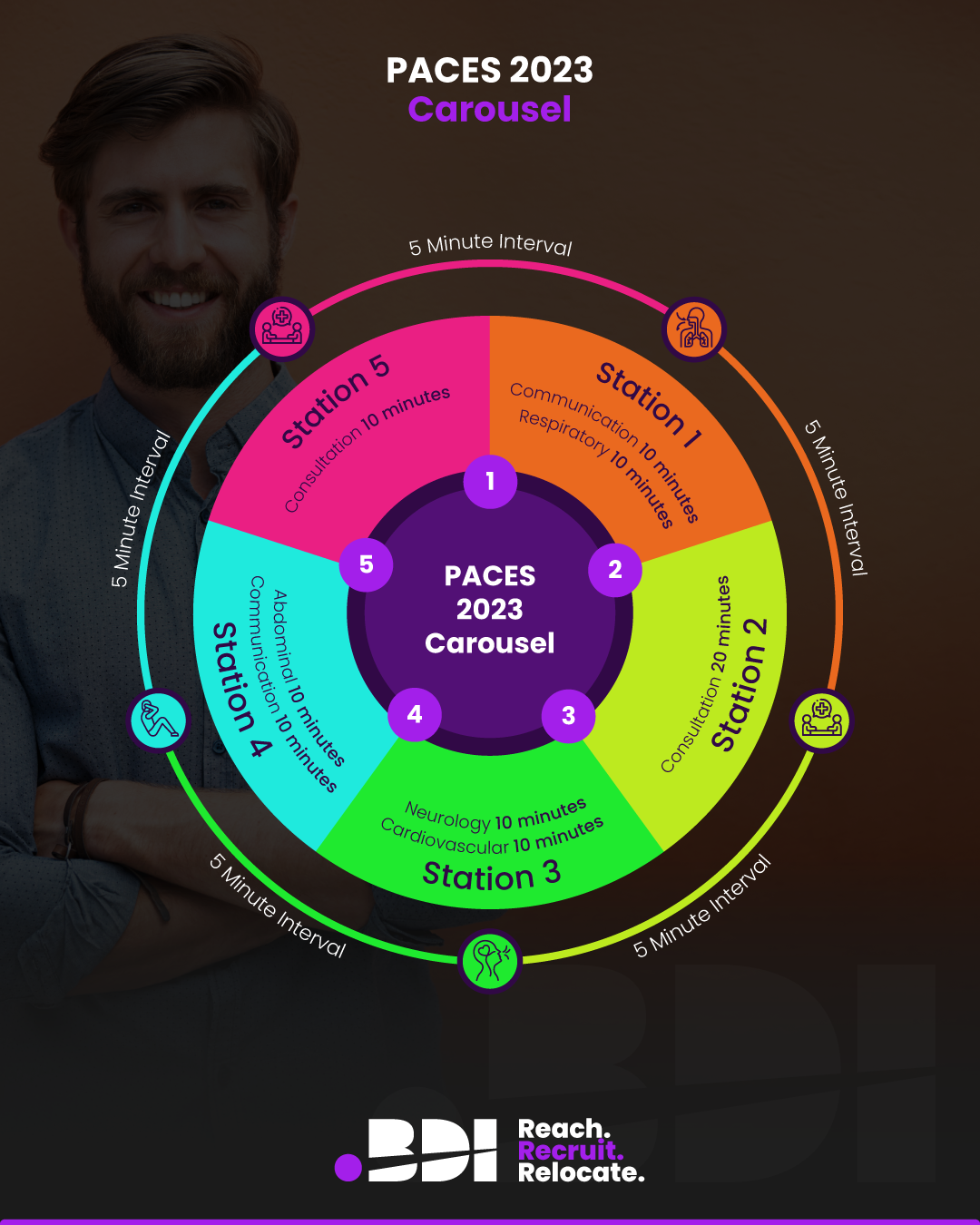 This exam is about proving that you can use your medical knowledge in a clinical setting, which is why you will deal with patients throughout. The aim is to test a range of your clinical skills, ensuring you have a broad enough understanding of medicine.
To pass the exam, it's important to understand what the examiners are looking out for. Here are the core clinical skills you will need to show at each station, which the examiners will assess you on:
Physical Examination
Identifying Physical Signs
Clinical Communication
Differential Diagnosis
Clinical Judgement
Managing Patient Concerns
Maintaining Patient Welfare
How to Prepare for the PACES Exam
The exam is rigorous. Many candidates find it extremely challenging, and the pass rate is only 55-60%. That means preparation is crucial. Without knowing what to expect or preparing, you won't have adequate knowledge to pass each station.
First, you must study the syllabus to know what's coming. Fortunately, MRCP(UK) has plenty of information and resources on the MRCP exams, so you can get to grips with what to expect.
Another important part of the prep is using your training. When working in a clinical setting, think carefully about what you're doing – examine yourself. The PACES exam is all about how you act in a clinical setting, so try to ensure you meet the clinical skills necessary to pass, such as maintaining patient welfare. Getting into the habit now will help you when it comes to the exam date.
Of course, using various studying resources is important, too. The Royal College of Physicians have said that they will provide a range of resources to help candidates prepare – including texts and videos. The MRCPUK website also has a number of resources that will be useful to you and there are preparation courses that you can sign up to.
The Day of the PACES Exam
It's not just about how much you prep (although that is crucial) – to pass, you must also learn what to expect on the day. Here are some of our tips for getting it right:
Review the Exam Regulations
MRCP(UK) has all the information you need on exam regulations, so familiarise yourself before taking the exam.
Plan Your Route and Arrive One-hour Early
Planning your route means you won't show up late. MRCP(UK) asks candidates to get there one hour early, so be sure to do so.
Ensure You Have Everything You Need
You will need your ID and admission document to sit the exam. Keep in mind that you may be asked to store personal items (like your bag and coat) away from the examination area.
Wear Appropriate Dress
It's best to wear comfortable, well-fitted clothes that won't distract you. Remember – you'll be performing physical exams, so you don't want your clothes to get in the way.
Passed! What Next?
Have you passed the MRCP PACES exam? If so – well done! Successfully completing this exam is no walk in the park, and you should be proud of your achievement.
Assuming you've taken the route of MRCP part one > MRCP part two > MRCP PACES, you will have achieved your diploma, which will grant you access to GMC registration when used alongside IELTS or OET. From there, you can pursue specialist training and work towards becoming a consultant in the UK! At the same time, you will be able to start by applying for non-training ST3+ roles, ensuring you start your medical career in the UK in a successful senior position – thanks to all your hard work.
Keep us updated with your progress and we'll be happy to inform you of relevant roles in the NHS as well as provide guidance and support for every step along the way.