MRCEM / FRCEM for GMC Registration
02 Feb, 2023
8 Minutes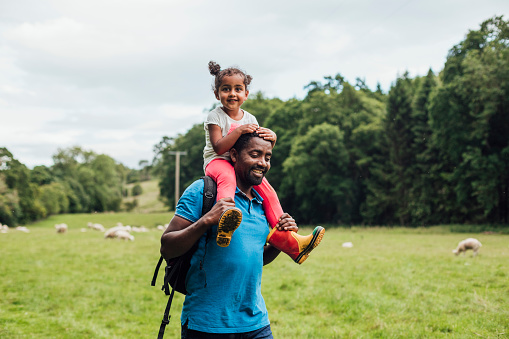 To work as a physician in the UK, you need to get on the GMC register. How you do that depends on your prior experience and overall career goals. For those wanting to work in an emergency medicine department, the obvious route is becoming a member of the Royal College of Emergency Medicine, which provides a path to GMC registration.
The Royal College of Emergency Medicine is a professional body of emergency medicine doctors in the UK. They set the standards and requirements for all doctors that work in emergency medicine departments, ensuring they are well-trained and competent.
The RCEM offers two routes: getting MRCEM (Membership of the Royal College of Emergency Medicine) or FRCEM (Fellowship of the Royal College of Emergency Medicine). These two membership categories are slightly different, but both provide access to GMC. Both routes are for doctors wanting senior roles and can be accessed by IMGs thanks to overseas accessibility to the exams.
If you want to learn more about the MRCEM and FRCEM routes for GMC registration, this video is a great starting point and the rest of this article will tell you the full story.
The MRCEM Route
The MRCEM route consists of three separate examinations. You can book all three online; the RCEM has an exam calendar to show you when the next available exams are.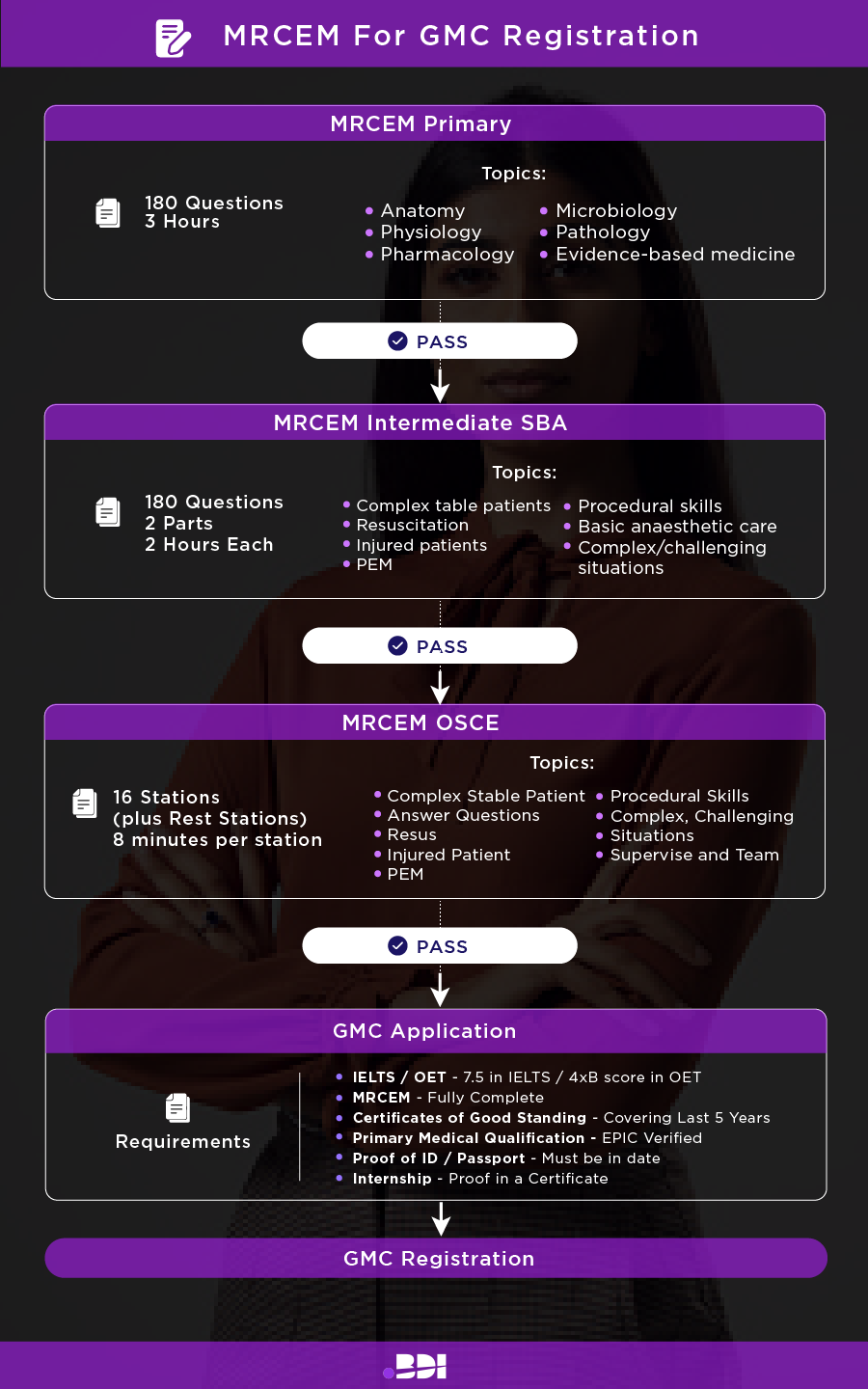 MRCEM Primary
Cost of Exam: £330
The first exam is a single best-answer paper based on the basic sciences curriculum. The exam lasts three hours and includes 180 questions in total. The topics include anatomy, physiology, pharmacology, microbiology, pathology, and evidence-based medicine.
To sit the MRCEM Primary exam, you don't need any experience in emergency medicine. However, you must hold a primary medical qualification approved by the GMC. You must also have sufficient English language knowledge – at least the equivalent of IELTS level 7.
To prepare for the MRCEM primary, it's a good idea to learn the basic sciences – the RCEM has a list of appropriate textbooks for studying. You should also get to grips with the questions so that you know what to expect on the day of the exam.
MRCEM Intermediate SBA
Cost of Exam: £335
The second exam for MRCEM is the MRCEM Intermediate SBA, a theoretical exam comprised of 180 single-best-answer questions. It comes in papers that last two hours each, with an hour's break in between.
This exam ensures you understand a range of common conditions you will likely see in the emergency department. The questions are based on complex table patients, resuscitation, injured patients, PEM, procedural skills, basic anaesthetic care, and complex/challenging situations. You can look at the RCEM assessment blueprint for more details.
In terms of eligibility, you must have passed the MRCEM primary, hold a PMQ, and have completed a UK training programme (or an overseas equivalent).
MRCEM OSCE
Cost of Exam: £450, £660 in India, £750 in Malaysia
The final exam for MRCEM completion is the MRCEM OSCE (objective structured clinical examination). This is different from the last two as it is a practical exam. Instead of a written exam, you will demonstrate how you act in a realistic clinical simulation.
The MRCEM OSCE includes 16 eight-minute stations and two rest stations. You get one minute between stations to read the scenario, after which you show how you will manage the emergency. This can be done either in person or on a video call.
The stations revolve around the following:
Complex Stable Patient
Answer Questions
Resus
Injured Patient
PEM
Procedural Skills
Complex, Challenging Situations
Supervise and Team
To be eligible for the MRCEM OSCE, you must have passed both the primary MRCEM and MRCEM Intermediate SBA. Also, you'll need twenty months of experience, including six months of emergency medicine experience.
What Next?
Each of these three exams allows up to six re-sits. So, if you don't pass, you can always try again – just make sure you assess where you went wrong so you can improve the next time.
After passing all three MRCEM exams, you can apply for full GMC registration and then emergency medicine posts in the NHS! This is a significant step and will allow you to begin a thriving career in an NHS emergency department.
The FRCEM Route
FRCEM is a postgraduate award that is given to those who pass the FRCEM SBA and FRCEM OSCE examinations. Much like the MRCEM exams, you can book these online – as long as you meet the criteria. These will provide a route to GMC registration for those that want to become senior doctors in an emergency medicine role. You can take the following exams in any order to get your FRCEM.
FRCEM SBA Exam
Cost of Exam: £465
The FRCEM SBA is a theoretical exam that covers research management and QI. It consists of 180 single-best-answer questions over two separate papers. You get two hours per paper.
You'll either need the MRCEM or a FRCEM Intermediate Certificate to be eligible for this exam. You'll also need to have completed at least twelve months (full-time) of emergency medicine training in a UK/Irish-approved programme. Alternatively, you'll have done six years of training post your PMQ.
FRCEM OSCE
Cost of Exam: £465
The FRCEM OSCE is a practical exam of 16 eight-minute stations, with one minute of reading in between. After reading the scenario, you get eight minutes to demonstrate how you would react. The goal is to know that you can use your emergency medicine knowledge in a real-life clinical situation. The stations' topics include:
Complex Stable Patient
EPIC
Supervision and Teaching
Resus
Injured Patient
PEM
Management
The criteria for sitting this exam include either an MRCEM or FRCEM Intermediate certificate and 12 months of emergency medicine training in the UK or Ireland, or you could complete six years of training in a non-approved UK/Irish programme.
What Next?
You get four attempts for both the FRCEM exams. Once you pass, you can use your qualification to become a specialist as a senior doctor in the NHS. For example, you might go on to do your certificate of completion of training (CCT) or certificate of eligibility for specialist registration (CESR) in emergency medicine, allowing you to become a consultant and provide high-quality care in a senior role.
If you're unsure whether or not MRCEM is the route for you then don't worry. You might also want to think about How to Get GMC Registration via PLAB. The following offers a useful comparison so that you can make an informed decision: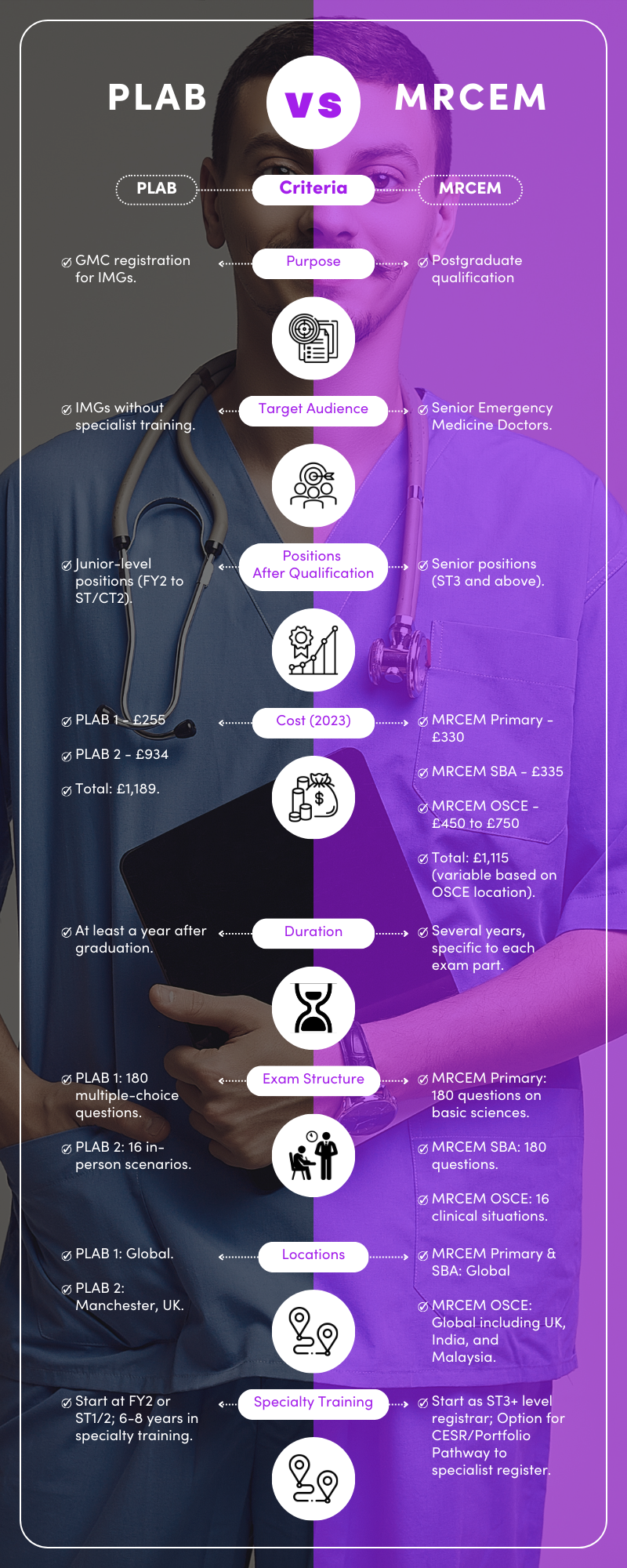 In Summary
The MRCEM and FRCEM are great routes for IMGs wanting to specialise in emergency medicine and get their GMC registration. Of course, each exam requires a lot of work and preparation – they are not easy by any means. To help you pass, stick around for the following articles, where we'll dive into the MRCEM exams in a little more detail.
If you need any support on your journey to working in the NHS then BDI Resourcing are here to help – you'll find us on your favourite social media channels and can contact us via email.