How to Get GMC Registration Via PLAB
05 Sep, 2023
11 Minutes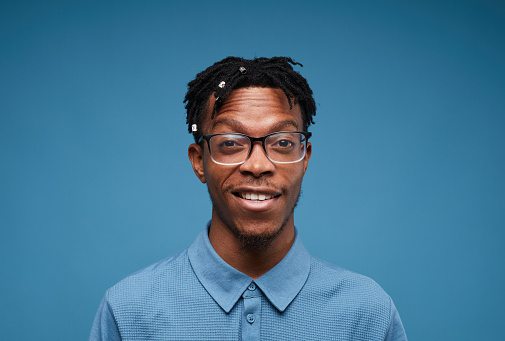 Practising medicine in the UK is a dream career for many international medical graduates. However, to achieve this ambition, you must first apply for GMC registration, and once you are successful, you will be fully licensed to begin your journey to being an established UK doctor.
There are several different routes to getting your GMC registration. Some are more suitable than others. For example, some routes are aimed at individuals who want to stay in the UK temporarily, and some, like PLAB, are aimed at those who want to make it a permanent home.
This guide will explore the purpose of the PLAB, who is eligible, the costs involved, what the PLAB exams entail, and how you apply.
PLAB: How to Apply and What to Expect
PLAB stands for Professional and Linguistic Assessments Board. It is a two-part examination that international medical graduates can use to access GMC registration and, in turn, a license to practice medicine in the UK.
The PLAB exams aim to provide international medical graduates with qualifications to prove they have the necessary knowledge, skills, and experience to practice medicine safely in the UK. In turn, it ensures that all NHS patients receive the same standard of practice from every doctor. PLAB is split into two parts, PLAB 1 and PLAB 2.
You must book both of your PLAB exams online via your GMC online accounts. You can set up an account if you don't already have one. Before each test, you will receive confirmation of the arrival time (and location in the case of PLAB 2). It is crucial to show up on time. You will also need your identity document (often a passport). Next, let's explore each part in more detail.
PLAB 1
The PLAB 1 exam is a written text comprising 180 multiple-choice questions, which you have a time limit of three hours to answer. Each question starts with a scenario followed by five possible answers, and you have to choose the right one. Here is an example of a question from the General Medical Council's Website:
Source: GMC Website
Where does the PLAB 1 exam take place?
It is possible to sit the PLAB 1 exam in several countries, including the UK. You can find the available locations and dates in your GMC Online account or take a look at our map below: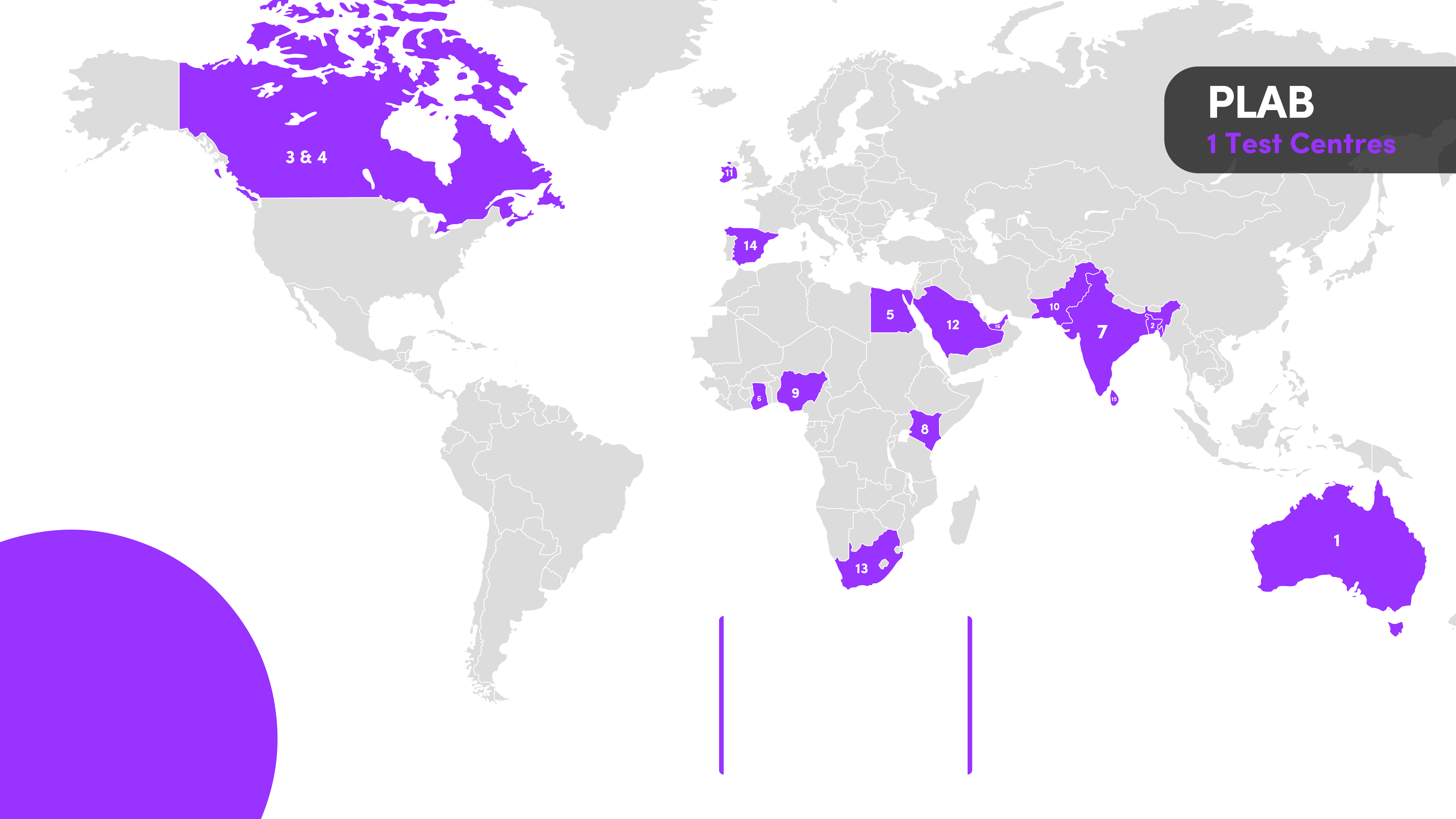 What are the PLAB 1 Fees and Required Documentation?
PLAB 1 comes with a cost of £255. This fee can be payable via a debit or credit card, bank transfers, cheques, bank drafts, or postal orders. It is possible to cancel PLAB 1. If you cancel over 42 days before the exam, it costs £25.50. If it is under 42 days, you will be charged a fee of £255.
As well as payment, you will need to provide various documentation to qualify for part one. You will need the following:
A Primary Medical Qualification
Every international medical graduate needs to possess a primary medical qualification to be able to join the UK GMC registration. It is important to know that not all PMQs are accepted by the General Medical Council. You can check if your qualification is acceptable via the GMC website.
If your qualification meets the requirements, you must provide the General Medical Council with a copy as evidence. You will also need to get it independently verified. Verification can be completed by the Educational Commission for Foreign Medical Graduates (ECFMG).
Proof of English Language Knowledge (IELTS or OET)
Practising medicine in the UK requires strong communication skills among fellow professionals, patients and their friends and family. Therefore, you'll need to be able to show that you have an excellent grasp of the English Language. You do this by taking an International English Language Testing System (IELTS) or Occupation English Test (OET).
Graduated Medical School Outside the UK, EEA, and Switzerland
If you graduated outside of the UK, European Economic Area (EEA), or Switzerland, you will be eligible to take the PLAB exam. The PLAB exam will test to see if you have the knowledge and the skills as a doctor starting the second year of their Foundation Programme in the UK.
PLAB 2
Part two of PLAB is a practical assessment called OSCE (objective structured clinical examination). For this section, you'll be marked on three key areas:
Interpersonal skills - This will test how you approached the station, established rapport with the patient, used open and closed questions, involved the patient, and demonstrated your professionalism and understanding of ethical principles.
Clinical management skills - This will assess how you produce a diagnosis, explain updates to the patient, and formulate management plans.
Data gathering, assessment, and technical skills - This will test your history taking, practical procedures, and investigations that lead to a diagnosis. A physical examination will also take place.
Where does the PLAB 2 exam take place?
The PLAB 2 exam takes place at the General Medical Council's two assessment centres in Manchester, UK. Once you receive your booking confirmation, it will inform you which test centre you should attend. To ensure you are confident going into the exam, you'll get shown a video on the day with everything you need to know about the PLAB 2 exam structure. Here, you can ask any questions if you are unsure about anything.
At this stage, you should also be invited to attend an ID check in the UK – this will need to be done before your application is approved.
What are the PLAB 2 Fees and Required Documentation?
PLAB 2 comes at a cost of £934, with the same payment methods as PLAB 1. Also, like PLAB 1, you can cancel the PLAB 2 exam. For cancellations over 42 days, the cancellation cost is £93.40. Cancellations between 42 and 28 days before the exam is £467, and less than 28 days, it is the full £934. In addition, to be eligible, you will also need to have the following:
Passed PLAB 1
Once you have passed PLAB 1 and received your results, you will qualify for PLAB 2, and the available test dates will be available on GMC online. Crucially, you must pass PLAB 2 within three years of the date you passed PLAB 1.
Completed 12 months of Clinical Practice
There are several expectations for your clinical practice, including:
Minimum of 12 months of full-time clinical practice with direct patient care.
Completed in the last two years to demonstrate your knowledge and skills are up to date.
Supported by reports from senior doctors to prove satisfactory completion.
Undertaken in an institution that meets the General Medical Council's standards.
If you unfortunately fail, don't panic; you can redo both parts of the PLAB exams. You can book the exam again as long as you still meet all the requirements. You can make a maximum of four attempts to pass the exam.
How can you Prepare for the PLAB Exam?
There is no denying that the PLAB examinations are difficult. After all, they are there to determine you have sufficient knowledge in medicine so that you can safely practice in the UK. To pass, you must prepare. That means putting aside plenty of time for study sessions, where you can absorb all the information you'll need to pass.
An excellent place to start is by looking at GMC's blueprint on their website, which details exactly what to expect from the PLAB exam. You can even find practice exam questions online, which is handy for getting to grips with the exam structure and seeing where you need to spruce up your knowledge.
All the skill areas and topics covered in the PLAB blueprint are matched with those typically faced by doctors beginning the second year of their UK Foundation Programme training. Therefore, it is worth getting acquainted with the Foundation Programme curriculum to better understand the subjects likely to be covered.
We also recommend the book Oxford Handbook of Clinical Medicine. This provides an excellent research and preparation tool for your PLAB exam. Don't forget to apply your newfound knowledge to realistic clinical situations, as that is what you'll be expected to do during part two.
If you can, practice the practical side of the exam with a study buddy or your tutor. Remember – to pass that section, it's not just about knowing the information – it's about being able to communicate effectively and apply the knowledge appropriately.
What Happens After You Pass PLAB?
Passing part one and part two of the PLAB means you can finally apply for your GMC registration! For your GMC application, don't forget that you'll also need:
Proof of your primary medical qualification
Proof of the successful completion of IELTS or OET.
A Certificate of Good Standing
If you would like more information about what you need for your UK GM Registration, explore our excellent guide on How to Get GMC Registration for International Medical Graduates.
Once your application is fully approved, you will receive GMC registration, allowing you to practice medicine in the UK. From there, you can focus on finding an NHS vacancy, which we can fully support you with.
Is PLAB for You?
PLAB is one of the best routes to getting your GMC registration. Is it right for you, though? There are a couple of questions you must ask yourself to determine whether or not it is:
Do you have a medical degree?
Do you live outside of the UK?
Do you want to prove your clinical knowledge?
Do you want to work in the UK?
If you answer "yes" to the above questions, there's a high chance that the PLAB is perfect for your medical career path. Completing both parts of the PLAB will prove your knowledge and allow you to complete your GMC application, meaning you can start relocating to the UK. If you would like to discuss whether PLAB is right for you with one of our expert and friendly team, contact the team today.
If you are still unsure about which route to take. In that case, our fascinating video comparing PLAB to the post-graduate qualification route will give you further insights to help you decide.
In addition, if you would like to explore the MTI and Royal College routes to UK GMC registration, discover our excellent guides - How to Get GMC Registration via MTI Sponsorship and How to Get GMC Registration via Royal College Qualification.
Committed to Supporting International Medical Graduates
Our expert team are proud of our work to bring a diverse range of talented doctors from all over the world to work in the UK healthcare sector. We truly believe that the NHS thrives on the diversity of the people working hard in its hospitals daily. We are on a mission to ensure international medical graduates' journey to the UK is as seamless and supported as possible.
Contact BDI today and let us drive the success of your UK medical career.