IMG Guide to Switching NHS Trusts
13 Mar, 2023
10 Minutes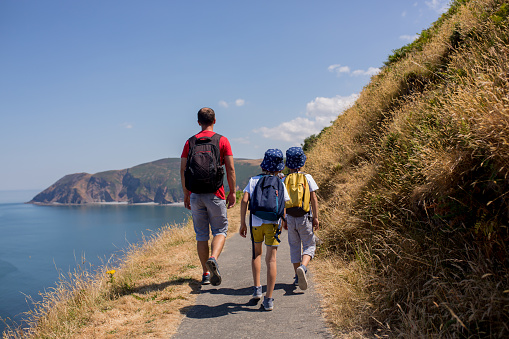 Are you an IMG working in the NHS or interested in doing so? If so, it's essential to understand how the UK's national health service is run. That includes learning about NHS trusts.
When working for an NHS hospital, you will work under an NHS trust that oversees the entire management of the hospital. You might stay with that particular trust for your whole career or you may eventually decide to switch NHS trusts.
What Are NHS Trusts?
NHS trusts are public sector bodies within the National Health Services. Each trust serves a specific geographical area, providing health care services to patients. Each NHS trust can work slightly differently in how they run the hospital. That's because each geographical location might need to meet specific demands. Currently, there are 223 NHS trusts in the UK.
Why Switch NHS Trusts?
Doctors switch NHS trusts for any number of reasons. One common motive is that they want to live elsewhere. If you would prefer to live in another part of the UK – perhaps you want to live out of the city or closer to family – then switching NHS trusts might be necessary to do that.
It might also be that you want to pursue a specific speciality or gather experience not available in your NHS trust. In this case, you'll have to switch trusts to gain the speciality training you need to follow your chosen career path.
Whatever your reason, it's common for NHS doctors to switch trusts at the end of their current contract, and doing so shouldn't be too much of an issue. You'll just need to ensure you're equipped and ready to switch!
Letting Your Hospital Know About the Switch
You might have another NHS post already lined up, or you might not. In any case, if you want to leave the trust, you'll need to let your lead consultant, clinical director or department manager know about it. It usually requires written notification from you as the employee. The line manager should acknowledge this resignation letter within five days and will most likely point you towards HR to help you with your transition. They will then complete a termination form and contact payroll.
You will need to complete an exit questionnaire when leaving. Exit interviews are only required in certain circumstances, so you might not have to do one.
NHS Notice Periods
Like many jobs in the UK, the NHS has a notice period for when employees leave. The exact period will depend on your contract of employment so check that before proceeding however the general timeframe will range between 1 to 3 months.
Choosing a New NHS Trust
If you've not yet chosen a new NHS trust, here are some things to consider before making the big move:
Your Speciality
Some NHS trusts offer specialities that others don't. If you want to do a specific niche, you might need to research which trusts offer that kind of training.
Where You Want to Live in the UK
Where do you want to live in the UK? The UK has a variety of cities, towns, and villages, each with its own appeal. Perhaps you want to move somewhere where living costs are cheaper, or you'd prefer to move away from the city. Consider nearby schools, transportation links, and the cost of living when deciding where to live in the UK.
A Job Offer
Some IMGs switch because they've been offered a new position at another hospital. In this case, you won't have to choose a new trust or hospital, as you'll already have the offer right in front of you!
Applying for a New NHS Job
Updating Your CV
You can't use the same CV you used to apply for your current NHS position. After all, you've gained more experience and perhaps more training since then! Due to this, you must take time to update your CV, ensuring it shows your potential new employer your knowledge, skills, and experience in the best light, with your most recent experience at the top.
Getting NHS References
Whenever you apply for a new medical position, you will need current references from your most recent employer to demonstrate your working ability. So, you'll need to find referees from your current NHS trust – preferably a senior doctor you worked closely with who is more than happy to give you a good reference!
Sending an Application
You can find a new NHS position on the NHS Jobs website or through an agency like BDI Resourcing. You'll find plenty of vacancies, so try to be specific with your search, including your preferred location and speciality. On the NHS Jobs website, you can fill out your profile with all the necessary information first so that applying to new jobs won't take quite as long. Agencies will do all of the hard work for you.
Remember to tailor your applications to each specific position. For example, when filling in an application, be sure to mention the particular NHS trust's values, as well as the skills they've asked for in the job description.
Once you receive an offer, you can go through the process of making the switch.
Switching Your Visa
You must update your Health and Care Worker Visa if you change NHS trusts, and your new position must meet eligibility requirements for this. Plus, you must apply for your visa update up to three months before starting your new job at a new NHS trust.
As updating your visa is essentially the same as applying for a new visa, you're expected to pay the application fee again, which costs £247 for up to three years and £479 for more than three years.
Pre-Employment Checks
You'll be pleased to know that pre-employment checks are generally a little easier than your initial move to the UK. Since you've been cleared to work by occupational health in the NHS it may be a simple as filling out a form to consent to sharing your results in order to be cleared again. Your employer should also be able to use things like the DBS update service to check in on your criminal record history much more easily than when you first joined the system.
The logistics of moving
If you're changing location altogether then don't underestimate the work that will still need to go in to relocating you and your family. Sure, some aspects will be easier since you'll be able to access things like UK proofs of address and you'll have your accounts all set up. That said, finding new rented accommodation and moving schools for your children can be time consuming and stressful. Consider using BDI Resourcing to support with your application and relocation logistics to make this one less thing to worry about.
Notifying the GMC
Once you have made the move you'll also need to update your designated body for revalidation with the GMC. Your previous employer may have to provide your new employer with some of your appraisal and revalidation information but it should be fairly straight forward as everything is held centrally.
In Summary
When you reach the end of an NHS contract, you have the option to switch NHS trusts. Doing so will allow you to move to somewhere new in the UK while pursuing a career that's a better fit for you. Just make sure you go through all the processes diligently so that the switch is as smooth as possible!
If you're ready for your next move but not sure where to go then get in touch and we will be happy to update you with all of the latest vacancies from around the NHS.