Health and Care Visa for IMG Dependants
25 Feb, 2023
8 Minutes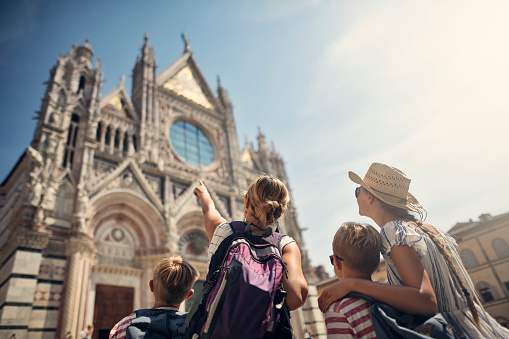 The Health and Care Visa replaced the Tier 2 Visa in 2020 and is a more desirable visa to help the NHS attract more medical professionals from overseas. It is a faster and cheaper visa than most others, including the general Skilled Worker Visa.
As an IMG doctor, this is the visa you will apply for after receiving your offer from an NHS Trust, and you will need to follow the steps of the application on the Government website.
You might wonder, what about your family? If you plan to take your family to the UK when you move for your new job, you need to know how to get their visas. This article will tell you everything you need to know about the Health and Care Visa for IMG dependants.
Can Dependants Live in the UK with You?
Fortunately, the answer is – yes. As your dependants, your family won't have to move independently, instead applying for a visa alongside yours. That makes sense, as you will be uprooting your life and relocating to the UK, so bringing your family along should be done as straightforwardly as possible.
Who Counts as a Dependant?
It's important to know exactly who counts as your dependant, as the process of doing the Health and Care Visa for IMG dependants will only count if they have a particular relationship with you. Here are the people who are covered under dependants:
Partners
For partners, you must either be married, in a civil partnership, or have been living together for at least two years. You will need proof in any of these cases. For example, if you are unmarried, you will likely have to show proof of address to prove that you have been living together for the right amount of time.
Children Under 18
The eligibility of children over 16 is slightly different, as you need to prove they depend on you. Children over 16 must live with you (or at school), be financially supported by you, and not be married or with their own children. There are many ways to prove these facts, including bank statements, letters from schools or colleges, and a driving licence showing their address.
Note
There are no current exceptions to the above and we have never seen the dependant visa being extended to other relatives like parents and grandparents. If you want other family members to join you in the UK then they should consider getting a visit visa however these are time restricted and don't allow the same conditions as a health and care dependant visa.
The Visa Process for IMG Dependants
Now you know who counts as an IMG dependant, you likely want to know the process for them to get their Health and Care Visas. Much like you did, they will apply online – here for partners and here for children.
The application fee will be separate from yours, and they'll have to pay the entire payment as you did. That's £247 for a visa of up to three years and £479 for a visa lasting over three years.
When filling in their visa application form, a critical piece of information they need from you is your application number, either called Unique Application Number or Global Web Form. They need this so that their visa application gets linked to yours. Once that happens, you can expect the decision from all your visas to come at roughly the same time.
How Much Money Will You Need for Dependants?
Unless your NHS trust ticked the maintenance box on your Certificate of Sponsorship document, you will need to prove that you have the necessary finances to support yourself during the first month in the UK. That means having at least £1,270 in your bank account. With dependants, you must prove you have a little more than that.
For a partner coming with you, you'll need an extra £285. For a child, you'll need £315, and then for any extra children, you'll need an additional £200. So, for example, if you were to move with your partner and two children, you would need to prove you had £800 in addition to the £1,270.
How Long Does the Application Take?
As you are applying for the Health and Care Visa, the process gets fast-tracked by the UKVI, which means the application will only take up to three weeks. In addition, your dependants' application will match yours, which means you'll receive confirmation at the same time.
However, there is a way to speed things up. With the priority service, you spend £500 to receive confirmation within five working days; with the super priority service, you spend £800 to receive confirmation within two working days. It is an expensive option because you don't pay the £500 or £800 once per family – you need to spend that amount for each application. So, if you want to choose the priority service for a family of three, you'll need to pay £1500 for the service in addition to the three application fees.
What if Only One Parent Relocates with a Child?
There is often a situation where an IMG comes over to the UK as a single parent. In this situation, you'll need to take a couple of extra steps during the visa application process.
Mainly, you need to prove to the Home Office that you are the primary parental figure and have permission from the other parent. You'll need a consent form from the other parent and documents showing your care for the child (which might include receipts for nursery fees).
What Happens After Applying?
You and your family will receive confirmation in three weeks, either by email or post, and you will usually all receive it simultaneously. Assuming you receive confirmation, you and your family can begin the process of moving to the UK!
One of the first things you need to do in the UK is picking up your BRP at a post office (or wherever you are directed). Every person – including you and your dependants – needs to do this together, as it is your proof of identity while living in the UK.
In Summary
Your dependants must fill out their own Health and Care Visa applications, but theirs will be tied to yours as soon as they use your application number. The process makes it much easier on families, so you can move to the UK with your family without worry.
In the following article, we'll talk more about the financial side of the Health and Care visa – specifically, the maintenance check box on the Certificate of Sponsorship and what it means if the NHS trust ticks it.
Let us know if you are planning to move to the UK and would like to know more about the current job opportunities available across the NHS!