FRCR Radiology for GMC Registration
03 Mar, 2023
10 Minutes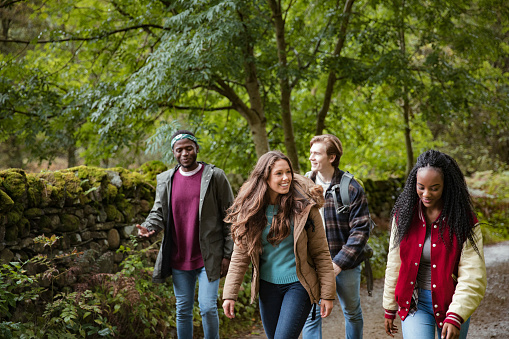 FRCR Radiology is a postgraduate qualification offered by the Royal College of Radiologists. To gain this qualification – and become a full member of the Royal College of Radiology – you will need to pass all the FRCR exams, of which there are three. Each exam, including part 1, part 2A, and part 2B, tests your radiology skills and is based on the Speciality Training Curriculum for Clinical Radiology.
While UK residents often take the FRCR radiology examinations, it is open worldwide to overseas doctors. As an IMG, passing the FRCR exams counts as a postgraduate qualification accepted by the GMC. In essence, you can use the FRCR radiology qualification to get on the GMC register and work in the NHS as a radiologist.
FRCR (Radiology): Eligibility and Cost
The eligibility criteria and price of the FRCR (radiology) exams differ depending on which exam you're taking and where you are taking it from.
Part 1:
Members: £319 for the UK, Egypt, Hong Kong, and Pakistan. £489 for India. £493 for Singapore.
Non-members: £406 for the UK, Egypt, Hong Kong, and Pakistan. £622 for India. £628 for Singapore.
To be eligible for part one, you will need a primary medical qualification approved by the GMC. You'll also need to be currently in clinical radiology training.
Part 2A:
Members - £427 for the UK, Egypt, Hong Kong, and Pakistan. £505 for India. £662 for Singapore
Non-members: £545 for the UK, Egypt, Hong Kong, and Pakistan. £643 for India. £843 for Singapore.
To apply for 2A, you'll need to have passed FRCR part 1 and have also completed at least 24 months of clinical radiology training.
Part 2B:
Members - £597 for the UK. £759 for India.
Non-members: £709 for the UK. £903 for India.
To sit the final exam – FRCR part 2B, you'll need to have passed part 2A and have completed 34 months of clinical radiology training.
Booking the Exams
You can book each exam on the RCR website on their dedicated RCR exam hub. If you don't already have an account, you'll first need to register and receive your unique RCR number.
On the exam hub, you can manage all your exam bookings – you can book exams, cancel exams, make payments, and even receive your results. Keep in mind that becoming a member gets you priority access.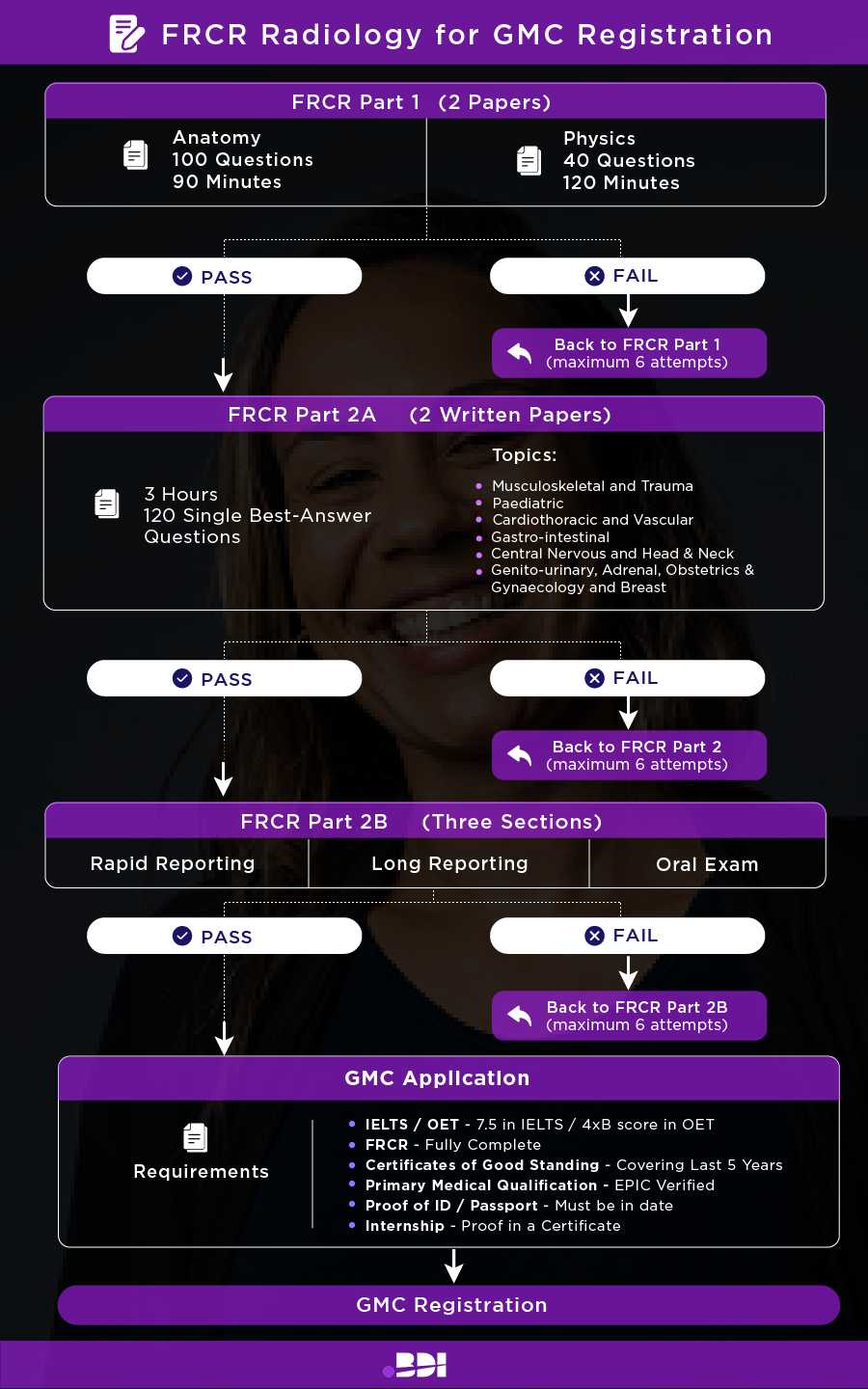 The Structure of the FRCR (Radiology) Exams
It's important to get to grips with the structure of each exam so that you can adequately prepare. Here is what to expect from each one.
FRCR Part 1
FRCR part 1 is split into two parts: anatomy and physics. You take both on the same day.
The anatomy section involves 100 questions; you get 90 minutes to answer. It involves looking at multiple electronic images, and a lot of the time, you will have to label anatomy with as much precision as possible. You are marked from 0 to 2.
In the physics section of the exam, you have two hours to answer 40 questions. These questions are about imaging techniques, and you will choose the appropriate methods depending on the scenarios. Each question or statement has five possible answers, all of which can be true or false.
FRCR Part 2A
FRCR part 2A involves two written papers taken on the same day. Each last three hours with a break in between, and each has 120 single best-answer questions (making it a total of 240 questions for part 2A).
The questions are all based on the following:
Musculoskeletal and Trauma
Paediatric
Cardiothoracic and Vascular
Gastro-intestinal
Central Nervous and Head & Neck
Genito-urinary, Adrenal, Obstetrics & Gynaecology and Breast
FRCR Part 2B
FRCR part 2B is split into three sections: rapid reporting, long reporting, and an oral examination. Rapid reporting involves looking at radiographs and quickly giving short answers. For long reporting, you have more time to type up a full report. Lastly, you'll do the oral examination, where two examiners will ask questions, testing both your radiology and communication skills.
Tips for Passing FRCR Exams
For each FRCR exam, you get a grand total of six attempts to pass. While that might sound like a lot, you, of course, still want to pass the first time, especially with the high cost. Here are our tips for passing:
Learn the curriculum
It's important to know exactly what you will be tested on, so learn the curriculum inside out. All the exams are based on the Speciality Training Curriculum for Clinical Radiology.
Use a wide range of resources
Scope out a range of resources for your studies, including books, radiology articles, and online videos. Demonstration videos can be particularly helpful regarding imaging and practical questions.
Find a group
There are social media groups based on FRCR exams that you can join. You can motivate one another and participate in group discussions. It'll give you a chance to ask questions and even share your knowledge.
Practice!
The best way to do well on each exam is to spend lots of time practising. Do sample questions, take mock exams, and practice the oral examinations to ensure you are ready for each exam day.
Here is another excellent piece of advice from Ahmed Kamal Nasir Khan, Consultant, Radiologist,
"Be directive, stay focused and attend courses, webinars, strategic and viva hot seat sessions."
Passed! What Next?
Passing all three FRCR (radiology) exams is an enormous achievement and one you should be proud of. Once you have this qualification, you can use it to get GMC registered. Just remember you'll also need your certificate of good standing and proof of your knowledge of English!
With the FRCR qualification, you can apply to radiologist roles in the NHS, many of which offer high pay and excellent development opportunities.
In Summary
For GMC registration, overseas Radiologists have two options: completing the PLAB exams or doing a postgraduate qualification. At BDI Resourcing, we recommend the FRCR (radiology) route, as it proves your radiology skills, allowing you to secure a more specialist senior role upon entering the UK.
If you are a Radiology doctor looking for a role in the NHS then we can help! Contact us for guidance, CV preparation, interview tips and the latest vacancies.