PLAB Part 1 for GMC Registration
11 Feb, 2023
10 Minutes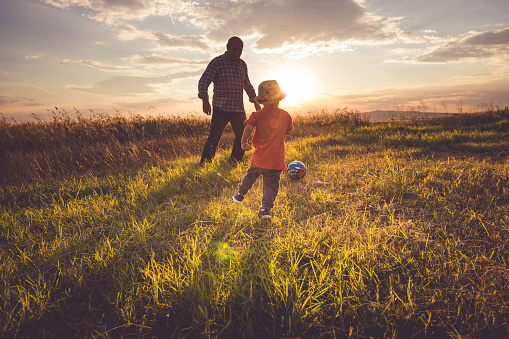 A good route for international doctors to gain their GMC registration and begin working and practising in the NHS is to take the PLAB exam - also known as the Professional and Linguistic Assessments Board exam. This ensures that doctors who come to the UK to work have the required knowledge and skills to practice in the NHS and begin their GMC application, which will allow them to practise medicine.
The PLAB exam is separated into a theoretical exam (Part 1) and a practical exam (Part 2). This guide will focus on what you need to know before attempting the PLAB 1.
What is PLAB 1?
The PLAB 1 is the theoretical part of the PLAB exam and it covers the various levels of conditions seen by trainee doctors in the second year of their Foundation Programme. The conditions covered will be those that are commonly seen in emergency departments. However, the exam will also assess knowledge of procedures and professional qualities that the GMC would expect in a doctor working in the UK. So you should be familiar with NHS guidance and procedures as well as have thorough medical knowledge.
You can look at the PLAB 1 assessment blueprint to get a better idea of the topics and types of questions that will be asked to give yourself the best preparation possible.
Candidates can only book the PLAB tests through their online GMC account.
What Is Involved in the PLAB1 Test?
The PLAB 1 test has 180 multiple-choice questions and takes 3 hours. Each question follows the same format of a short scenario with a question. You must choose the correct or best answer out of the 5 possible answers. The test is divided into three sections.
Clinical Assessment
This section covers various aspects of patient assessment and management, including patient history taking, examination skills, and the interpretation of clinical findings.
Applied Knowledge in Context
This section covers the application of medical knowledge in clinical practice, including the management of common conditions, the interpretation of investigations, and the use of guidelines and protocols.
Communication, Ethics, and Safety
This section covers the candidate's ability to communicate effectively with patients and colleagues, ethical considerations in medical practice, and the recognition and management of safety incidents. You will also be assessed on your ability to break down complex medical jargon for patients and their families.
As mentioned above, candidates have three hours to complete the PLAB1 test, so you may need to keep an eye on your timings – if you are unsure of an answer, the best case is to put down a guess and make a note to return to this question.
A pass mark of 80% is required to pass the PLAB1 test, and you must pass both Part 1 and Part 2 of the PLAB test to be eligible for GMC registration in the UK.
What Are The Entry Criteria For PLAB Part 1?
As this is a test to ensure that all doctors in the UK are trained to the same standard and can practise medicine to the same standard, particularly according to NHS guidelines, you must satisfy certain criteria before applying to undertake PLAB part 1 and part 2.
Medical Qualifications
You must hold a medical degree from a recognised medical school in your country. This will be independently verified before you are accepted onto the GMC register. If you have not yet graduated, you will need evidence that you have passed your final exams in order to book a PLAB 1 test.
English Language Proficiency
You must demonstrate fluency in the English language and speak and write English fluently, particularly in medical terminology. In order to do this you will need to show an IELTS score of 7.5 with minimum level 7 in each element or 4 x Bs in an OET exam. IELTS indicator tests will also be accepted when booking a place but not for final registration. The GMC also note that candidates who have passed OET or IELTS have a better success rate in PLAB1 so it is strongly advised sitting one of these even if you have other means of proving your language skills.
Eligibility for GMC Registration
Whilst not a pre-requisite for PLAB1, you must also meet further eligibility criteria set by the General Medical Council (GMC) to practice medicine in the United Kingdom (UK). This includes a requirement to provide evidence of good character and professional standing. Consider whether you will be able to access these before embarking on PLAB1 to avoid disappointment later on.
Payment of Fees
You must pay the fees for the PLAB1 test, which are set by the GMC. From April 2023, the fee for taking the PLAB 1 test is £255. If you need to cancel, you will be able to get some of this refunded – the amount you are refunded will depend on how far in advance you are able to cancel.
Sitting The PLAB1
As it is a written exam, all you need to take along to the PLAB1 exam is a couple of HB pencils, a sharpener and an eraser. What you can have in the exam hall is very strict, and you will not be allowed to take in bags, coats, watches, or any other study materials.
In relation to identification documents, you will need to bring a photo ID along (such as your passport), booking confirmation which includes your GMC reference number for the exam. If the name on your ID and the booking confirmation is different, then you will also need to bring proof that the two people are you – a marriage certificate, for instance. A UK Immigration and Nationality Department identification document or a Home Office travel document would also be acceptable forms of identification.
Remember to arrive well in advance to give yourself time to get familiar with the area and building. You will not be allowed into the exam if you are more than half an hour late, and once in the exam, you cannot leave in the first or last half hour of the time slot.
There are test centres all around the world making the exam very easy to access for international doctors. Below you'll find a map outlining all of the current testing locations outside of the UK: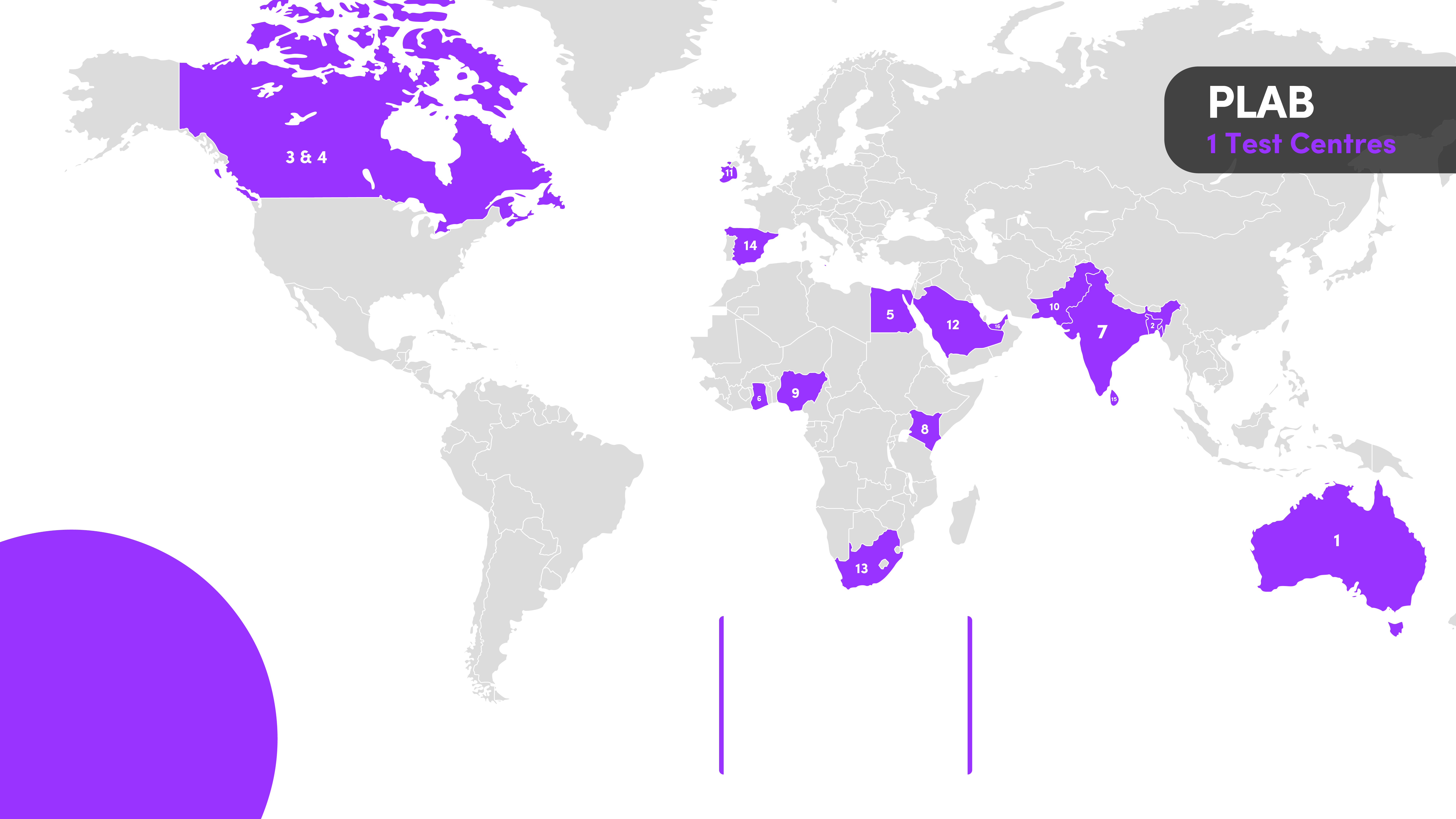 Passing the PLAB1
If you pass the PLAB1 test (congratulations!), you will now need to pass the PLAB2. Then you will be able to begin the GMC application, which will allow you to practise in the UK as a doctor. If you have failed the PLAB1, don't worry; you are allowed a maximum of 4 retakes.
If you're just starting your PLAB journey then sign up to our email alerts by registering and we'll be with you all the way with helpful advice, guidance and materials to support.