MRCP for GMC Registration
02 Mar, 2023
11 Minutes
International medical graduates must register with the GMC to practice medicine in the UK. G...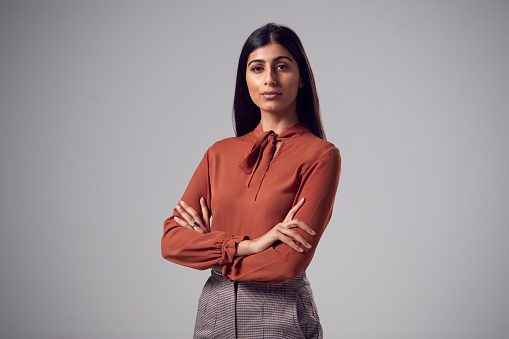 International medical graduates must register with the GMC to practice medicine in the UK. Getting on the register involves several steps, one of which includes either doing the PLAB tests or using a postgraduate qualification. The MRCP is one of the postgraduate qualifications that the GMC accepts, making it a viable route for becoming a doctor in the UK.
So, what exactly is the MRCP? The MRCP is a three-part examination offered by the Royal College of Physicians, including two theoretical exams and one practical exam. It's a challenging diploma that ensures all medical physicians in the UK are held to the same high standard. Upon completion, IMGs can work at an ST3+ level and makes the ideal route towards training for a speciality in the UK.
MRCP: Purpose, Cost, and Eligibility
IMGs would choose MRCP over the PLAB exams because it allows them to work in Medicine or Acute Medicine specialities. Instead of entering the NHS as a junior-level doctor, you get to start at ST3+, a much higher level with greater responsibilities. The MRCP is the route toward furthering your speciality training. In essence, it's the benchmark of quality medical knowledge, proving that you have the necessary skills and medical competence to practice medicine to a high level.
The cost of taking MRCP varies depending on whether you take it in the UK or internationally.
Part 1
UK: £460
Internationally: £616
Part 2:
UK: £460
Internationally: £616
PACES
UK: £657
Internationally: £1202
To be eligible for the MRCP exams, you must have:
Completed a Year Internship After Graduation
A PMQ Recognised by the GMC
For part two and PACES, you must have passed part one in the last seven years.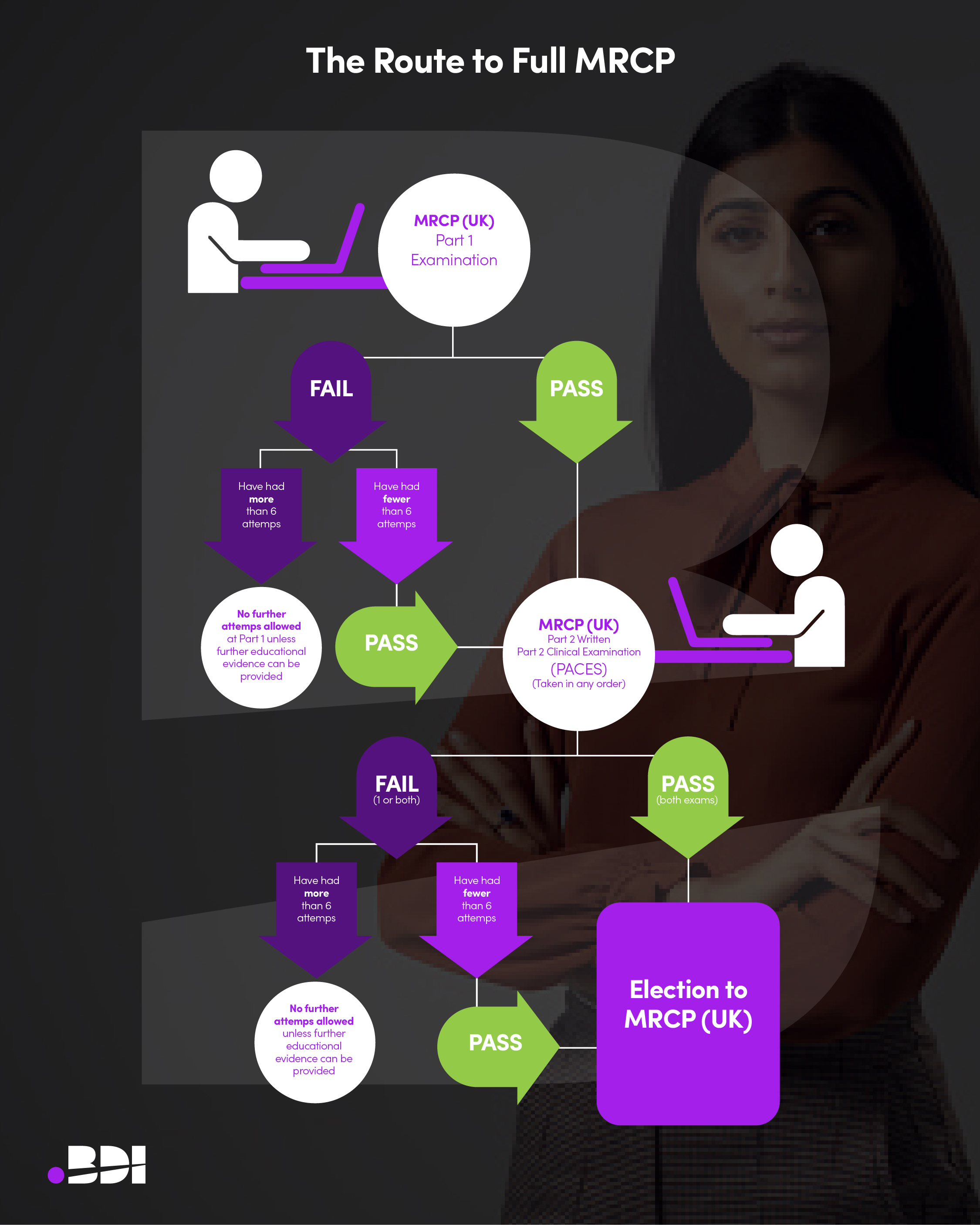 Applying for MRCP
We recommend applying for the MRCP exams not too long after graduating to keep the knowledge fresh in your mind. Here is how MRCP(UK) recommends you should wait before applying/sitting the exams after graduation:
Part 1: 12-24 months
Part 2: 36 months
PACES: 36 months
Also, while you can do PACES before part two, it's generally better to do part two first.
To apply for each exam, you must open an MRCP(UK) account, submit the necessary evidence, provide your personal details, and finally make the payment.
MRCP Part 1
The first MRCP exam is part one, a theory examination that takes place over a day. The exam consists of two separate papers, both with 100 questions each and three hours to complete them. The format is best of five, and there is no negative marking – so answer all the questions!
In terms of the subject matter, MRCP part one focuses on facts. It assesses your understanding of clinical sciences, as well as the common disorders you may come across in a medical environment. The topics include cardiology, neurology, psychiatry, geriatric medicine, and more. The exam itself is pretty challenging, with the pass rate standing at around 40-50%.
MRCP Part 2
MRCP part two is another theory exam that takes place over a day and consists of two papers. Each paper has 100 best-of-five questions asking you to use your clinical judgment and prioritisation skills to find the correct answer. Unlike part one, part two includes images, such as clinical photographs, x-rays, and MRI scans.
This exam tests your medical knowledge, behaviour, and skills. You might assess a prognosis, select a long-term management plan, or plan investigations as part of the question scenarios.
MRCP part two is more challenging than part one, which is why MRCP(UK) recommend at least 36 months of clinical experience before taking it. The pass rate is 60-70%.
PACES
PACES is quite different from parts one and two in that it is a practical exam. This practical exam takes place over one day, totalling around three hours of exam time. It takes place in a hospital-like setting, and there is a total of five stations that include encounters with eight different patients. During the exam, you'll be assessed by ten examiners, to whom you must prove that you can use your clinical knowledge in realistic scenarios.
MRCP(UK) recommend having at least two years of clinical experience before taking PACES, and preferably passing part two beforehand. The pass rate for PACES is 55-60%.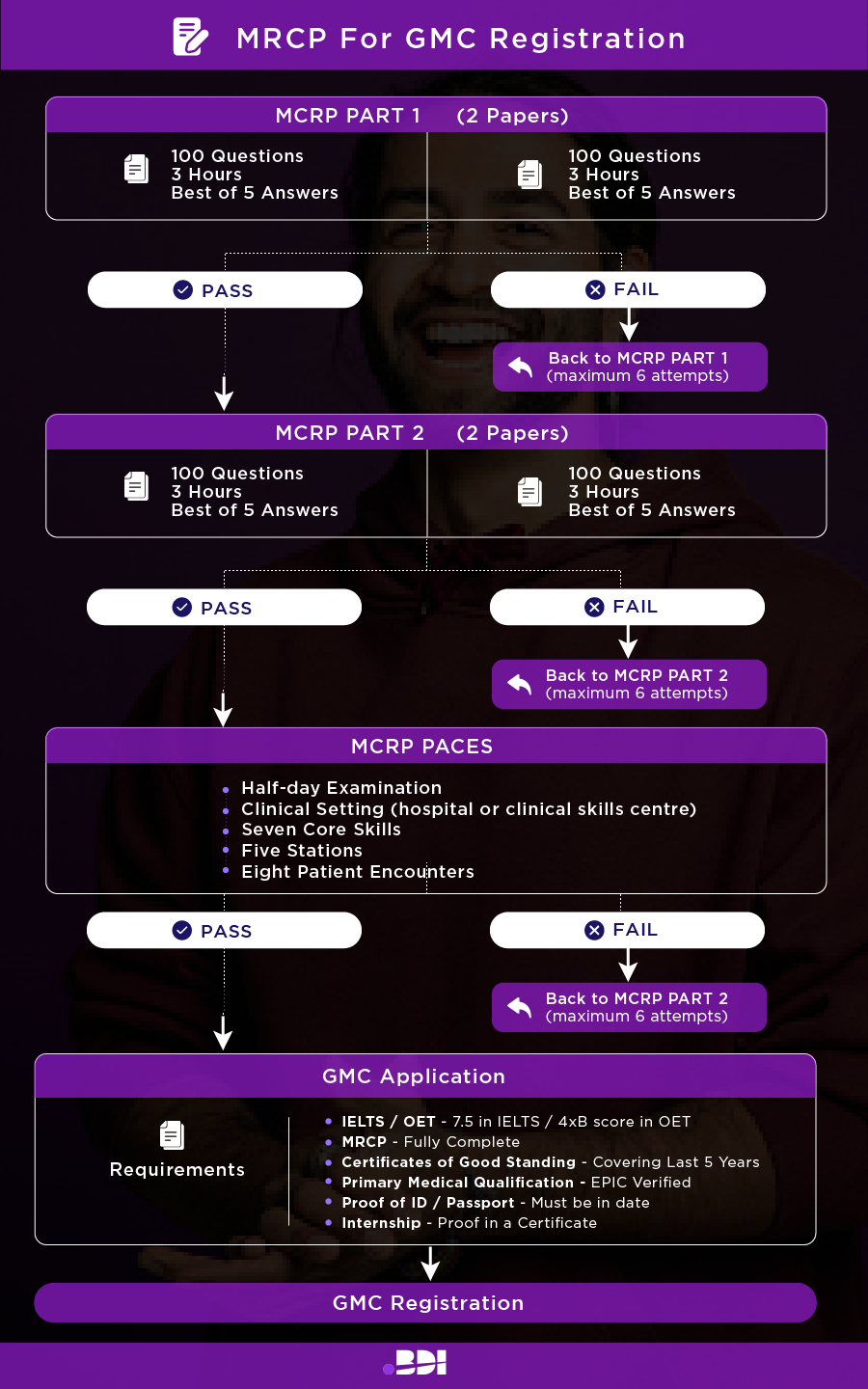 Passing MRCP Exams
The best way to prepare for the MRCP exams is to use the Royal College of Physician and MRCP(UK) resources. There, you can look at the curriculum, take mock exams, and practice sample questions. This variety of preparation will give you the right amount of knowledge, which you can then use on exam day. The mock exams and sample questions are particularly useful, as they will give you an idea of what to expect from the examinations.
Revise Early
While some IMGs may pass after cramming, we don't recommend that. Revising as early as possible means you can study all the topics and specialities that will come up in the exam, from neurology to pathology.
Check the Exam Regulations
For both your peace of mind and to ensure there are no hiccups along the way, always check the exam regulations before sitting an exam. You can find them on the MRCP(UK) website.
Here's a piece of advice from Dr Hafiz Muhammad Imran, Locum Consultant General Internal, acute and geriatric medicine and GP trainee, who talks about preparing for the MRCP;
"Prepare well and complete the exam once you have started the preparation, as it will lead you to the consultant level and is one of the requirements for the majority of specialities."
Need all the details in a quick summary? Tom explains all in this video (note prices in this video are outdated and the information in this article will be more accurate):
What Happens Once You Pass?
Passing all three exams – including part one, part two, and PACES – means you officially receive the MRCP diploma! From there, you can use the qualification alongside your IELTS or OET to apply for GMC registration and start work as a doctor in the UK.
Remember that this qualification allows you to pursue a more senior role from the get-go – you can start working for the NHS at an ST3+ level and then train in your chosen speciality. It also allows you to transition to a registrar role.
In the next article, we will look at MRCP part one in a little more detail – knowing what to expect will help you pass the exam the first time.
If you're working your way through MRCP at the moment or you've already joined the GMC then let us know and we'll be happy to support you on the next steps of your journey to working in the NHS.