MRCP for GMC Registration
27 Jul, 2023
15 Minutes
International medical graduates must register with the GMC to practice medicine in the UK. Getting on the register involves several steps, one of which includes either doing the PLAB tests or using a postgraduate qualification. The MRCP is one of the postgraduate qualifications that the GMC accepts, making it a viable route for becoming a doctor in the UK.
So, what exactly is the MRCP? The MRCP is a three-part examination offered by the Royal College of Physicians, including two theoretical exams and one practical exam. It's a challenging diploma that ensures all medical physicians in the UK are held to the same high standard. Upon completion, IMGs can work at an ST3+ level and makes the ideal route towards training for a speciality in the UK.
MRCP: Purpose, Cost, and Eligibility
When getting GMC registered, the two most popular qualifications include MRCP and PLAB. IMGs would choose MRCP over the PLAB exams because it allows them to work in Medicine or Acute Medicine specialities. Instead of entering the NHS as a junior-level doctor, you get to start at ST3+, a much higher level with greater responsibilities. As such, you will increase your earnings, have more training opportunities, and will be able to make full use of the high level of medical skills and experience you've gained over the years. The MRCP is the route toward furthering your speciality training.
From the NHS's perspective, the MRCP exams are an excellent way of testing all ST3+ doctors at the same level – particularly as the exam is General Medical Council approved. These three exams ensure every UK doctor works at the same level. That level of assurance equals greater levels of safety and care within hospitals. In essence, it's the benchmark of quality medical knowledge, proving that you have the necessary skills and medical competence to practice medicine to a high level.
The cost of taking MRCP varies depending on whether you take it in the UK or internationally.
Part 1
UK: £460
Internationally: £616
Part 2:
UK: £460
Internationally: £616
PACES
UK: £657
Internationally: £1202
To be eligible for the MRCP exams, you must have:
Completed a Year Internship After Graduation
A PMQ Recognised by the GMC
For part two and PACES, you must have passed part one in the last seven years. You can see a break down of the route through the exams to reach the qualification in the flowchart below.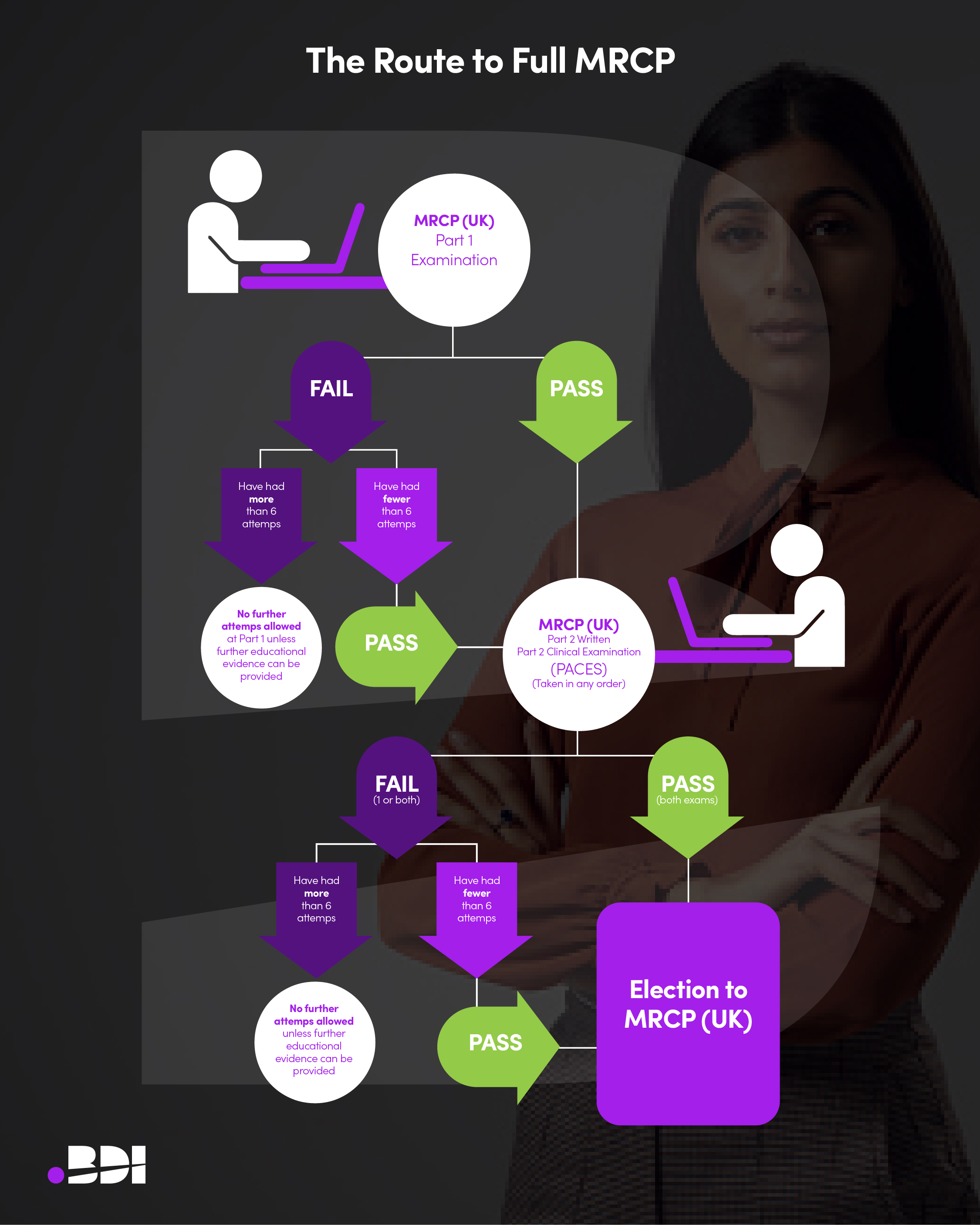 Applying for MRCP
We recommend applying for the MRCP exams not too long after graduating to keep the knowledge fresh in your mind. Here is how MRCP(UK) recommends you should wait before applying/sitting the exams after graduation:
Part 1: 12-24 months
Part 2: 36 months
PACES: 36 months
Also, while you can do PACES before part two, it's generally better to do part two first.
Applying for the MRCP exams is simple - you can do it all online. First, you must open up an MRCP(UK) account. You'll need to provide personal details such as your GMC registration status and other information about you. Once you have created an account, you will receive an RCP number.
After you have registered for MRCP(UK) and submitted all the necessary details and evidence (such as your PMQ), you can book the MRCP exams, choosing a time and date that best suits you. Once you've booked an exam, you will receive details via email about the exam, including confirmation of time and location.
MRCP Part 1
The first MRCP exam is part one, a theory examination that takes place over a day. The exam consists of two separate papers, both with 100 questions each and three hours to complete them. The format is best of five, and there is no negative marking – so answer all the questions!
In terms of the subject matter, MRCP part one focuses on facts. It assesses your understanding of clinical sciences, as well as the common disorders you may come across in a medical environment. The topics include cardiology, neurology, psychiatry, geriatric medicine, and more. The exam itself is pretty challenging, with the pass rate standing at around 40-50%.
Once you have passed MRCP part one, you can move on to complete either MRCP part two or PACES. It's generally recommended that IMGs complete MRCP part two before PACES, as PACES is the more difficult and it would help if you had more knowledge and experience behind you before attempting it.
MRCP Part 2
MRCP part two is another theory exam that takes place over a day and consists of two papers. Each paper has 100 best-of-five questions asking you to use your clinical judgment and prioritisation skills to find the correct answer. Unlike part one, part two includes images, such as clinical photographs, x-rays, and MRI scans.
This exam tests your medical knowledge, behaviour, and skills. You might assess a prognosis, select a long-term management plan, or plan investigations as part of the question scenarios.
MRCP part one is more challenging than part one, which is why MRCP(UK) recommend at least 36 months of clinical experience before taking it. The pass rate is 60-70%.
Assuming you completed MRCP part two after MRCP part one, successful completion means you can move on to PACES.
Fortunately there are test centres all around the world so Part 1 & 2 are particularly accessible for international doctors: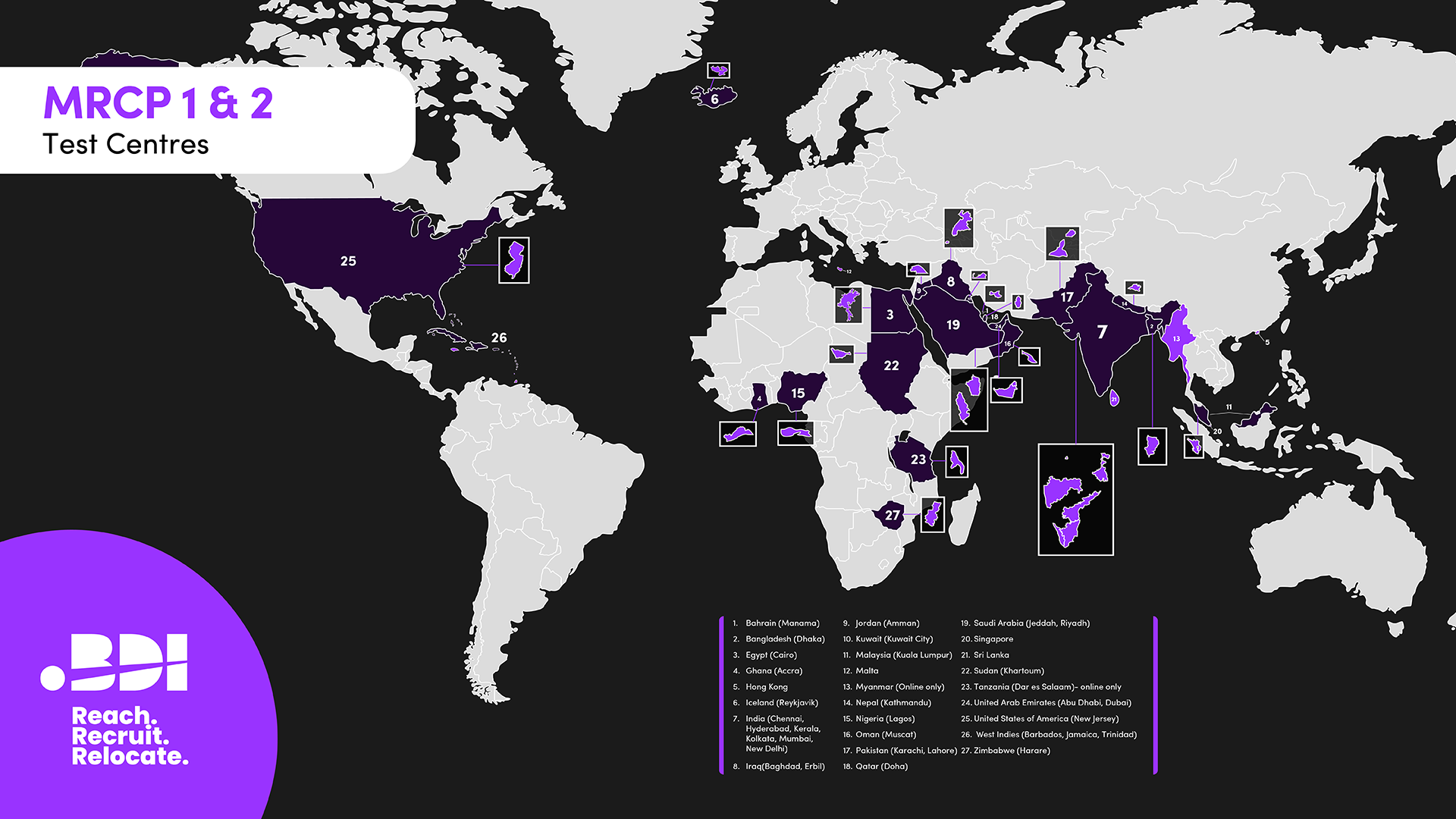 PACES
PACES is quite different from parts one and two in that it is a practical exam. This practical exam takes place over one day, totalling around three hours of exam time. It takes place in a hospital-like setting, and there is a total of five stations that include encounters with eight different patients. During the exam, you'll be assessed by ten examiners, to whom you must prove that you can use your clinical knowledge in realistic scenarios.
MRCP(UK) recommend having at least two years of clinical experience before taking PACES, and preferably passing part two beforehand. The pass rate for PACES is 55-60%.
If you have completed PACES (as well as MRCP part two), you officially have the MRCP qualification and can apply for GMC registration! The infographic below gives a quick break down of the exams and the remaining information to gather for your GMC application.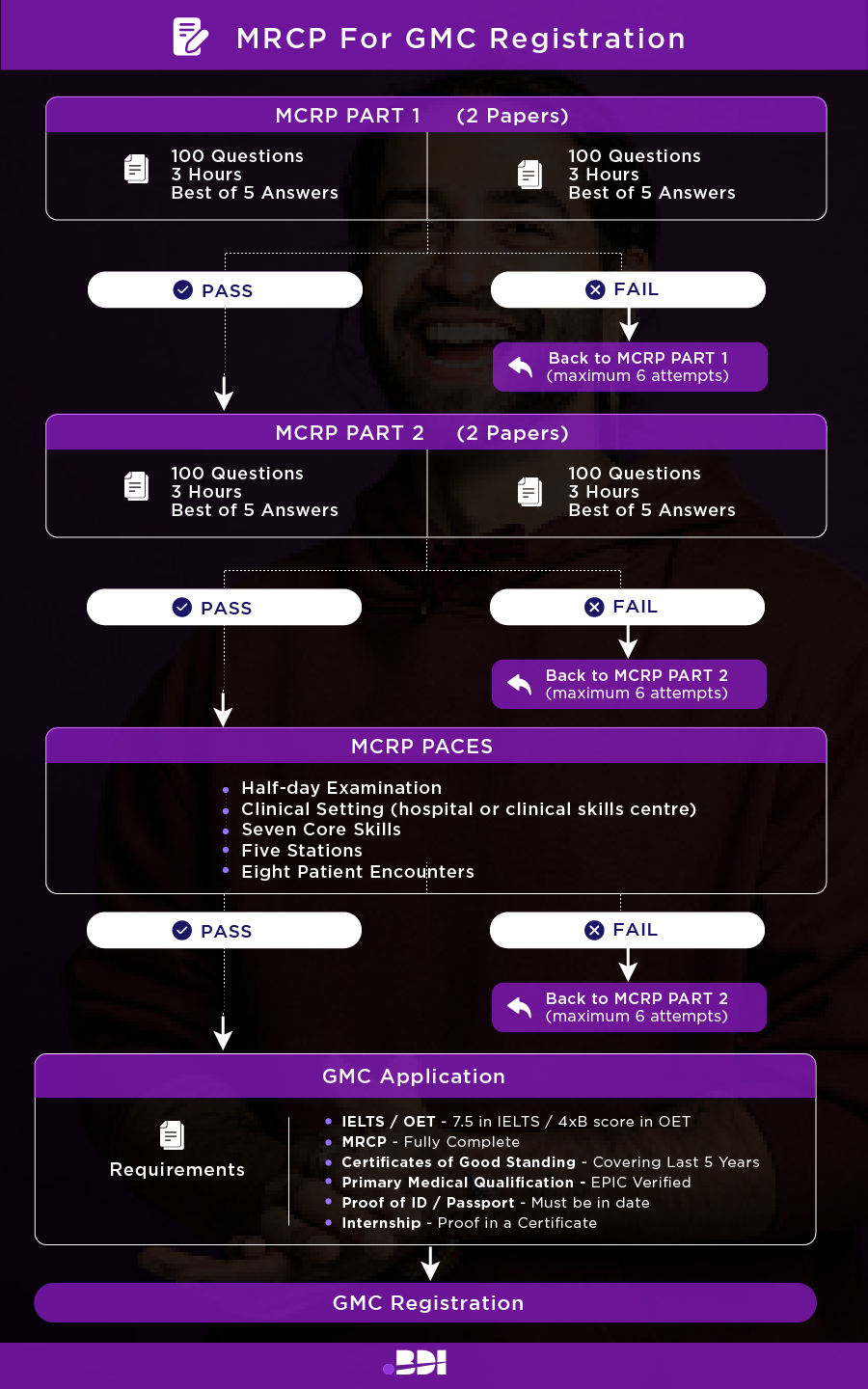 Passing MRCP Exams
The best way to prepare for the MRCP exams is to use the Royal College of Physician and MRCP(UK) resources. There, you can look at the curriculum, take mock exams, and practice sample questions. This variety of preparation will give you the right amount of knowledge, which you can then use on exam day. The mock exams and sample questions are particularly useful, as they will give you an idea of what to expect from the examinations.
Aside from the Royal College itself, you should check out MedCourse's guide to The Best MRCP PACES Resources 2023 which showcases the most useful courses, books, podcasts, blogs and mock exams. They also provide an excellent platform for sourcing and booking online and in-person courses.
Devise a Study Plan
Studying for the MRCP exams can quickly become overwhelming, as there is so much information to absorb. The best way to tackle it is by devising and sticking to a study plan. Instead of cramming too much into one week, spread studying out over time. Not only will this mean you don't feel too stressed trying to learn a lot of clinical knowledge at once, but it also increases your chances of actually remembering the information on the exam date.
Practise the PACES Exam
The PACES exam looks very different from MRCP parts one and two. It's the clinical examination, and many international doctors find this one the most worrisome and challenging. After all, it's not just about testing your clinical knowledge; it's also about proving yourself in a clinical setting. The best way to handle this exam is to practise it beforehand with study partners, colleagues, or in a practical mock exam set-up.
Get Familiar with the Questions
Knowing your stuff is the best way to pass exams. However, it's also important to familiarise yourself with the types of questions you'll be confronted with. Some MRCP questions in parts one and two may fool you by being overly lengthy but with a simple answer. To avoid getting confused, practice as many exam questions before you enter the exam. Past papers and mock exams are your friends here!
Revise Early
While some IMGs may pass after cramming, we don't recommend that. Revising as early as possible means you can study all the topics and specialities that will come up in the exam, from neurology to pathology. Most candidates spend at least three to four months revising, but you could give yourself a better chance at passing by allowing yourself six months to study. Remember - MRCP part one only has a 40-50% pass rate, so you want to increase your chances as much as possible.
Check the Exam Regulations
For both your peace of mind and to ensure there are no hiccups along the way, always check the exam regulations before sitting an exam. You can find them on the MRCP(UK) website.
Here's a piece of advice from Dr Hafiz Muhammad Imran, Locum Consultant General Internal, acute and geriatric medicine and GP trainee, who talks about preparing for the MRCP;
"Prepare well and complete the exam once you have started the preparation, as it will lead you to the consultant level and is one of the requirements for the majority of specialities."
Stay Healthy
More than anything - look after yourself. It's true that the MRCP exams are challenging. However, becoming overly stressed won't help you pass. Eating a nutritious diet, getting enough sleep, and taking breaks will help your mind stay clear and give you the confidence you need to pass the first time.
Need all the details in a comprehensive video? Dan explains all in this video:
Tips for on the Day
So, what about the exam day itself? Once the exam day rolls around, you will have already studied and prepped as much as possible. However, there are things you can do to improve your chances of passing.
Get there Early
The last thing you want is to turn up only a few minutes before the exam is about to start feeling stressed and rushed. Ideally, arrive at least one hour early, feeling prepared. If you're taking public transport to the exam, get the earlier scheduled transport to ensure you arrive on time.
Pack Everything You Need
Pack your bag before you set off for the exam, ensuring you have everything you need. MRCP(UK) asks that you arrive with your admission documents and a form of photographic ID. You should also bring lunch to the exam, as it will be a long day and you will need the fuel!
Answer Every Question
Remember that MRCP parts one and two are multiple-choice questions with no negative marking. That means there is no point in leaving any questions unanswered. If you go back to a question at the end and still don't know the answer, make your best guess. You never know – it might be right!
Go Back to the Hard Questions
Answering every question doesn't mean you must do it in the exam paper order. If you encounter a difficult question, don't waste your precious time on it. Instead, flag it and go back to it at the end.
Breathe!
Finally - breathe! Working yourself up won't help you pass the exam. You've already done all the studying you can, so take a breath and do the best you can. Keeping calm and confident will help you use your knowledge to the best of your ability.
What Happens if You Fail?
Failing is not the end of the world. While everyone wants to pass the first time, many candidates don't.
You have six attempts at each exam. If you fail one of the exams, you have another five attempts to pass. Remember, you must pass MRCP part one to complete MRCP part two and PACES.
Candidates that take the exam six times without passing will only be able to apply again if they provide further evidence of medical education.
What Happens Once You Pass?
Passing all three exams – including part one, part two, and PACES – means you officially receive the MRCP diploma! From there, you can use the qualification to apply for GMC registration and start work as a doctor in the UK.
Remember that this qualification allows you to pursue a more senior role from the get-go – you can start working for the NHS at an ST3+ level and then train in your chosen speciality. It also allows you to transition to a registrar role.
In Summary
The MRCP exams are an excellent route for getting to the UK and establishing yourself as an NHS doctor. Not only do they help you get GMC registered, but they also allow you to start at the ST3+ level, which will help you earn a higher wage and specialise in your chosen field.
In the next article, we will look at MRCP part one in a little more detail – knowing what to expect will help you pass the exam the first time.
If you've passed your MRCP and you're ready to start applying for roles in the NHS then now is the time to get in touch with our expert team. You can start by sending us your CV or downloading our interview preparation guide: