Health and Care Visa Step by Step Application
01 Mar, 2023
12 Minutes
This article on the Skilled Worker Visa application is broken down into the below sections t...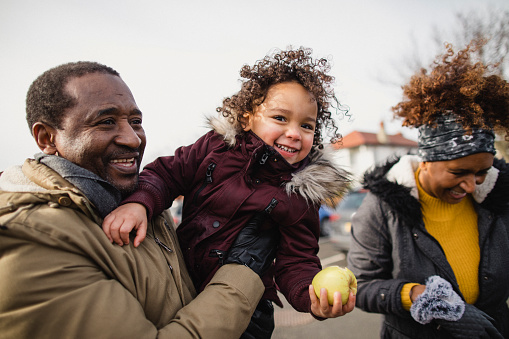 This article on the Skilled Worker Visa application is broken down into the below sections to highlight the required documentation and to aid you through the application itself and what to expect after your application is accepted.
Overview of Skilled Worker Visa
Documents for a Skilled Worker Visa
Biometric Resident Permit
Visa Fees
As an international medical graduate looking to relocate to the UK, the type of visa you will need to do so is the health and care visa. With this visa, you can move to the UK and start your new life as an NHS doctor.
Applying for a visa is an important step that you should spend time on to avoid errors or inconsistencies. The best way to begin is by gathering the documents you need before clicking "Apply Now" on the Gov.UK website.
The Documents You Need for the Health and Care Visa
Certificate of Sponsorship (CoS)
Proof of Knowledge of the English Language
Passport
Document Proving Job and Salary (Offer Letter)
Document with Your Job's Occupation Code
Employer Name and Sponsor License Number
The above documents are necessary for all IMG applicants. Here are some documents you will potentially also need:
Police Clearance Certificate (For every country you have lived in for 12 months or more in the last 10 years)
Finance Evidence (usually in the form of recent bank statements) - You will only need this if your NHS trust hasn't ticked the "sponsor certifies maintenance" box on the CoS.
TB Certificate - If you're from a particular country, you will be required to submit a TB certificate (after getting screened for TB).
Proof of Relationships (usually in the form of marriage and birth certificates) If you plan on moving to the UK with your family, you will need this document.
The Health and Care Visa Application: Step by Step
Before anything else, check that you are eligible. The eligibility criteria are as follows:
You have a Certificate of Sponsorship
You are a qualified Doctor with everything in place for your GMC Registration
You will be working in the capacity of a medical professional
Your Employer is an approved sponsor by the Home Office
Your Job Pays Minimum Salary
Usually, you'll need a salary of a minimum of £20,480, too so if you are working as a full time doctor you'll easily achieve this criteria.
Now – once you know you are eligible, you can start your application on the Gov.UK website, making the next big step to becoming an NHS doctor! Below, we will take you through each step to help ensure you get it right but before we get started you can watch Issy walkthrough her application guide from start to finish in this video:
Step 1: Provide Your CoS Reference Number
Once you've clicked apply and answered a couple of questions about where you intend to attend your biometrics appointment you'll be asked for your COS reference number. The CoS Reference number is a unique number given specifically to you. It will be on your CoS document and contains 11 numbers and letters. Answer 'yes' and fill in the number to continue.
Step 2: Provide Personal Information
The next step asks you to provide your email address and telephone number. You must also let them know how you'd prefer to be contacted. You have the option to chose whether or not your number can be used whilst you are inside and outside of the UK.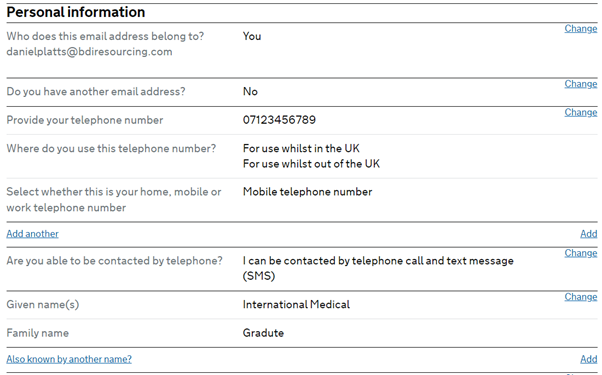 You'll also give your name, sex, relationship status, and address. In addition, you must let the home office know how long you've lived at the address and whether you own the home.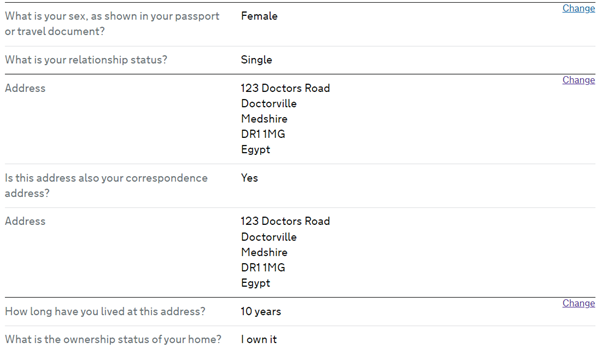 Step 3: Provide Passport Details
You will need your passport for this section of the application, as you'll need to give your passport number (or, in some cases, your travel document reference number). You'll also need to provide the issuing authority (the country that issued the passport), the issue date, and the expiry date. You can find all of this information clearly on your passport.
Step 4: More Personal Details
Next, the application asks for more personal details, including your nationality, country of birth, place of birth, and date of birth. It will also ask if you have ever held a different nationality of citizenship. It's important to get this right!

Step 5: Provide Proof of English Language Knowledge
In this section, you'll give information about your passed English language assessment and which language you prefer to be spoken to in. There are numerous questions in this section and they often trip people up. You only need to select 'yes' to one of the options to meet the criteria and for doctors the very first option satisfies everything.
In answering 'yes' to "have you passed an English language assessment accepted by the relevant regulated professional body as a requirement for registration?" you are telling the home office that the GMC have already checked your English skills and you can proceed. To evidence this you might be asked to provide your GMC certificate or invitation to ID check so make sure you have these ready.
If you do happen to meet the criteria for answering 'yes' to any of the other options feel free to do so but keep in mind that you might be asked to provide evidence of these too so you could be creating additional work for yourself!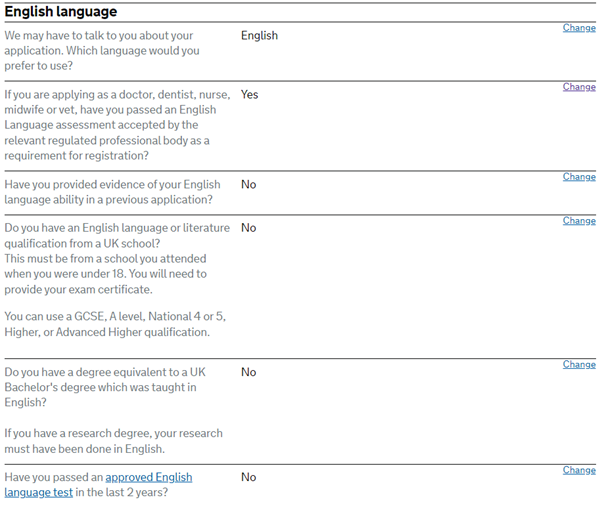 Step 6: Education
Under the "Education" section, you are simply asked whether you have a PHD or not.

Step 7: Provide Details of Parents
You must provide details of your parents at this stage, usually including your mother and father. You'll need to give their names, family names, dates of birth, nationalities, and whether they have always had the same nationality.
After giving your parents' details, you'll be asked if you have any family or someone you know in the UK. You simply answer "yes" or "no" to those two questions.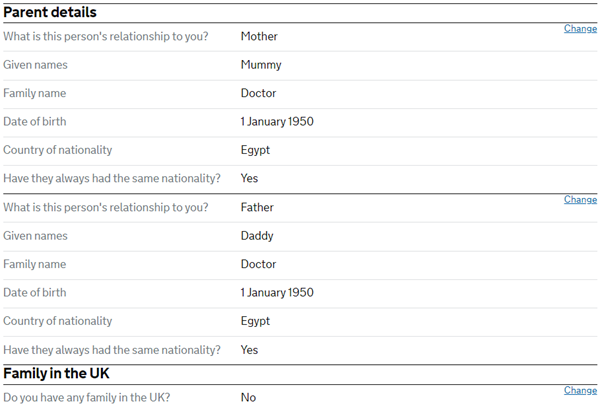 Step 8: Accommodation Details
At this stage, you'll give details about where you will be staying (if you know). If you don't yet have a set accommodation, it's OK to tell them your general plan, such as staying at an Air BnB or hotel for four weeks.

Step 9: Give Details of UK Travel History
Here, you'll be asked if you've travelled to the UK in the last ten years, and if you have, you'll have to give details of why and when. The application will also ask if you have ever lived in the UK and, if so, whether you have a UK driving licence or national insurance.
If you have visited for reasons such as sitting PLAB 2 or other medical exams, or to attend your GMC ID Check then you should still select that you were visiting as a tourist. Although it may seem slightly counterintuitive, selecting that you were here for study or work implies that you had a study or work visa and you would then be asked for the details of those.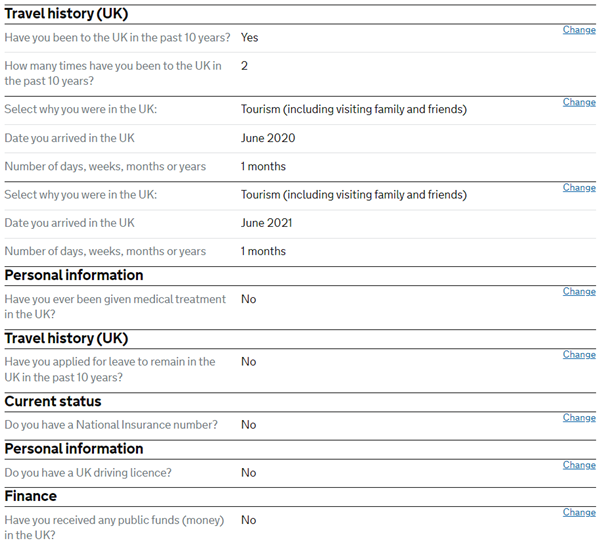 Step 10: Travel History
The application will ask if you've ever travelled to the following countries:
Australia
New Zealand
USA
Canada
Switzerland
European Economic Area (not including the UK)
You'll also explain when you visited, how long for, and your reason for the trip (for example, tourism). Keep in mind that if you answer that you've lived in any other countries for more than 12 months over the last 10 years you'll need to be ready to evidence your police clearances from those countries.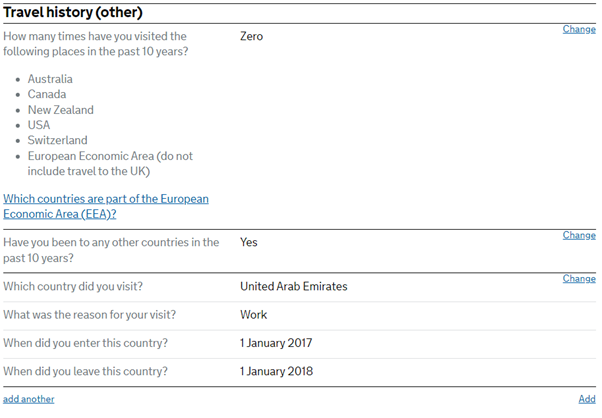 Step 11: Date You Plan on Arriving
Next, the application asks for the date you plan to arrive in the UK. This should correlate with the start date detailed on your Certificate of Sponsorship. However it should also allow enough time to fly, arrive, find longer term accommodation and finalise pre-employment checks before the planned start date.

Step 12: Travel History UK
This part of travel history is a little more detailed, so read it carefully. It will ask questions such as "have you ever been refused a visa?" and "have you ever been banned from entry?". It's crucial to answer all these questions truthfully.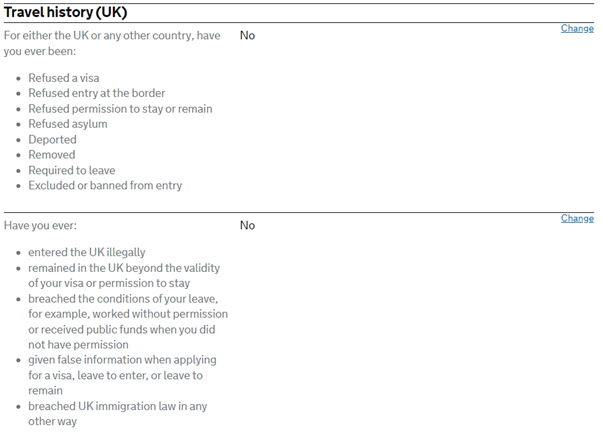 Step 13: Convictions and Penalties
At this visa application stage, you must let them know if you've had any criminal convictions, driving offences, arrests, etc. Again, it's important to answer honestly.
You'll also be asked about any links to extremism or any other activities that may indicate you may not be considered a person of good character. Whilst we expect the answer to all of these to be 'no' the only question that occasionally trips people up is when they are asked if they have ever worked for the military. If you have had to complete compulsory national service or worked as a medical professional for your national military then you can select 'yes' and detail that work.
Step 14: Details of the NHS Trust
The section labelled "Sponsor" asks you to give details of the NHS trust you'll work for when you arrive in the UK. You'll provide information such as license number, whether your employer has certified maintenance, your job title, and salary. You can find the information on your CoS.
You'll also be asked if you can provide a criminal record certificate. The answer should be yes however we know certain countries make it difficult to provide recent certificates. In this instance it is ok to use alternative evidence such as your exit papers that confirm you had no criminal convictions when you left that country.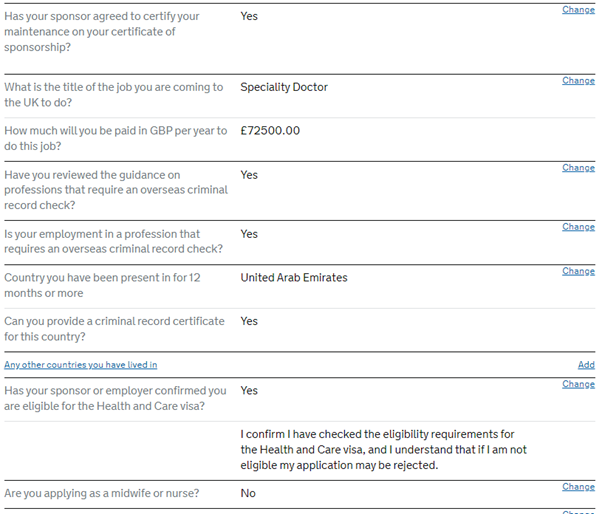 Step 15: ATAS and Extra Details
At this stage, you'll be asked if you need permission from ATAS, to which the answer is a yes or no. Then, under the extra information section, you are given a chance to put down any information you think is necessary for your vis application.

Step 16: Upload Documents
Next, you'll need to upload documents, which we have listed above!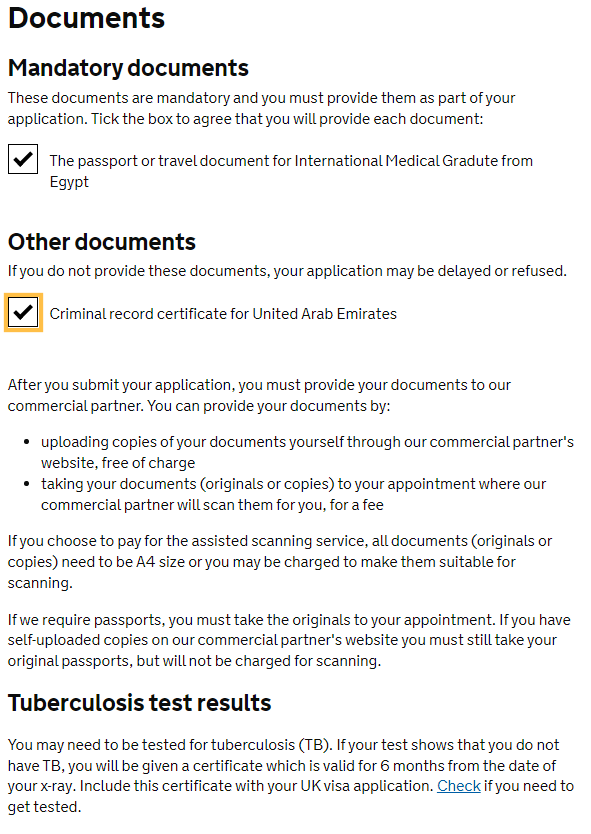 Step 17: Declaration
After confirming that you will be able to provide the required documents, you'll tick a box confirming that all your information is correct. At this stage, you should double-check the application to ensure this.
Step 18: Pay
After that, you'll have to pay for the visa application. It costs £247 for a visa for up to three years and £479 for a visa lasting more than three years.
After that, you will submit your application!
What Happens After Applying?
After pressing submit you'll be redirected to book in your biometrics appointment. There are usually dates readily available and it is then that you will submit your passport. Once you have attended you will usually get a response within three weeks and be advised that your passport containing a vignetter sticker (entry clearance for the UK) is ready to collect
Then, you can relocate to the UK and begin life as an NHS doctor! As you can see, it's a lengthy and detailed process, but ensuring you can both live and work legally in the UK as a doctor is vital.
If you're unsure about your options for relocating to the UK then get in touch and we'll be happy to support you at every step along the way. Be sure to check out our other articles and all the latest job opportunities from the NHS.