Cycle to Work for NHS Doctors
10 Mar, 2023
8 Minutes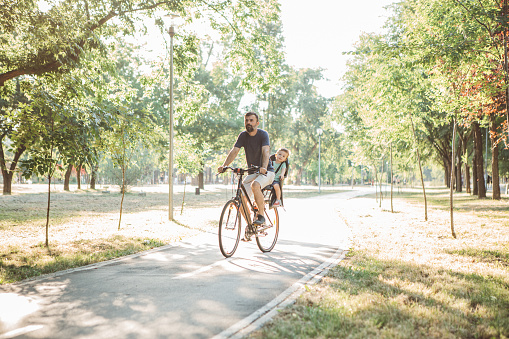 Doctors cannot afford to be late for work. It is vital they arrive at a shift on schedule, as patients depend on their knowledge, skills, and opinions. As an international doctor or medical graduate, you might be unsure about the best transportation option to commute to and from work each day in the UK.
If you will worry about traffic congestion, overcrowded buses, or cancelled trains, there is one mode of transport that is more reliable than most: a bicycle. Learn about the benefits of cycling to work for NHS doctors.
The NHS Cycle to Work Scheme
Many NHS employees, including doctors, can take advantage of the Cycle to Work Scheme. The Cycle to Work Scheme was introduced in 1999 and works by your NHS employer funding a new bike and equipment to kickstart your cycling commute. You will then make monthly repayments to your employer spreading the cost over 6 or 12 months, but you will save between 32% to 42% as you will not pay any tax or national insurance contributions on the amount.
The Cycle to Work Scheme is a salary sacrifice scheme, which means that instead of making a direct saving on the purchase you make, the saving will be made from the money being taken from your gross wage (pre-tax and national insurance).
Eligibility
To participate in the Cycle to Work Scheme you must not be within two years of retirement and the deductions must not take you below the lower earnings limit.
How do I apply for the Cycle to Work Scheme?
Ask your NHS hospital's HR department for their personal link to the Cycle to Work Scheme. The website will then provide you with the local bike shop that is part of your scheme.
Visit the bike shop and find the right bike and equipment. Ask the shop for a Cycle to Work Scheme quotation form
Enter the details from the form onto the online application form. You will need your employer code to submit your application
During your application, you will sign a hire agreement
The UK Travel Plan Department will review your application
Once approved, you should receive your certificate in around 7-10 days, longer if you require a paper certificate
Contact your bike shop to make sure your new bike is ready for collection
Take the e-certificate/paper certificate to the supplier in exchange for your bike and/or equipment.
The payments for the bike will then be deducted from your weekly/monthly salary over 6 or 12 months, this will usually begin the month following your application
What happens at the end of the agreement?
At the end of your Hire Period an ownership fee will be due. An ownership fee is a cost you must pay at the end of your Hire Period if you wish to keep your bike. The fee enables you to retain the bike whilst you avoid any benefit-in-kind liability.
It is advised, if you wish to keep your bike, to choose the 'own it later' option (as it is the cheapest).
Own it later – You pay a small, refundable deposit (either 3% or 7% of your certificate value) and you can continue to use the equipment for three years. No other payments are required at this time. At the end of the 'Own it later' period, no further action or payment is required if you wish to keep the equipment. They will retain your deposit and transfer ownership to you. If you do not wish to keep the equipment, your deposit will be refunded to you.
Own it now – Take ownership of your package by paying the market value (e.g. for a one-year old package, this would be 18% or 25% of the Certificate value in accordance with the HMRC requirements.
Return – If you no longer want your equipment, return it at your own cost and pay no ownership fee.
If you have any questions about the Cycle to Work Scheme, get in touch with your hospital's HR department and they can provide you with further information.
What You Will Need to Cycle to Work
If you are interested in joining the Cycle to Work scheme to save time and improve your physical and mental health, you will need to buy the following gear:
A high-quality bike
Breathable and waterproof cycling clothing
Helmet
Lights
Lock
Water bottle
A rucksack
Bicycle repair kit
Also, it is important to fuel up with a healthy breakfast before cycling to work to complete a route with ease and maintain good energy levels throughout the working day.
How Cycling Will Make You a Better Doctor
As an international doctor or medical graduate, you will know too well what it takes to be a great doctor. In addition to expanding your knowledge and skills throughout the year, you must protect your physical and mental health to provide patients with the best possible care.
Exercises like cycling could be key to making you a better doctor, as physical activity is known for counteracting stress. As a result, you will find it easier to cope with the demands and challenges you will face in the role each day.
Moderate exercise will also improve your sleep quality, as you can rest deeply to help your body recover after many hours on your feet caring for patients. You could wake up feeling more energetic, healthier, and happier, which may lead to more positive and productive patient interactions and outcomes.
Regular exercise, such as cycling to work, could improve your fitness level, lift your mood, and protect your immune system, too. You might feel less tired when chatting with patients, performing procedures, or meeting with colleagues. Also, you are less likely to develop a cold or respiratory infection, which will protect patient health while preventing you from taking time off work.
Cycling Will Make You Smarter
You likely relied on your memory, innate intelligence, and hard work ethic to pass one or more medical degrees. As you will want to pass postgraduate training with flying colours or quickly climb the medical ranks in the NHS or private sector, it makes sense you will want to find ways to increase your intelligence and memory. If so, you would be wise to cycle to work.
According to a study published in the National Library of Medicine, 30 minutes of moderate-intensity aerobic exercise can improve many aspects of a person's cognition, including planning, memory, and reasoning. Therefore, cycling to and from work each day could boost your brain power, organizational skills, and ability to retain information, which are essential when caring for patients.
Why Doctors Must Remain Fit and Healthy
Doctors must practice what they preach. If you want patients to improve their health and fitness levels to reduce their likelihood of a chronic disease, you must aim to become a picture of health. Finding time for the gym might feel impossible as a doctor or medical graduate, but cycling to and from a hospital could fit easily into your busy lifestyle. You will become a prime example of good health and fitness, which might inspire other people to adopt a healthier lifestyle.
The Many Health Benefits of Cycling
As you will know, regular exercise provides countless benefits for your health and well-being. In addition to helping you become a better doctor and inspiring patients to live healthier, happier lives, cycling to and from work each day can improve your heart health. Riding a bike will strengthen your heart muscles while reducing your blood fat levels and lowering your resting pulse.
Also, various research studies have found that cycling to work will lower your exposure to pollution compared to commuting by car. Therefore, it will support your lung function and decrease your risk of serious respiratory problems.
If the above reasons aren't enough to convince you, cycling regularly will reduce your likelihood of developing cancer, allow you to develop and maintain a healthy weight, and help you live much longer.
An Easier Way to Exercise Daily
As doctors often work long shifts to care for patients, they might struggle to find time to exercise each day. Cycling is a great way to get your body moving while helping you arrive at work quickly and easily. As you can scratch off exercise before a shift, you will have more quality time to spend with your loved ones once you return home, which is worth its weight in gold for hardworking doctors and medical graduates.
Conclusion
There are many reasons to start cycling to work, from improving your cognitive function to remaining in excellent health throughout the years. The Cycle to Work scheme can help fund a bike and cycling equipment with ease, and you will feel healthier, happier, and less stressed thanks to the aerobic activity.
Plus, cycling to and from work will help you navigate around traffic jams with ease, ensuring you arrive at work on schedule. It is an effective way to avoid the frustration and unpredictability of public transportation, allowing you to enter a shift with a positive mindset and successfully care for patients.
Relocation to the UK
If you are a senior international doctor who is looking to secure an NHS post, email your CV to apply@bdiresourcing.com and we can support you on your journey to the UK.
Join our Facebook Group
Are you a member of IMG Advisor? We publish frequent blog posts relating to relocating to the UK and we will provide you with professional guidance and support.
Subscribe to our YouTube Channel
We publish a new video every single week! Subscribe now: http://bit.ly/2J2ohmN
References
LTD, C. (2019). What is an ownership fee? - Cyclescheme Knowledge Base. [online] Help.cyclescheme.co.uk. Available at: https://help.cyclescheme.co.uk/article/42-what-is-an-ownership-fee [Accessed 12 Aug. 2019].
Nhsggc.org.uk. (2019). NHSGGC : Cycle to Work Scheme. [online] Available at: https://www.nhsggc.org.uk/working-with-us/staff-communications/staff-benefits-services-travel/travel/cycle-to-work-scheme/ [Accessed 12 Aug. 2019]