Reducing NHS Locum Expenditure with International Recruitment
20 Apr, 2023
12 Minutes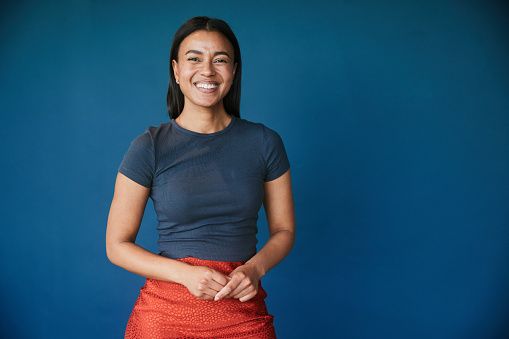 The NHS has faced staff shortages in recent years, which has led to NHS trusts desperately trying to fill rota gaps with locum doctors and nurses. These temporary medical professionals can quickly slot into the NHS workforce, providing much-needed patient care. However, the NHS uses locum staff as a crutch rather than a sustainable part of the NHS workforce, which severely impacts budgets.

It's no secret that there is a lot of pressure on the NHS budget, especially with the NHS facing funding cuts. This is only being made worse by the high expenditure on locum staff. Agency workers are far more expensive for the NHS than permanent, full-time staff, however it's understandable that they are still preferable to leaving a rota gap unfilled or safe staffing levels compromised. So, how can the NHS fix this? The simple answer is to focus on a long-term strategy that reduces the gap between the demand for healthcare and the supply of medical staff.
Broadly speaking there are only three real ways to do this:
Reduce the demand for healthcare (e.g. early screening programmes for cancers)
Increase the domestic talent pool by training and retaining more doctors
Increase the domestic talent pool by recruiting doctors from overseas.
The best approach is a blend of all three of the above strategies however options 1 and 2 are predominantly government lead strategies leaving the third option as the only viable solution an NHS Trust can directly and quickly influence.
The Current State of NHS Locum Expenditure
How bad is the current state of NHS locum expenditure? When looking at the numbers and figures, it's clear there is too much reliance on agency workers within the NHS. In 2022, NHS spending on agency staff rose by 20%, reaching £3 billion. One of the reasons for the cost reaching such high levels is that hourly rates for locum staff are much higher than for full-time NHS staff. Looking at the BMA's guide for hourly locum rates, the recommended hourly rate for locum doctors spans from £60 to £150 per hour. That's not including the agency fee that the NHS trusts must pay on top of that for agency workers.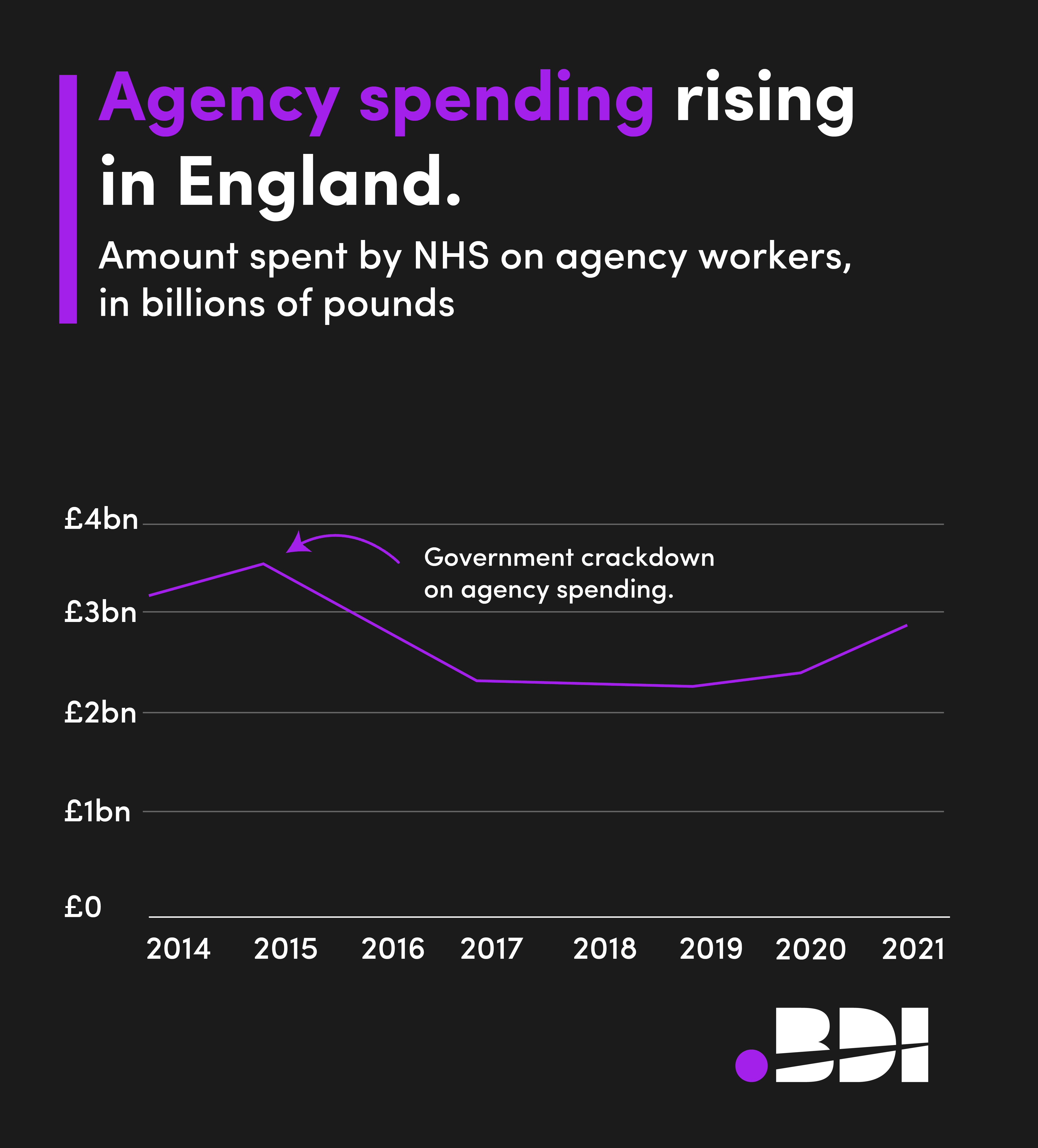 To combat this issue, the UK government introduced the rate cap for agency workers in November 2015, which aimed to reduce agency worker costs by £1.3 billion. However, many NHS trusts are forced to breach this cap merely to maintain safe staffing levels. In fact, it was breached for almost 9 in 10 agency shifts for doctors and dentists, proving that the cap doesn't work. Sarah Clarke, president of the Royal College of Physicians, sheds some light on why this happens so frequently,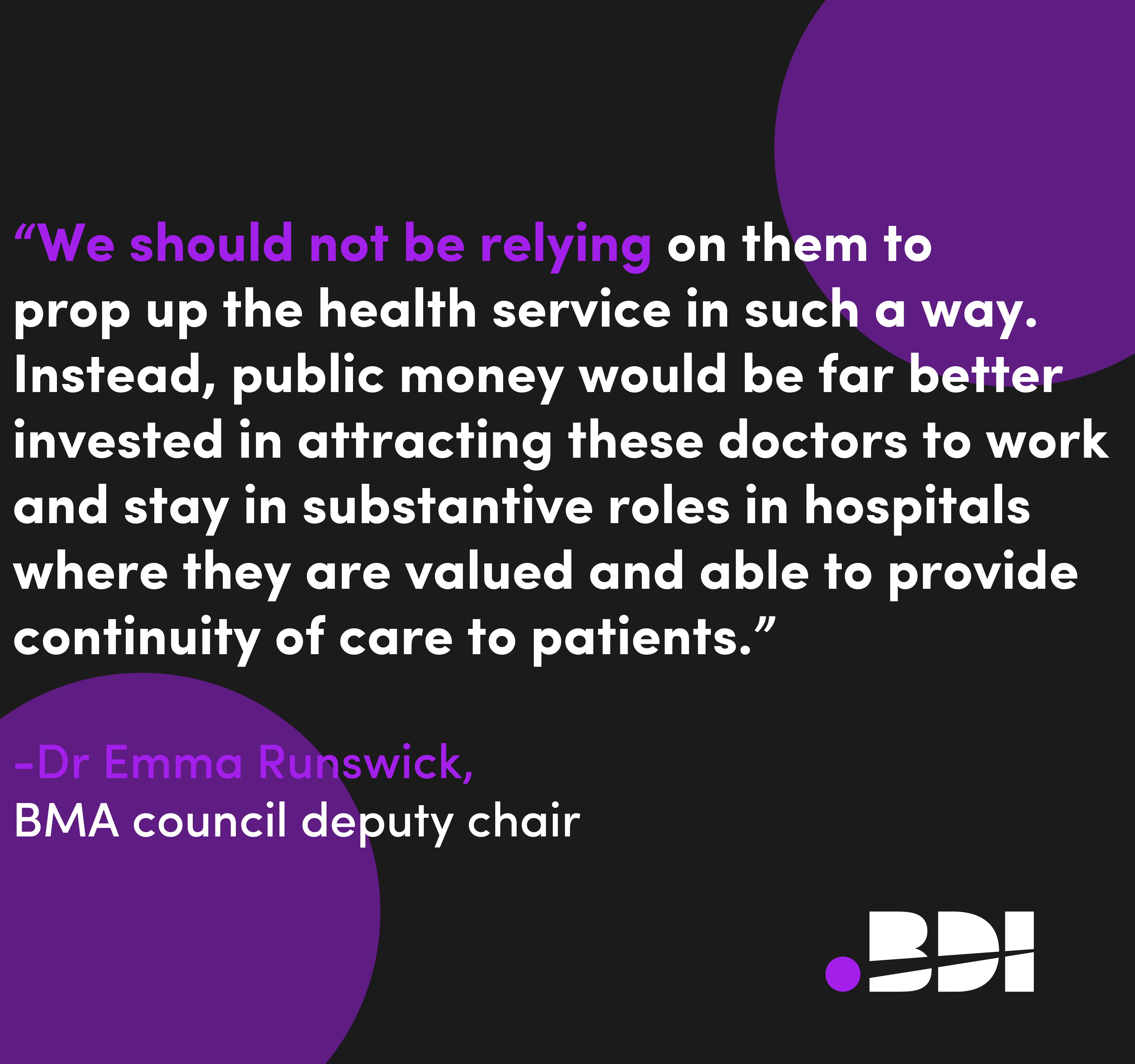 "If we are short-staffed, we have to go and get more staff because this is about patient safety. We have to have people there to care for our patients."
Of course, patient safety must come first. Still, it doesn't address the issue at its root. So while a locum staff member will ensure patient safety on that day, the NHS needs more permanent staff that can see to patients reliably in the medium and longer term.
So, why is there such a need for locum doctors and nurses? The reason is that there are not enough NHS staff members to fill in the rota. As of September 2022, there were over 133k NHS vacancies, the highest in five years. Last year, 3229 doctors resigned from their NHS post, with 341 naming burnout as their reason for the departure. It's an issue that runs deep in the NHS system.
With a mixture of pay cuts, inflexible working, and cited burnout, many NHS staff members are leaving, with some then returning to do the same work on a locum basis. It makes total sense, considering the high pay that locum workers receive, on top of the increased flexibility. When a locum GP can earn from £600 to £900 in an average day, it's unsurprising that so many are considering that option.
Of course, something needs to change. The NHS simply cannot keep paying these high prices for NHS workers. Instead, NHS trusts need to focus on hiring full-time staff that stick around for the long haul. Higher overall staffing levels would reduce stress and burnout, as well as normalising the going rate for locum staff, in turn driving retention and making locum work less attractive.
International recruitment is truly the only hope for this until more doctors are trained.
Benefits of International Recruitment
It's clear that the NHS uses agency staff because they need to fill staff gaps – of which there are a lot during the current NHS staffing crisis. Locum staff is a solution that ensures patient safety when there are no other options. However, it's also clear that it's not good for the longevity of the NHS as it's far too expensive. Dr Emma Runswick (BMA council deputy chair) has said on the matter,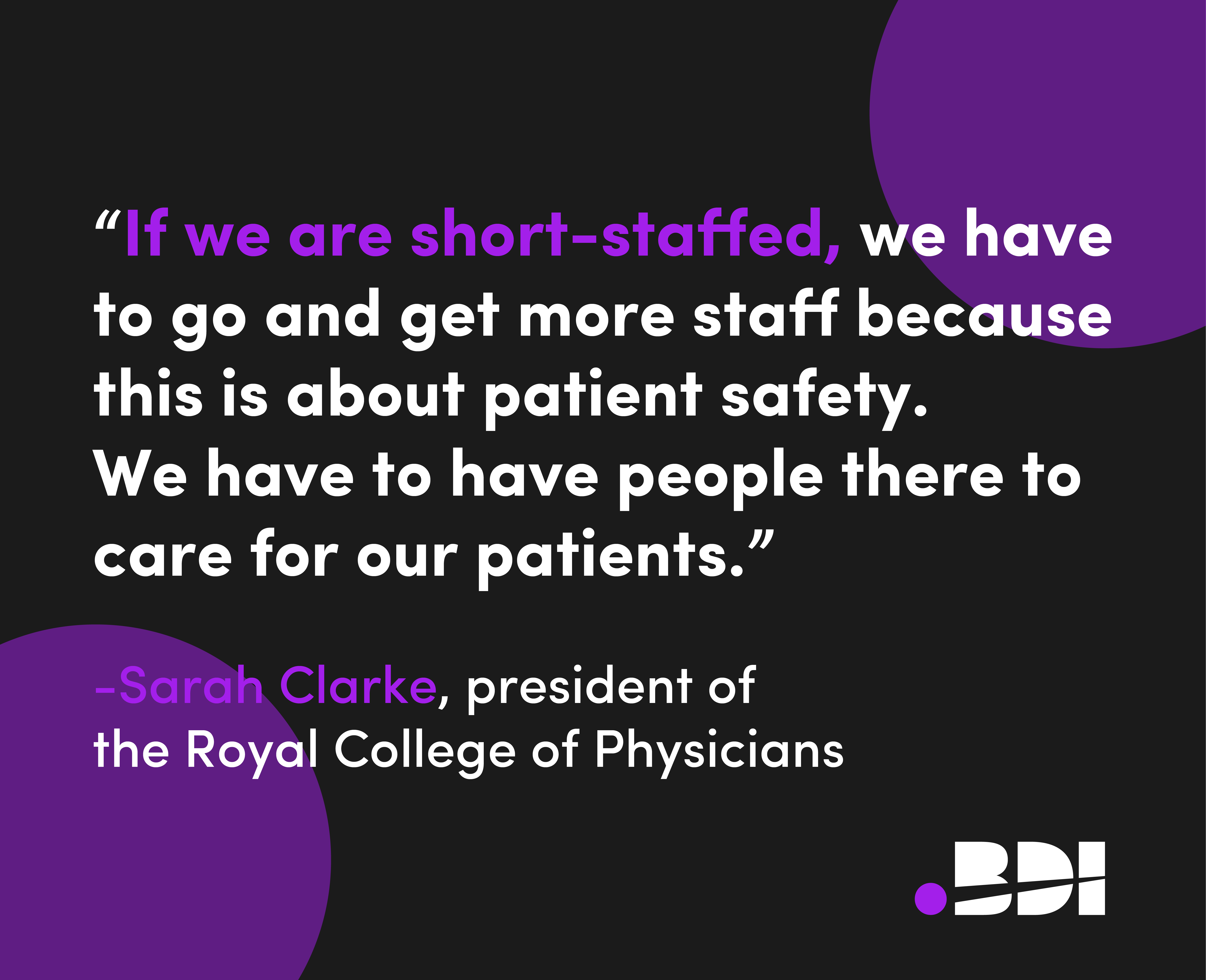 "We should not be relying on them to prop up the health service in such a way. Instead, public money would be far better invested in attracting these doctors to work and stay in substantive roles in hospitals where they are valued and able to provide continuity of care to patients."
International recruitment offers exactly that solution. It provides the following benefits:
More Doctors
Hiring internationally actively increases the number of doctors in the NHS system. The knock-on impact of this is felt in many ways. It reduces the need for as many locum doctors. It means coverage in tough to fill specialities. It means a reduction in workload for incumbent staff. It gives better rota coverage with less on-call commitments and working hours. The list goes on and the secondary benefits are often as important as the primary.
A greater number of staff sharing the burden of our NHS means better outcomes for everyone. Patients receive better and more continuity in their care, staff feel the benefits of lower workloads such as reduced stress and the need for locum staff is reduced once more.
Similar Training
The NHS has always been a huge presence on the global stage with all the major Royal Colleges having test centres in countries around the world and various medical training initiatives and global fellowships schemes partnering the UK with other nations. Our UK Royal Colleges still provide the benchmark for training in many nations and historic international ties mean training systems are still broadly comparable in many nations. This makes access to GMC registration straight forward for those that want it and means the NHS can be assured of similar standards to UK trainees from its international doctors.
From a locum perspective, it is often the hard to fill areas that rely on locums the most and international recruitment allows access to a much broader talent pool of trained specialists than domestically.
Lower Costs
Hiring an international candidate is much more cost-effective than constantly filling staff rota gaps with locum doctors. That's clear when looking at the numbers. When partnering with international recruitment agencies, NHS trusts pay a one-off introduction fee on top of the standard NHS salary. So, for an ST8-level doctor, that might be a £10k fee (which is at the high end) plus a £51,017 salary. That totals £61,017.
Using the BMA rate card, employing a locum doctor for the same period would cost £208k annually. That means the international hire costs only 30% of the equivalent locum hire.
Better Retention
International recruitment offers a more permanent solution than locum staff. Locum staff are hired to fill in staff gaps temporarily for a high cost. They have zero notice period and no obligation to stay or return to their workplace day to day. On the other hand, international recruitment aims to place qualified overseas doctors into fixed term and permanent positions.
Direct international employment ties the candidate to their NHS employer (as the NHS employer holds their visa sponsorship). When combined with a good relocation and retention policy or long term support in areas like CESR training, there is less likelihood of them leaving their post. This creates improved patient care, reduced demand for locums and spending control.
Challenges of International Recruitment
With all of the benefits, it might sound like international recruitment is the simple, perfect solution to reducing NHS the need for locum staff, but it does come with its own challenges. While it works well, with many current NHS doctors coming from overseas, there are still some risks. It's important to understand these to ensure effective campaigns that result in the best outcomes.
Hiring NHS staff from overseas is more complex than receiving a CV, hosting an interview, and then getting them on board. Instead, there are more rules and regulations to ensure the international candidate has the right to work in the UK and has the appropriate qualifications. Here are some of the challenges NHS employers face when hiring internationally, as well as how to overcome them:
The Need for a Robust Onboarding Process
Of course, international recruits must hold similar training and qualifications as UK doctors, which is ensured during the recruitment process and GMC registration. However, that doesn't mean they are automatically familiar with the NHS system, which means their new workforce might be a little overwhelming at first. As such, there is a greater need for a robust onboarding process.
An effective international campaign and a good onboarding process will naturally yield better results from overseas hires. That process requires more time and planning on the part of HR and departments. NHS Employers provide some excellent tools on best practice benchmarks for international recruitment to ensure international recruits stay in their NHS posts for many years, supplying excellent patient care. The support of an agency may also assist in learning what works well across the NHS.
A Longer Time to Hire
A significant drawback of international recruitment compared to locum staff is that hiring a doctor from overseas takes a long time. When hiring a locum doctor, an NHS trust can fill in a rota gap almost instantly, ensuring there are enough doctors seeing to patients that night or the following day. On the other hand, hiring an international doctor requires an investment in time.
The problem is that locum doctors are often seen as a short-term solution but end up turning into a long-term option. By recruiting internationally ahead of time, the NHS becomes much more sustainable, ensuring there are doctors in the near future, eliminating the need for as many locums. Suppose a situation is desperate and requires an immediate locum. In that case, it should be accompanied by an international campaign so that the locum can be replaced with a permanent staff member as soon as possible.
The NHS Trusts that accept they have been let down by deanery allocations or previous adverts before are able to account for this by planning ahead with their international campaigns.
Visa Requirements and Pre-Employment Checks
International candidates require more documents and pre-employment checks than UK candidates to work for the NHS. That includes certificates of sponsorship, the Health and Care visa, BRP, and more. This means more work for the NHS trust, as well as a longer time between hiring and the international recruit's first day.
However, it should be noted that the Health and Care visa is now turned around in just three weeks, which is not nearly as long as many NHS trusts might initially assume. Plus, the benefit of this visa is that it ties the candidate to the NHS post for the duration of the contract, ensuring the trust has a stable and long-term employee. Compared to a locum doctor who can leave within a 24-hour notice, it's clear that international recruitment is far more stable.
Working With Ethical Recruitment
Whilst not necessarily a challenge it is important for NHS trusts to consider ethical recruitment when hiring overseas. The Ethical Recruitment Code of Practice means that candidates from 'red list' countries cannot be actively recruited. This is to ensure that the NHS does not hire too many international recruits from one location, thus harming that country's healthcare system. The code doesn't stop a Trust accepting applications from international doctors directly to their NHS jobs but they should be wary that they aren't actively pursuing anyone from a red list country directly or through an agency.
These challenges are very real and may cause concern for NHS trusts, as they do not want to risk spending too much money and time on recruiting a doctor, only to not yield the promised results. However, with the right international recruitment strategy, this risk is small, as many international hires stay in their fixed posts for the entire contract, thus providing a long-term, sustainable solution.
International Recruitment: The Sensible Alternative to Locum Staffing
Reducing locum expenditure is one of the significant challenges the NHS currently faces. With so many doctors leaving their posts and so few doctors ready to fill those gaps, NHS trusts are constantly looking at hiring expensive agency workers, even paying above the rate cap introduced in 2015. International recruitment is an excellent solution to this. Here are some key benefits to keep in mind:
Access to a broader talent pool
When hiring internationally, NHS trusts have access to a broad talent pool which often consists of highly specialised and similarly trained doctors.
While international recruitment costs money, it is only a fraction of the cost of locum workers and should be seen as an investment.A
Hiring overseas is not bout immediately filling a rota gap. Instead, it's a forward-thinking approach that ensures a more sustainable and stable NHS.
With the large number of roles to be filled in the NHS and medical professionals leaving posts to seek better quality of life or a better work/life balance, it is imperative that NHS Trusts look beyond the expensive solution of filling gaps with locum staff. Locum staff will always have their place in the NHS and they fill a vital role in ensuring the quality and continuity of patient care. However, they should always be a short-term stop gap and we need to move away from long term use of locum positions.
We need to have a greater investment in international recruitment campaigns, across the whole of the NHS, to gain the medical staff that are needed. Specialist roles can be filled quickly with doctors who want that position and want to settle into a long-term career. Embarking on an NHS lead international campaign or working with a UK based international recruiter allows the NHS access to a huge skill pool from around the world, directly targeting those who would most suit the NHS and its needs – reducing costs in the long-term and providing better quality of care for patients.