Overview of MRCPCH Part 1 FOP & TAS Exams
11 Feb, 2023
8 Minutes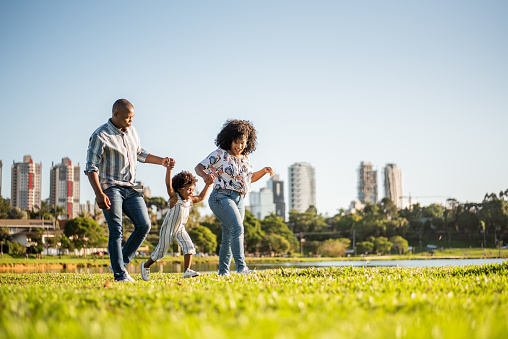 The Foundation of Practice (originally known as the MRCPCH Part 1a) and the Theory of Science (once known as Part 1b) are two of three theory exams that could qualify you for a role in paediatrics in the UK.
In addition to passing the Foundation of Practice (FOP) and Theory of Science (TAS), you must complete an additional Applied Knowledge in Science (AKS) theory exam (once known as Part 2) followed by a clinical exam to receive full MRCPCH qualification and GMC registration.
As an overseas doctor, you will likely want to enter each exam feeling as well prepared as possible to pass it with flying colours. To do so, you'd be wise to read this informative overview of the Foundation of Practice (MRCPCH Part 1a) and Theory and Science (MRCPCH Part 1b) exams.
What Can I Expect in the Foundation of Practice Exam?
The Foundation of Practice (FOP) exam is designed to assess each candidate's understanding, knowledge, and clinical decision-making. The computer-based exam will last two hours and thirty minutes and may include 79 single-best answer questions and six extended matching questions. For instance, you may need to choose the best treatment for a specific child's needs or make a diagnosis based on examples given during the exam.
What Can I Expect from the Theory and Science Exam?
The computer based TAS exam is the second of three MRCPCH theory exams you must pass before the clinical exam. It will test your basic scientific, physiological, and pharmacological principles for clinical practice. Similar to FOP, you will need to answer a combination of 70 single best answers and ten extended matching questions.
What's a Single-Best Answer Question?
If you are unsure what a single best answer question is, you'll be happy to learn it isn't overly complicated. All you must do is pick the single best answer in your opinion out of five options.
What are Extended Matching Questions?
Extended matching questions will provide plenty of choices when submitting an answer. You'll have a list of 10 potential answers, and you must select the option that best matches a specific scenario.
Can I Take the FOP and TAS Exams on the Same Day?
Yes. Candidates can take the FOP and TAS exams on the same day or choose to complete them on separate days. FOP exams are always held in the morning and TAS are available in the afternoon. However, as the exams are two hours and thirty minutes each, you may prefer to enjoy a break between them. The choice is yours.
Do I Need to Take the Theory Exams in a Specific Order?
No. You do not have to take the theory exams in a specific order. You can complete each test in any order you prefer. However, most candidates often start with FOP and TAS before completing AKS (Part 2), as the latter is separated into a written and practical exam. However, you cannot complete the clinical exam at a hospital until you have passed all three theory tests.
Where Can I Take the Theory Exams?
You can now choose two options when completing MRCPCH theory exams. The easiest option might be to attend a test centre as there are options all around the world as shown on this map: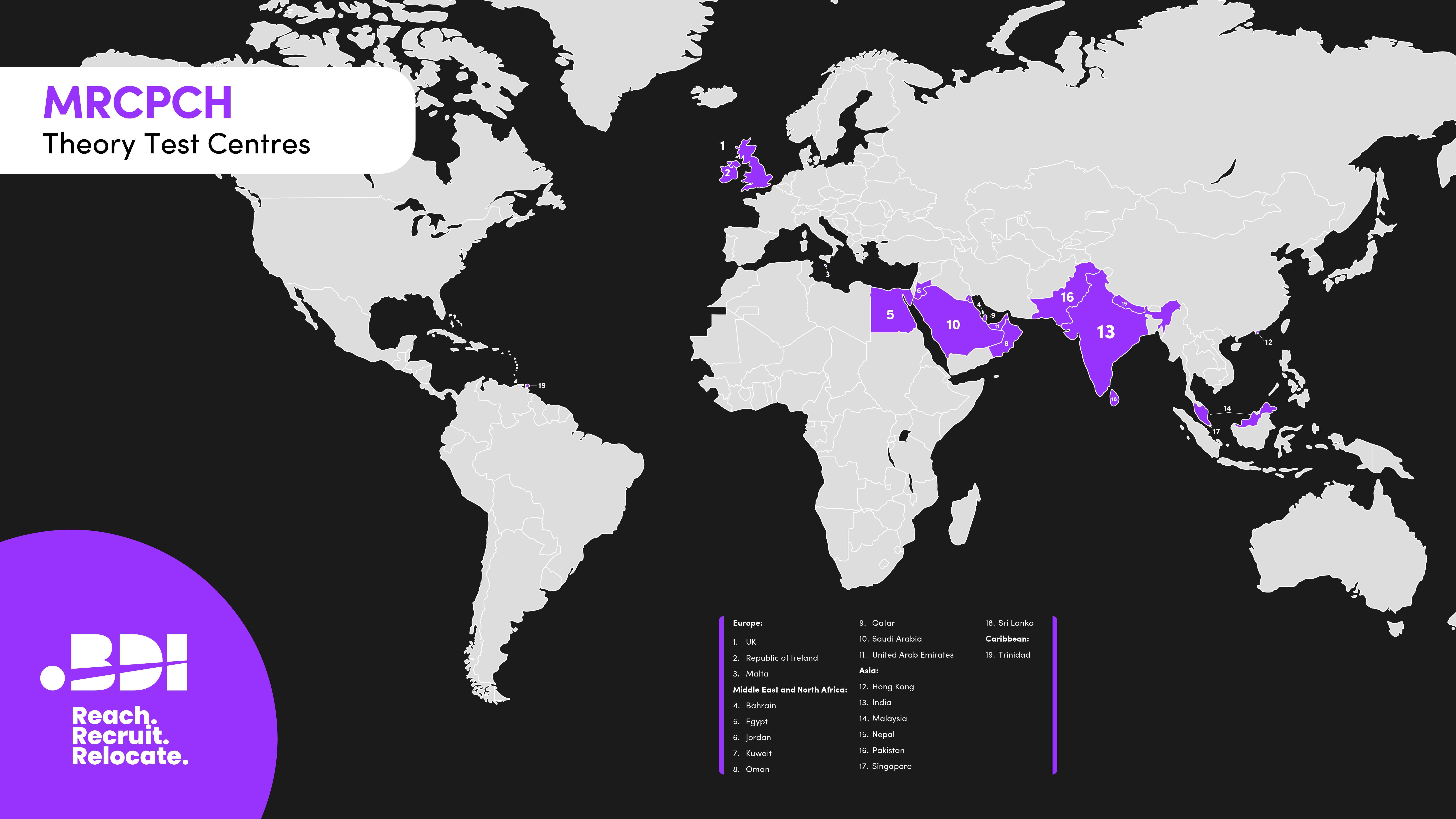 Yet, you can complete an exam at home or a private location with online invigilation. However, you will need a reliable computer with a web camera, dependable internet access, and a mobile device, such as a smartphone. The invigilator will carefully monitor you during a theory exam via your webcam and a video and audio stream from a mobile device. Also, you must share your screen with an invigilator using a browser extension.
Has the MRCPCH Format Changed?
As the former MRCPCH Part 1a and Part 1b have received a name change to FOP and TAS, it is natural to question if the exams have changed, too. However, the format and content of the exam are the same but with some minor tweaks.
How to Prepare for the MRCPCH Part 1 Exams
There is no denying an excellent knowledge of paediatrics will serve you well in the MRCPCH exams; however, they are designed to identify your strengths and weaknesses, too.
Your revision technique will likely determine whether you pass or fail. Look beyond the subjects you enjoy and try to master areas you find less interesting. Make it your mission to cover every topic, and don't overlook trickier subject matters to increase your likelihood of passing an exam with flying colours.
Time management is crucial during a theory exam. Each question should take you between 1 to 2 minutes to answer. If you are stuck on a question and believe you might need a little longer, trust your instincts when picking an answer and leave a flag to return to it when you have more time toward the end.
How Many Times Can You Retake the Exams?
It is natural to feel upset or frustrated if you don't pass the theory exams the first time. Yet, the exams will not reflect your ability as a doctor, and it is common for the best paediatricians to fail one or more of the MRCPCH exams before passing.
Since the 1st July 2014, the GMC has allowed each candidate six attempts to pass each MRCPCH exam. Also, you are free to appeal an exam result if you believe you have reasonable grounds.
How Do I Register for MRCPCH Exams?
You must set up a Royal College of Paediatrics and Child Health (RCPCH) online account to register for MRCPCH examinations. Register in advance of the application window to avoid disappointment. For instance, you will have an opportunity to take each exam three times throughout the year. The application window will close approximately two months before each MRCPCH theory and clinical exam.
How Much Will the MRCPCH Exams Cost?
The cost of the MRCPCH theory and clinical exams differ by country, but the amount is the same for test centres and online invigilation. For example, the FOP and TAS exams will cost £350 each in the UK; however, you will pay £435 for the same exams overseas. Of course, prices are subject to change.
If you have any further questions about the MRCPCH exams or would like to know more about working as a Paediatrician in the NHS then read on to our next article or email us for more information.