Health and Care Visa - Biometric Resident Permit (BRP)
25 Feb, 2023
8 Minutes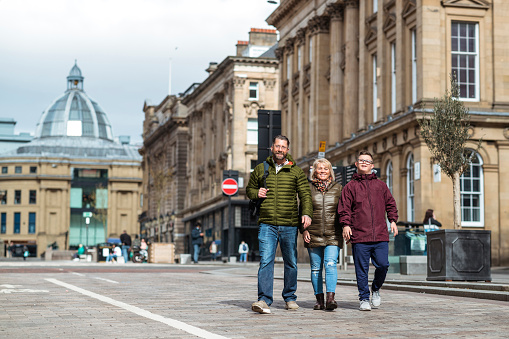 As an IMG looking to move to the UK and work for the NHS, you must apply for and submit your health and care visa application. Part of that application involves getting your Biometric Resident Permit (BRP). The BRP is a small physical card that provides proof of your identity, showing that you have the right to work for your designated NHS trust. It looks like this

The BRP is so important because they are simple, small cards that quickly and efficiently prove that you are legally allowed to work and live in the UK. With it being one single form of ID, it makes it much more uniform and, therefore, easier to check. Plus, they have an excellent system against forgery thanks to the unique number and biometric chip!
Anyone applying to the UK needs one if they want to stay over six months. As an IMG looking to work for an NHS, that includes you. Luckily, the process is simple as it will be a part of your health and care visa application.
What's on a Biometric Resident Permit?
A BRP is made of polycarbonate and has a biometric chip inside. It's about the size of an average debit or credit card. There, you will find a photograph of your face, fingerprints, full name, date and place of birth, gender, nationality, and immigration status.
How Much Does a BRP Cost?
As an IMG submitting a health and care visa application, the cost of the BRP gets covered in the application fees, which are as follows:
For a visa lasting up to three years: £247 per person
For a visa lasting more than three years: £479 per person
You will pay these fees during the application process after you have submitted your details and the necessary documents. Therefore, by the time you pick up your BRP it will already have been paid for!
How to Obtain a Biometric Residence Permit (BRP)
Obtaining a BRP will be a part of your health and care visa application. As an IMG, you will do this overseas at a visa application centre in the country you made your application from. Taking your biometric details for the BRP should only last around five minutes. At this appointment, you will provide the following:
A digital photo of your face
Fingerprints on a glass screen
Your signature
Original certificates from visa application (if required)
You don't have to worry about removing your head covering for either religious or medical reasons, as they will not ask you to.
That is all the information you will need to give. It's a quick, simple, and non-messy appointment that shouldn't take too much time out of your day. The next stage of obtaining your BRP will only happen once you arrive in the UK!
When you travel to the UK, you will use your visa and passport to get there. When you receive your passport back from the visa office it will contain a vignette sticker that proves you have permission to enter the UK and is valid for 90 days. Within those 90 days (or within 10 days of arrival depending which is later), you must collect your BRP.
You will be instructed on where to collect your BRP in your letter confirming successful application. It tends to be the nearest post office to your new place of work so you won't need to go far to collect it. Once you have your BRP, you can use it as a form of identification.
When You Will Use Your BRP
Your Biometric Resident Permit is essential for confirming your right to live and work in the UK as an NHS doctor, and there are likely many times you will use it. For example, you'll need it when opening a bank account and whenever you leave and re-enter the UK (perhaps on holiday).
What Happens if There's a Problem?
Sometimes, mistakes happen. If there's a problem with your BRP, such as missing information, incorrect information, or damage to the card, you must report it within ten days of receiving it. Otherwise, you are at risk of being fined.
To report a problem, you'll need your BRP number, details, and email or home address. Then, you will need to wait for the Home Office to get in touch.
Renewing or Replacing Your Biometric Resident Permit
Your BRP is not valid forever – it will run out either at the end of your contract of employment when you leave the UK or after ten years. At this point, if you want to stay in the UK working for the NHS, you'll need to renew it. As an IMG, this means applying for or extending your visa, which always involves getting a new BRP.
If you lose your BRP or have it stolen, you will have to apply for a replacement, which you must do while inside the UK. If you had at least three months of validation left on the BRP when it was lost or stolen, you must report it and apply for a replacement. Otherwise, you risk having to pay a fine of up to £1K.
If you happen to find your BRP after you have applied for a replacement, that does not mean it is usable. In this case, cut it up with scissors, ensuring you cut through the important parts, such as your personal details and the biometric chip.
What About Children?
Many IMG doctors travel to the UK with family. In this situation, your family will also need visas to access the UK – including your children.
Children under the age of 16 will need to be accompanied by you – a parent or guardian when they pick up their biometric resident permit. Also, children under five years at the time of the application will not need to provide fingertips – only the other information, such as a photograph and their personal details.
In Summary
The Biometric Resident Permit is an essential form of identification that IMG doctors need when moving to the UK. With this card, you can prove your right to live and work in the UK without hassle. Fortunately, the process for obtaining your BRP is simple, as it is a standard part of the visa process. Once you have picked your BRP up from the post office (or wherever you are instructed to get it from), your BRP will remain valid either for ten years or until you choose to leave the UK.
In the next article, we will talk about another essential part of the health and care visa application: the Certificate of Sponsorship.
If you would like to know more about working in the UK or hear about current opportunities in the NHS then please email a copy of your CV to us and we'll be happy to guide you.