MRCEM Intermediate SBA for IMGs
02 Feb, 2023
10 Minutes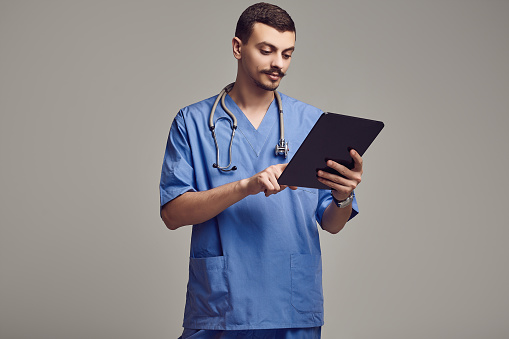 For international medical graduates wanting to work in the NHS in an emergency department, the route that makes the most sense is MRCEM. Getting a membership for the Royal College of Emergency Department alongside English Language exams means gaining access to GMC registration while proving you have the necessary skills to work in such an environment.
Getting your MRCEM requires passing three exams – the MRCEM Primary, MRCEM Intermediate SBA, and MCREM OSCE. In this article, we will be focusing on the second exam: MRCEM Intermediate SBA. It was previously named FRCEM Intermediate SAQ until the curriculum changed in August 2021. Read on to learn exactly what the MRCEM Intermediate SBA entails for IMGs, from the cost to how to prepare.
MRCEM Intermediate SBA: Cost and Eligibility
MRCEM Intermediate SBA costs £335. You can re-sit the exam up to six times, but you will have to pay the fee each time.
To be eligible for the exam, you must first pass the MRCEM Primary. On top of that, you should hold a primary medical qualification (approved by the GMC) and have completed a training programme (this can be UK or an overseas equivalent). You don't need any emergency medicine experience, but most IMGs find that having prior experience helps them pass this exam, so consider that before applying!
How to Apply for MRCEM Intermediate SBA
You can apply for MRCEM Intermediate SBA once you successfully pass the MRCEM Primary. As you did for the MRCEM Primary exam, you send an application on the RCEM website, so log in to check the exam calendar to see when the applications open. You can apply anytime between 10 am and 5 pm on the application date, but you must have completed and sent your application by 5 pm, so don't waste time!
Keep in mind that, much like the first MRCEM exam, this exam is in English. To apply, you're expected to be at an equivalent to IELTS level 7.
What to Expect on the Day
You have two options for taking the MRCEM Intermediate SBA: on a computer or at a test centre, which opens it up to IMGs from all around the world, as you don't have to travel to a particular country to take it.
The exam itself consists of two separate papers that are two hours each. Candidates get an hour's break in between the two. In the exam, there are 180 single-best-answer questions, with the curriculum categories as follows:
Complex Stable Patient
Resuscitate
Injured Patient
PEM
Procedural Skills
Basic Anaesthetic Care
Complex or Challenging Situations
Some of the categories make up more marks than others, so check out the RCEM blueprint while preparing so you know where to dedicate the bulk of your time.
Getting Your Results
You can find your results on your RCEM account – you will be told which day they get released. On that day, expect them to be available by 5 pm. While you won't receive a letter in the post, you can download and print your results.
Remember that you have six attempts at this exam (only including any attempts after August 2016), so failing doesn't mean the end of the world – if you've tried less than six times, you can always have another go. Make sure to figure out what your weakness was the first time so you can improve your performance when you next sit the exam.
Also, it's important to note that RCEM work hard to ensure everyone has a fair opportunity to pass the exam. If you have exceptional circumstances, there's the possibility of adjustments being made.
Preparation Tips for MRCEM Intermediate SBA
One of the best ways to prepare for the exam is to look at sample questions and take mock exams, as this will help you familiarise yourself with the structure of the exam. You'll know what to expect, which will improve your performance. There's also the option of taking an MRCEM course, which many IMGs find helpful. However, these are not always necessary – only take one if you think you need it, and only do it alongside a good amount of revision.
Of course, you must check out the RCEM assessment blueprint and curriculum to understand what knowledge is expected of you. Remember to pay attention to how many marks each category provides; that will help you split your time appropriately. For example, SLO1: Complex Stable Patients counts for 55 of the 180 marks and covers topics such as oncological emergencies, allergies, and sexual health. However, SLO7: Complex or Challenging situations, which covers topics like safeguarding and organ/tissue donation, only counts for 10. It makes sense to put more time into revising the SLO1 topic, as it counts for more.
In terms of scoring, the examiners use the Angoff method, meaning the passing mark depends on the difficulty of the questions. You won't know the passing mark when you take it, as it varies each time. For a general idea, the September 2021 pass mark was 109, while February 2022's pass mark was 106. Expect it to vary.
Preparation is all about ensuring you know the curriculum and what to expect. Not only will it help you ace the exam, but being prepared will lessen your fears and anxieties, which will in turn improve your overall exam performance.
What Happens After Passing?
Passing is an excellent achievement – the MRCEM exams are challenging (for a reason!), which means you have done a great job to get as far as passing the second exam.
After passing the MRCEM Primary and MRCEM Intermediate SBA, you'll need to apply for and complete the third exam: MRCEM OSCE. This exam is a practical exam that lets you show how you use your clinical knowledge in a real-life medical emergency (through a simulation). With how different it is from the other two exams, there are different preparation methods. Plus, the overall structure of the exam is different.
If you want to learn more about MRCEM, such as the exam structure and cost, keep reading – we will cover it in our next article! And if we can help you in any way preparing for your MRCEM or finding a role in the NHS then please email us and we'll be happy to help.