Career Progression and Grades for UK Doctors
16 Mar, 2023
10 Minutes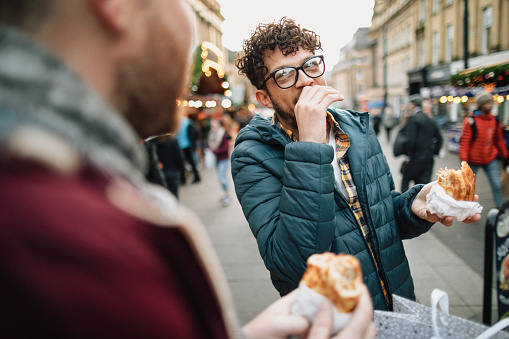 Careers within the NHS are made up of different levels, which include specific responsibilities and salaries. As an IMG, the names of these levels can be confusing. Which one is right for you? Which level are you qualified for?
In this article, we'll specifically look at the career progression and grades for you as an international medical graduate. It will give you a clearer idea of the various NHS levels, including which level is best for you to start at and the levels you'll be able to develop into.
Here's the overview of career progression. Read on to find out what to expect at each stage:
Foundation Training
Foundation training in the NHS is made up of FY1 and FY2.
FY1: Foundation Year 1/Internship
FY1 is the first year a UK doctor takes after graduation. It's the first year of training and leads to being able to move on to FY2.
As an IMG, you will have completed the equivalent of FY1 for your internship that granted you access to GMC registration. Generally, most IMGs do not start their NHS career at this level (although it's not impossible).
FY2: Foundation Year 2
After completing FY1, doctors can move on to FY2, the second year of foundation training that usually takes place in NHS teaching hospitals. It is often the last year of training before doctors enter core or speciality training.
You can start an NHS role at the FY2 level after completing an internship overseas and getting on the GMC register. For example, you might take up the foundation training post or a non-training post at an equivalent level.
After completing FY2, you will receive the Foundation Programme Certificate of Completion which indicates that a foundation doctor is ready to enter a core, specialty or general practice training programme.
Junior Middle Grade
After completing foundation grades, trainee doctors move on to junior middle grades. At this point, you will better understand what you want your speciality to be. There are two routes to go down: Specialty Trainee (ST1 and ST2) or Core Trainee (CT1 and CT2). These were previously called SHO and often have non-training equivalent titles like Junior Clinical Fellow or Junior Trust Grade, which are commonly used by IMGs who wish to enter at this grade.
ST1+2:
This level makes up your first two years of speciality training. During this time, you will do a speciality training programme, such as gynaecology or anaesthetics. Upon completion of ST2, you will move on to ST3. These are known as run-through training pathways where the doctor applies at ST1 level and then goes right the way through to CCT, rather than having to re-apply once they get to ST3 level.
CT1+2:
CT stands for Core Training. CT1+2 includes two years of core training (an uncoupled training programme). You will need to do core training for specific specialities, such as medicine or surgery, when you move on to ST3. These are known as un-coupled training pathways where the doctor applies for CT1 level and completes 2-3 years before applying again for further ST training at ST3 or 4 level.
It's important to note that the main difference between Core Training and Speciality Training falls on the type of speciality you want to do. For example, if you want to go into medicine, you will need to do Core Training. Keep in mind that both CT2 and ST2 lead to an ST3 position.
Senior Middle Grade (ST3-8)
Senior middle grade is often known as registrar level and includes ST3-8. At this stage, you know your speciality and are ready for full speciality training over the next four to six years (depending on your speciality). Each year involves advanced practice and developing your independence.
At the end of your speciality training years, you will get the Certificate of Completion of Training, allowing access to the GMC specialist register. You can also get on the GP register if that's your path. The non-training equivalent to this grade is often called Senior Clinical Fellow and is often a great starting point for international doctors.
Speciality Doctors / Specialists / Consultants
After getting on the specialist register, doctors can become consultants. Consultants would get on the specialist register and Speciality or Specialist Doctor is traditionally the place a doctor ends up if they complete training but haven't yet passed CCT, or if they don't want the responsibility of stepping up to consultant level just yet.
Speciality Doctor
A specialty doctor is an experienced senior doctor in a specific speciality (such as paediatrics or psychiatry). They will have completed at least four years of postgraduate training, with at least two years dedicated to their speciality. As a specialty doctor, their work will be very hands-on with lots of responsibility.
This is an important grade (as well as Specialist) for IMGs as it offers senior doctors who are perhaps consultants in their native countries a grade which is generally seen as more senior to a registrar, but without the independent responsibilities of a Consultant. For IMGs this can relieve some of the pressure when moving into a new healthcare system.
Specialist
There is now also an additional new specialist grade for SAS doctors, with the intention of allowing career progression for highly experienced speciality doctors who still aren't ready for consultant level. It allows for a little more independent working and the starting salaries are close to those of a consultant.
Consultant
Consultants hold the most senior level in NHS hospitals and have a lot of responsibility. They provide consultation to patients, often managing very complex cases with their expertise. Consultants also often manage junior doctors. Locum Consultant don't necessarily require specialist registration but Substantive Consultants must have it – either through CESR, CESR-CP or CCT.
Which Level Should You Apply for?
As an IMG, figuring out which level to apply for might be challenging, as you won't hold the same qualifications as a doctor who has studied in the UK. The NHS role you should apply for depends on your experience and the speciality you want to pursue. To get on a specific level, you will need to prove that your experience matches that of a UK doctor at the same level.
You can apply for FY2, CT1, and ST1 level jobs if you have completed your internship overseas and gained GMC registration often through the PLAB route. Which one you do will depend on your career goals and how much experience you have. For example, you might be more comfortable taking on a non-training post in the equivalent of an FY2 position for your first year of NHS work.
To begin your NHS career at ST3+ level roles, you will need to prove that you have completed the equivalent training of ST1+2/CT1+2 overseas. Usually, the eligibility criteria ask for a postgraduate qualification (like MRCP) as well as some specialist training.
Starting an NHS career at a consultant level is possible for some IMGs. However, the route is complex. It requires taking the CESR route, which proves you are at the same level of those who have their Certificate of Completion of Training. Many IMG Consultants use the Speciality Doctor and Specialist grades to step back in their careers slightly, so that they have the opportunity to pursue CESR without the pressure of working as an independent Consultant in a brand new healthcare system.
The CESR Route
For doctors outside the UK wanting to get on the specialist register, there is the CESR route, which is equal to the CCT (Certificate of Completion of Training). To do this, you'll need to document your training experiences, clinical experiences, qualifications, publications, and more in a portfolio of evidence. It can take a long time to complete, and the portfolio will be very long in order to prove you have the equivalent amount of speciality training.
In Summary
As you can see, there are multiple levels that international medical graduates can join in the NHS. Try not to feel too overwhelmed with all the various levels – usually, you can see on NHS vacancies what the eligibility criteria are. Also, remember that training is not a race, and starting at a slightly lower level is OK - as long as you're gaining experience that helps you grow into an excellent doctor!
Hopefully this article has given you a better idea of where you should start your career in the NHS or where you are going next! Get in touch if you'd like know about all of your job options at any of these grades and from around the NHS.