What Evidence is Required for GMC Application?
30 Jan, 2023
8 Minutes
The GMC application is your route toward working as an NHS doctor in the UK. While you can c...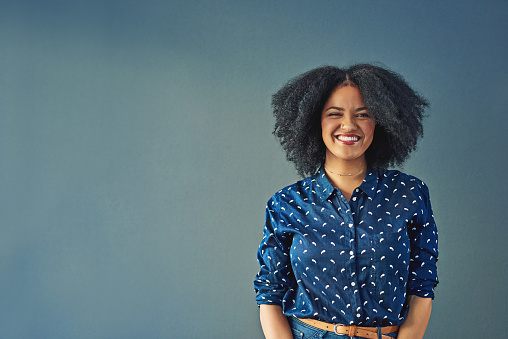 The GMC application is your route toward working as an NHS doctor in the UK. While you can complete most of the application online, that doesn't mean the process is always simple. In particular, gaining all the necessary evidence might take a fair amount of effort and time, as you'll need to contact regulatory bodies and perhaps previous medical schools to obtain what you need.
You'll find everything you need to know in this blog article however this video also contains all of the highlights for you to digest quickly:
GMC Registration: An Overview
The GMC – The General Medical Council – is a register specifically designed for people wanting to work as doctors in the UK. To apply for GMC registration, you'll need to set up an account, submit an application form, pay the fees, and attend the ID check. During that process, the GMC will ask for specific documents.
Submitting evidence of your qualifications and work experience is necessary, as the NHS wants to know that every UK doctor has the right skills to care for patients. That's why the GMC register is used – to show that all UK doctors have the qualifications, work experience, and regulatory body backing to provide exemplary medical care. In this article, we'll go over all the evidence you'll need to gain GMC registration.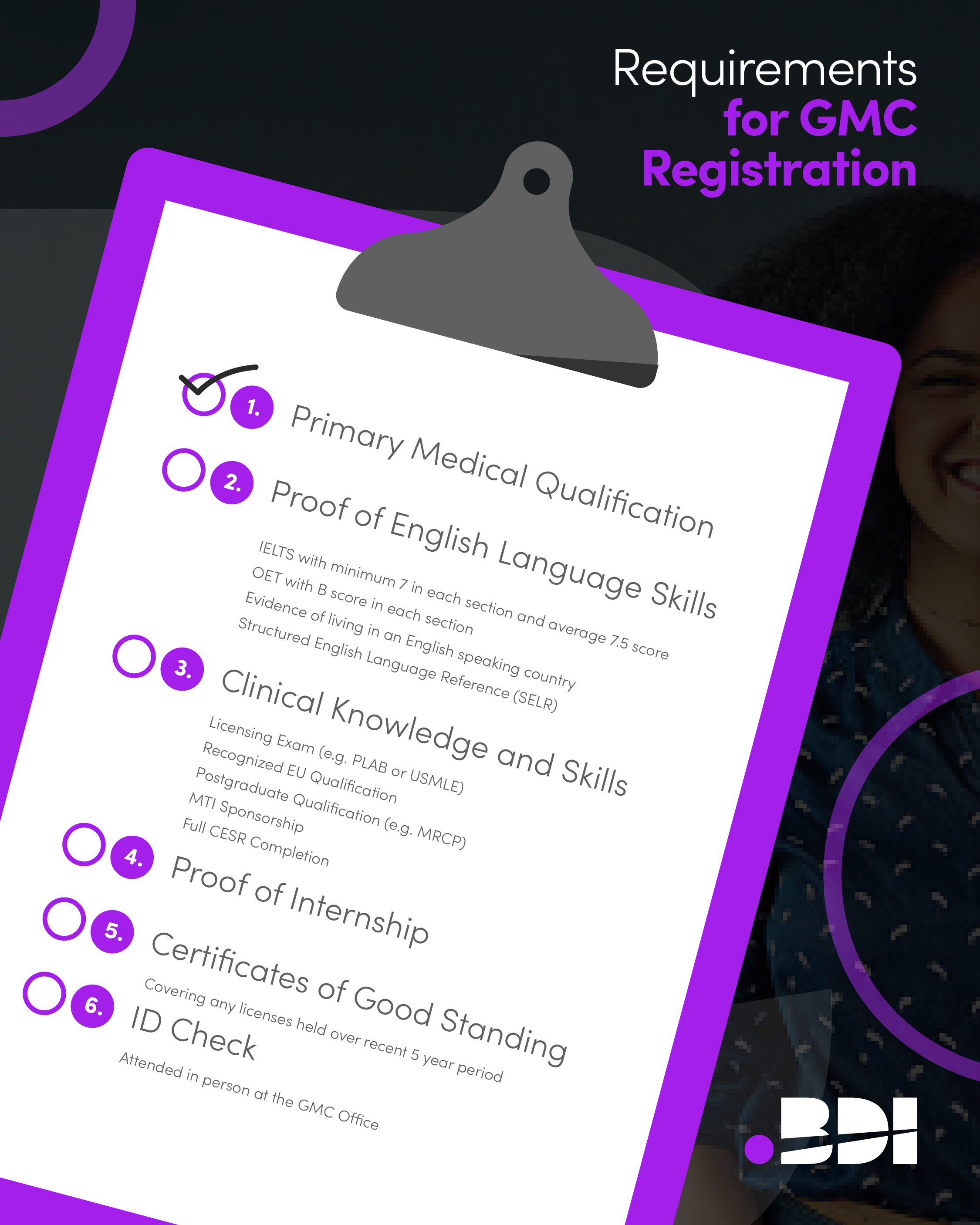 1: Primary Medical Qualification
You'll first need to prove that you have a GMC-accepted primary medical qualification. An easy way to see whether the GMC accepts your PMQ is by checking out the World Directory of Medical Schools – if your school is on there, you should be good to go.
The GMC requires you to use EPIC verification to prove your PMQ qualification, an online verification portal by the Electronic Portfolio of International Credentials. So set up an EPIC account there and submit your qualification to gain access to this.
2: English Language Knowledge
You'll also need to prove you know the English language well enough to practise medicine in the UK. There are two popular ways to do this: the IELTS and the OET. Both are popular options for doctors migrating to the UK, although we often recommend the OET as it tests medical English and so it is more accessible to doctors taking it.
Alternatively, you can use your primary medical qualification if the entire course was taught in English and you completed the course in the last two years. Another option is gaining a reference from an employer – as long as the native language of the employer is English. These options only really work if you've been training and practising in a native English speaking country like Australia, Canada, Ireland or the USA.
This part is necessary to practise medicine safely. When advising patients and liaising with colleagues, you must communicate effectively to maintain safe levels of medical practice.
3: Certificate of Good Standing
The certificate of good standing is a certificate issued by the medical regulatory body you are registered with. You must submit one from every regulatory body you have been licensed with for the past five years. To get this evidence, contact the regulatory bodies directly. Each certificate may look slightly different but should always include your name, date of registration, and qualification. Its purpose is to ensure that no disciplinary proceedings are going on against you and that you are a trustworthy doctor.
4: Proof of Knowledge and Skills
You also need to prove that you have the necessary knowledge and skills to be an excellent doctor in the UK. There are a couple of ways to do this, including:
A Post-graduate Qualification
If you have an accepted post-graduate qualification – such as an FRCA – then you can use this as evidence for your GMC registration.
The PLAB is a two-part exam that demonstrates your knowledge and skills as a medical practitioner. If you don't have an accepted post-graduate qualification for GMC registration, these exams can be used as an alternative qualification.
In some cases, international medical graduates gain a sponsorship to work in the UK as trainee doctors. These aren't as common, but they can grant you access to GMC registration.
5: Confirmation of Internship Completion
To succeed in your GMC application, you'll need to prove that you have completed an internship straight after graduation. This internship should have lasted at least a year and involved clinical experience. The confirmation of this internship needs to include the dates, types of tasks, and how well you performed on the job, with your medical superintendent signing the document. You can contact them for this evidence, which you'll submit to GMC.
6: Valid Passport and Proof of ID
All doctors applying for GMC registration will need to complete a GMC identity check. This currently takes place at the GMC's London office. Information on how to complete the identity check will be sent with the application, but you must get booked in as soon as you can as you only have 6 months to complete it, otherwise you will need to start your application again. When you go to your check you will need to take your valid passport with you – photocopies are not accepted. A copy of this and a photograph of you will be taken at the appointment – this can be disclosed to employers and is partly to protect you against imposters. The appointment will take around 30 minutes, but as these appointments are in high demand you will not be seen if you are late, so make sure you arrive in plenty of time. You cannot take people in with you as space is limited.
That's it - those are the six essential pieces of evidence you'll need for a successful GMC application. It is recommended that you gather all of this evidence before you start the GMC application, as you only have three months to complete the application once you start it. If those three months pass and you haven't submitted all the necessary documents, you'll have to start again!
When Do You Submit Evidence for the GMC Application?
The GMC application includes signing up for the GMC online and starting an application. Once you've submitted your initial application, the GMC will email you asking for documentation/evidence via post or email. At this stage, you should submit all the above evidence.
What Happens After Submitting Evidence?
The GMC takes five days to process your application. Once they have done so and everything is in the correct order, you'll receive an email inviting you to an ID check. The ID check takes place in the UK, and you'll need to bring your passport and original copies of your documents for them to scan.
After that point, you'll be GMC registered! If you reach that stage – congratulations. From passing exams to gathering certifications, getting GMC registered isn't the easiest task, so you should take a moment to feel proud of yourself. From there, you can start thinking about finding a UK medical vacancy, getting your visa, and starting a new life in the UK.
Need More Guidance?
At BDI Resourcing, it's our mission to ensure all international medical graduates gain their GMC registration and relocate to the UK with ease. If you're having trouble with any of the above steps, we have a range of articles guiding you through the process and you can email us with any questions that you have. Next up, we go into how to obtain your certificate of good standing.